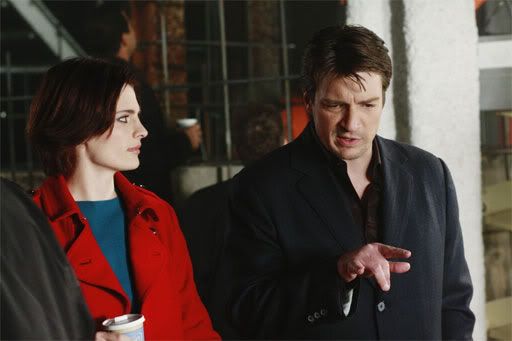 I committed a major, MAJOR oversight when I posted my fall preview of television. I neglected to talk about one of my favorite shows which features one of my favorite actors. And it's about a novelist.
Nathan Fillion stars as the titular Rick Castle, a crime drama novelist who has found a measure of success. His books are popular, so much so that someone started mimicking the crimes & brutal killings depicted in his writing. To solve the cases, Castle is tapped as a resource. Given that Castle is good friends with the mayor, due to the mayor being a fan, Castle's allowed to ride along with the cops, filing it away as "research" for a new series of bestsellers. Nathan Fillion's skill shines through, as he takes the very clever writing of the show and moves his character easily from media-savvy socialite to esoteric crime-stopper to soulful author in search of inspiration.
His inspiration is also his foil: Stana Katic plays Detective Kate Beckett, a tough-as-nails and whip-smart cop who seems to have little patience for Castle's antics. Where Castle is esoteric, she is straight-forward. Her crafted emotional armor renders her (mostly) immune to his charms. She sees him as a womanizing, arrogant blowhard, elbowing his way into legitimate and serious investigations like a bull in a china shop. It's been proven, however, that bulls are rather elegant between shelves of delicate china, and Castle has more than once helped the police unravel some pretty tangled knots to arrive at the truth.
Throw in Susan Sullivan as Castle's socialite mother, Molly C. Quinn as his smart and enduring daughter, and cameos from famous novelists like Stephen King, Sue Grafton and James Patterson, and the resultant mix is a funny, intelligent and compelling drama that will have you coming back to see what happens next. Castle is aired by ABC on Monday nights at 10 PM Eastern time, placing it nicely after House, Heroes and Trauma. I highly recommend it.