I've mentioned sfdebris a couple times now, most recently in my post discussing my favorite critics. I bring him up because he's relevant to something going on in my day job currently. In his review of the Star Trek: Voyager episode Good Shepherd, he covers the opening in which Seven of Nine gives an efficiency report, and mentions that a crew member with 5 degrees in theoretical cosmology is at the bottom of the ship doing menial engineering tasks.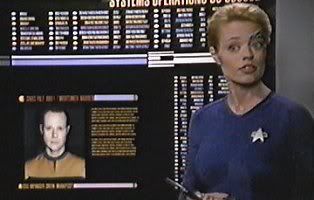 Why no, I didn't use this photo just because Seven of Nine's in it, why do you ask?
Chuck puts it another way: "On a ship meant to explore the wonders of the universe, you've put Carl Sagan in charge of shoveling coal." While this is more inexplicable than normal in a semi-utopian future world set in space, it still happens in the normal, everyday world. Over-qualification is something that happens in the workplace, especially when the economy isn't behaving as well as most would like.
When companies cut back in areas, it's usually in places they'd like to expand but simply don't have the capital to invest. This means that a lot of the people who get axed are people with ideas, creative folk with esoteric backgrounds who might not be focused on business or profitability. When losing their jobs, they do what they can to look for further employment, brushing up their resumes and beginning the arduous search for a job, a search that is every bit as tedious and uncertain as the search for an agent or publisher. Those who still have jobs, on the other hand, might find themselves in a position where, in addition to their regular tasks, they're doing things like answering the phone for other departments or watering the boss's plants or something.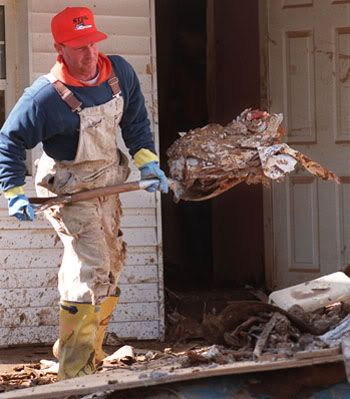 Times are tough, even for a Nobel laureate physicist like this gentleman.
Either way, you have creative people doing menial tasks – like Carl Sagan shoveling coal. I don't have any sort of real solution in mind for the issue, other than keeping one's eyes peeled for better employment elsewhere. And one should continue to make time for creative pursuits, because as the man has said several times, if one isn't fortunate enough to be pursuing their dreams on a full-time basis, it becomes a spare-time endeavor. But that doesn't mean one should give up.
It just means one might have to get by with less sleep and, really, who needs sleep? I don't. And now, if you'll excuse me, there's coal that needs a-shovelin'.
At least, if I'm lucky, it'll be coal and not something else.