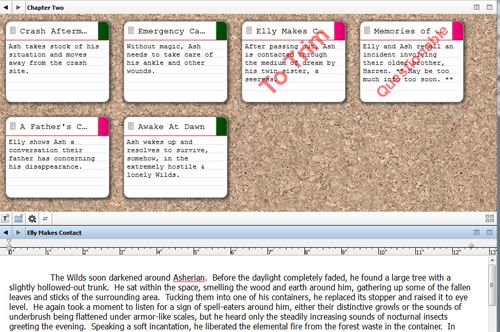 Since I was asked…
scriv·en·er (skrv-nr, skrvnr)
n.
1. A professional copyist; a scribe: "Gutenberg's invention of movable type . . . took words out of the sole possession of monastic scriveners and placed them before the wider public" (Irvin Molotsky).
2. A notary.
Last week I gave an introduction to and brief overview of Scrivener. For reasons yet unexplained, I cannot get Scrivener working on my main PC at home. However, a version of the program works rather well on my Xubuntu-powered laptop. So I worked on importing my manuscript of Citizen in the Wilds into the program.
Scrivener can import and manipulate a wide variety of text files. Since the software includes a fully-featured text editor all its own, any formatting in the document will be preserved. It won't carry over page breaks, and there's a specific reason for this. Working with your writing in Scrivener has less to do with page length and chapter and really focuses on the organization and manipulation of your ideas.
Importing a file is very straightforward. Under the File menu, pick Import followed by Import Files. Select your text file and presto, it's in Scrivener.
Once your draft is imported, you can drag it into the "Drafts" folder. From there it's a matter of slicing it up. To make the ideas, scenes and narratives easier to understand and manipulate, you'll want to seperate them. Find good places to break in the action, when the scene changes or the characters move on to a new topic, go to the Documents menu, mouse over Split and choose either Split at Selection to create a fresh document or Split With Selection as Title to have that fresh document begin with a particular word or phrase.
The week has been somewhat hectic and this is about as far as I've gotten with the manipulation of Citizen in Scrivener. But there will be more to come, specifically how the search option helps me look for repetition, the rearranging and dropping of story points and the power of inclusive editing.
Stay tuned.