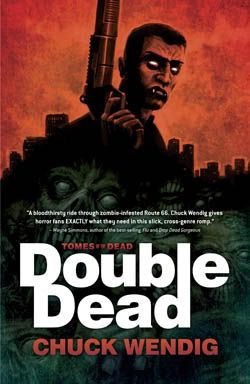 Ever wake up on the wrong side of the bed? It's terrible. You're bleary-eyed, groggy, sore from where your spouse has been elbowing you in the ribs all night to stop your snoring… and you're starving. It's that stomach-gnawing hunger you just can't shake until you've devoured half the pantry. If that sounds familiar, you'll immediately relate to the protagonist of Chuck Wendig's debut novel Double Dead. Excepting of course that Coburn's a bloodsucking fiend.
That's not hyperbole. When we meet Coburn, there's no question that he's a monster. Vampirism has not turned him into an upper-class snob or a glittery mewling fangless stalker; Coburn the vampire's an asshole. He knows it. He revels in it. It was what made his nights so much fun until he woke up in the middle of a zombie apocalypse. He hooks up with an RV full of humans heading to the West Coast and, being no fool, volunteers to protect them in exchange for the occasional nibble. Better than getting torn limb from limb and your brains eaten, right?
On the surface, Double Dead is deceptively simple. It's the sort of premise fans of the horror genre and zombie fiction will find immediately appealing. Diving into it, though, we quickly find these dark waters run very deep. Sure, there are a couple characters who get picked off here and there because it's the end of the world and everything, but many of them have enough dimension and living, breathing presence that its clear there's more going on than a simple monster mash-up.
I can't say it's for everybody, though. The squeamish will want to avoid it, and be forewarned that Chuck is his usual (and in my opinion, delightfully) profane self. But chances are, being a novel about zombies with a vampire as its driving force, you know already if Double Dead is interesting to you or not. I challenge you, though, to find another zombie apocalypse yarn with a Wal*Mart cult of cannibals, wilderness fortifications manned by juggalos and the scariest thing in a pink bathrobe you'll ever encounter.