The second part of a three-part story is often the trickiest. It can be hard to work the tale in such a way that it feels like its own complete story, yet works to connect the first part with the last. Even when a work is planned as a trilogy from the outset, the second part can suffer from a bit of 'middle child syndrome', and parts of it can feel artificially padded as plot points are set up for the final installment to knock over. J.R.R. Tolkien and Peter Jackson managed to avoid this with The Two Towers, which has its own contained story to tell. The question many asked is, can the same be done with The Hobbit: The Desolation of Smaug?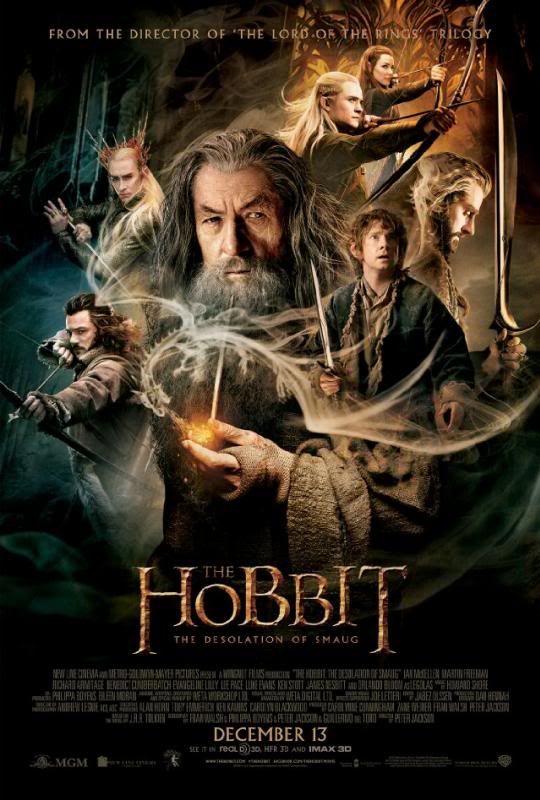 We pick up directly where An Unexpected Journey left off. Bilbo, Gandalf, Thorin, and the other dwarves are on the run from orcs. Even as the hunters give chase, they are unwittingly driving the company closer to Erebor, the Lonely Mountain, the goal of the company's quest. While they evade immediate capture, Gandalf must leave to join Radagast the Brown in investigating rumors of a great evil on the rise. Meanwhile, Bilbo and his friends have to navigate the shady paths of Mirkwood, deal with the king of the wood elves, and behold the area around the Lonely Mountain known as 'the desolation of Smaug', a land scarred by dragonfire and cowering in the shadow of Erebor.
As much as I thoroughly enjoyed An Unexpected Journey, I am willing to acknowledge that, while it doesn't rush, its pace can be a touch inconsistent. A good portion of that film, especially the first two acts of it, are occupied primarily with flashbacks and backstory. I realize this is necessary, particularly in the first chapter of a trilogy, but it can make the story move in two directions: forward, then backwards, then forward again. It can be awkward, and I'm glad An Unexpected Journey didn't feel that way even as it shifts gears. Thankfully, The Desolation of Smaug has only direction: Forward.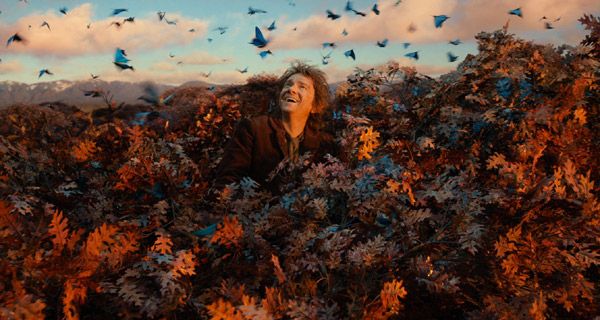 From the opening of the film, with Thorin and company on the run from orcs, until the confrontation with Smaug in Erebor, the story is always heading into its next encounter. The nice thing is that, as much as it's constantly in motion, it gives more than enough breathing room for its characters. We get more time with characters established in the first film, and new ones are introduced and given their own elbow room. That's one of the advantages to Jackson incorporating so much from Unfinished Tales and The Silmarillion and expanding this relatively simple story into three extra-long films. The world of Middle-Earth, and the beings that populate it, are given ample opportunity to come to vibrant, breathing life.
Even as the world expands and the story moves along, we manage to stay with and care about our core characters, for the most part. With Gandalf leaving the company to investigate Dol Guldur, and Bilbo already having overcome his impulse to just run home and curl up with a good book under about a thousand blankets, we focus more on Thorin Oakenshield. There are moments with other characters, to be certain. Thranduil gets more personality, Evangeline Lilly's Tauriel steals most of the scenes she's in, and I really liked the character moments we get with Beorn, Bard, and even the Master of Laketown. More dwarven moments are always good, from Bombur doing more than just being the butt of jokes to Kili turning on the charm to Oin's healing abilities. But really, this is Thorin's movie, right up until we meet the dragon Smaug. Thorin definitely comes into his own, having kingly moments as well as showing the nuance and questionable decision-making that comes from obsession. All of this might sound like Bilbo is taking a backseat in his own movie, but he has plenty of great moments, and I was reminded more than once that not only is he the uncle of Frodo Baggins, he's also related to Peregrin Took. I recall grinning at the screen, shanking my head, and saying "That's a total Pippin moment."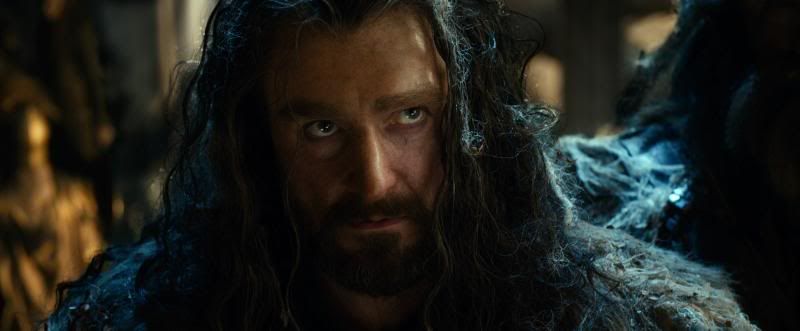 I understand that there are quite a few die-hard Tolkien fans who aren't satisfied with these films. And I can understand why. With its additions, expansions, and digressions, these film adaptations of The Hobbit are deviating from the text far more than Jackson's work on The Lord of the Rings ever did. From the perspective of fans that have read and digested and lived with The Hobbit for decades, the simplicity and pace and whimsy of this story are being watered down, if not entirely lost. Since so much time is being spent with characters who aren't the hobbit of the title, the deviations seem even more aberrant, again from their point of view. I can appreciate that perspective, and if that sort of thing is a deal-breaker for you, you're justified in not seeing it. However, from my point of view, the inclusion of more of Tolkien's lore and the growth of Middle-Earth around the core of this simple story and these vibrant characters is a good use of the material and leads to a satisfying continuation of a truly epic tale of fantasy. I may be overly optimistic, but I honestly believe this is building to a fully coherent and connected story that begins at Bag End with Bilbo Baggins getting a visit from a wizard, and ends at the Black Gate of Mordor. Or maybe a few scenes and a couple gratuitous fades to black after that.
Stuff I Liked: There's a lot here for Tolkien nerds. The scene with Beorn is fantastically done. I'm glad they expanded on more of the dwarves. The execution of Bilbo in the forest of Mirkwood was very cool, from climbing the tree to the signs of his growing connection to the One Ring.
Stuff I Didn't Like: Some of the digressions may not have been entirely necessary. A couple of the scenes' CGI could have been sharpened up a bit – maybe they'd look better in 3D or 48 FPS?
Stuff I Loved: Thorin really seizes hold of both his destiny and our imaginations. Bard is a colorful character that makes decisions that always feel consistent from his perspective. There's more wizardly daring-do, the fight along the river was a treat, and Martin Freeman continues to demonstrate what an inspired choice he was for Bilbo Baggins.
Stuff I REALLY Loved: Smaug.
Bottom Line: In the end, The Hobbit: The Desolation of Smaug feels a lot more like the continuation of the overall narrative of The Hobbit rather than trying to stand entirely on its own. However, with its pace and new elements and complications, it feels a lot less like padded filler and more like a broadening and deepening of the world Bilbo is exploring. Absolutely die-hard long-standing fans of Tolkien may be turned off by its additions and digressions. However, it continues to demonstrates Peter Jackson's directorial skill, the cast is in great form, the action's never dull, and it delivers perhaps the best dragon on screen to date. For my money, it's definitely worth seeing, and perhaps more than once.