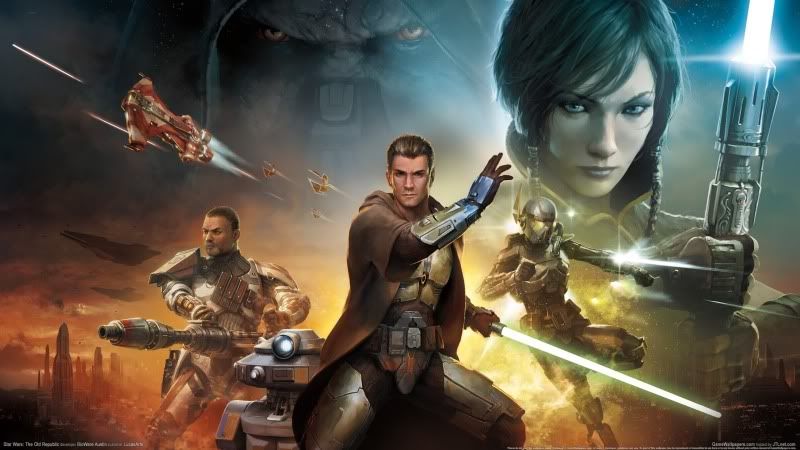 Maybe it's because I'm hopeful Guardians of the Galaxy evokes the old feelings of wonder that came with A New Hope. Maybe it's the discovery of the excellent X-Wing Miniatures game. Maybe it's just nostalgia. But whatever the cause, I have been on a sizable Star Wars kick lately, and a big part of that is the time I've been spending in Star Wars: The Old Republic.
I did a first impressions post a few years ago when the game was in beta, and upon reflection, I ended up being a bit harsh in the name of blunting my nostalgia. I think leaning towards objectivity is good for anybody looking to present a review of entertainment for a wide audience, but I think it would have been okay if I had talked more about my curiosity and excitement about a new facet of the universe opening up and less about the clunky mechanics and the opinions of non-fans.
Playing it now, I'm definitely hooked. I'm curious to see where the various stories go. I'm doing my utmost to avoid spoilers, and I'm actually enjoying the quest structure. It doesn't feel like a grind – I've never had more than two or three quests in my log at any given time. "Kill X amount of Y" only pops up as a bonus, and since I get jumped by uppity bunches of Y on my way to the objective anyway, why not pull in a little extra XP? It does still have a lot of mechanical similarities to World of Warcraft, but the little differences do more than their fair share in setting the game apart. The bottom line is, even moreso now than back in the game's beta days, I see potential.
I think that's been what keeps Star Wars a positive thing in my mind. For all of its flaws and missteps, the universe Lucas created has always contained the potential for truly great storytelling. The military sci-fi bent of Rogue Squadron stories, the antiquated feel of Tales of the Jedi, the way Dark Forces felt like so much more than a DOOM clone because you were stealing the Death Star plans… I could go on. Lucas may not be the best director or a very good scriptwriter, but the seeds he sowed almost 40 years ago were in very fertile ground indeed.
I'm interested in exploring the Edge of the Empire RPG, probably after I move, if I can rope my new housemates into it. I'm expanding my collection of X-Wing Miniatures. I'm going to play a lot more of The Old Republic. And I am keeping a wary eye on this new film of theirs. While I don't agree with the official word ejecting the expanded universe as canon, JJ Abrams has always been more of a whiz-bang director than the intellectual contemplation that Star Trek really demands. In spite of my cautious curiosity, though, one thing is certainly clear.
Star Wars is back in my life. I enjoy Star Wars quite a bit. And there's nothing wrong with that.