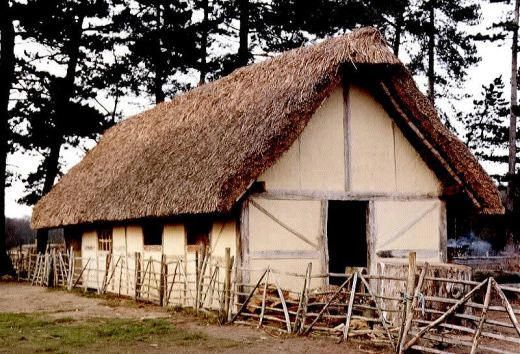 In response to being asked to generate a random sentence.
---
This child farms.
She knows that it is work mostly done by boys. It is hard, long, muscle-snapping, back-breaking work, from sun-up until sun-down. Tools large and small are used to till the fields, harvest the grain, milk some animals, slaughter others. This child does all of those things.
It would not be this way if the farmer's wife had had a son. This child knows this. She does want a brother. It would stop the other children from laughing at her, calling her a boy when she's a girl, pulling down her pants when she's walking with her arms full and laughing because she lacks what boys have. It's not my fault, she often thinks. Why are they so mean? They never drew blood, but on days like today, they would blacken her eye or leave parts of her sore.
This child's father is not one for comfort. He is a hard man of a hard land. Years of living under the realm's protectors have made him so. They come and take his grain, sometimes a pig or even a cow, and give nothing in return save promises that his fields will remain unburned, his wife and daughter unraped. He calls them 'thugs' and 'brigands' and worse when they cannot hear. But this child hears, and the acidic and unpleasant feeling of hatred boils in her guts.
When the distant bells in the village begin to toll, it is towards the end of the day. Too late for worship. And the tolling is rapid, panicked. Then the voices can be heard: something has men and women screaming, calling for the guard, begging for mercy.
The farmer gathers up his child to get her inside. She can peek out around his shoulder. The village is already ablaze, and she hears the deep-throated roar somewhere beyond the thick, black smoke, which is buffeted by the power of mighty wings.
A dragon!
Out from the village ride several figures on fearsome chargers. They do not wear the white of the realm's protectors, and their chain armor is black as pitch. Helms in the shapes of skulls and screaming demons adorn their heads, and they wield flails and axes and short bows. One laughs as he raises his bow, pulling the string taut and letting fly into a fleeing woman. She falls dead at the edge of the farm.
The farmer seems, for a moment, unwilling or unable to let go of his child, the child he didn't want, the child he has not even named yet, claiming she would earn her name if she survived the decade. One year away, and now her world was burning. The farmer sets her down near the house, telling her to climb under it, reaching for his scythe. He is telling her to protect her mother when the arrow finds his back.
He cannot keep himself upright, and collapses on top of his child. She is unable to move him, screaming his name, pushing against his shoulders, horrified by the sound of his rattling breath in her ear. She pushes with all of her might, but his body will not budge. A soft, pained sound comes from his lips, and then he is still. She squeezes her eyes shut against the tears and the smoke, struggling and moving as much as possible, doing anything she can to escape.
Flames wash over the farmyard. Screaming, her body twists and turns, desperate to escape the prison her father's corpse has created. The heat climbs quickly, and she coughs, breathing smoke. She gives her body one final pull to try and free it, and feels something tear. She doesn't know if it's her clothing or her skin, and she doesn't care. She screams in pain as she slowly pushes herself free from the burning body on top of her, staggering to her feet and losing her balance almost immediately.
She stares at her hand. Flames race up her sleeve, and while her skin grows hot, she feels no pain from it. As she watches, a cut received during her struggle to escape her father's grasp cracks and boils, slowly peeling the skin back. But the tissue beneath is neither red nor raw. She holds her hand up to the fire's flickering light as she stands, flames reflected in tiny dark scales. She hears the roar of the dragon over the din of slaughter and the cries of the dying, and something in her yearns to roar back.
On sheer impulse, she begins to walk, then to run. She runs through the fire towards the smoke. She feels her human clothing, her human skin, her human disguise, falling away into the heat. Pain washes through her as her shoulders push against her back, growth and change giving her both a surge of strength and an overwhelming appetite. She leans on the wall of a burning house for a moment, and looks at her hand again. It is no longer the pink, squishy appendage of a little girl, but a strong hand ending in vicious talons and covered in black scales. She flexes her hands, looks down at the rest of her scaly body, and then back up.
The other children of the village, fleeing the fires, have stopped to stare at her.
She looks up. Wheeling overhead is the dragon, wings wider than the breadth of her father's field, looking down at the scene with eyes like molten pools. They fix on the girl, and she is struck by what she sees in them. It is a gaze she has seen before, a quiet love and a resolute desire to see her rise above all that opposes her… the look of a mother proud of her child.
This child looks back at her bullies. Her talons shine in the fire light. Her mother's riders rampage through the village.
For the first time in a long time, this child smiles. Her mother roars, and as she runs forward, she roars back.