I am giving some serious thought to jumping back into the mix of tactical planning, visceral satisfaction, and utter frustration that is League of Legends. To that end, and since I'm not quite back on the review train yet, here's a relevant post from back in the day that reflects what I'm doing now: planning builds and investigating new Champions. I am, once again, theorycrafting.
---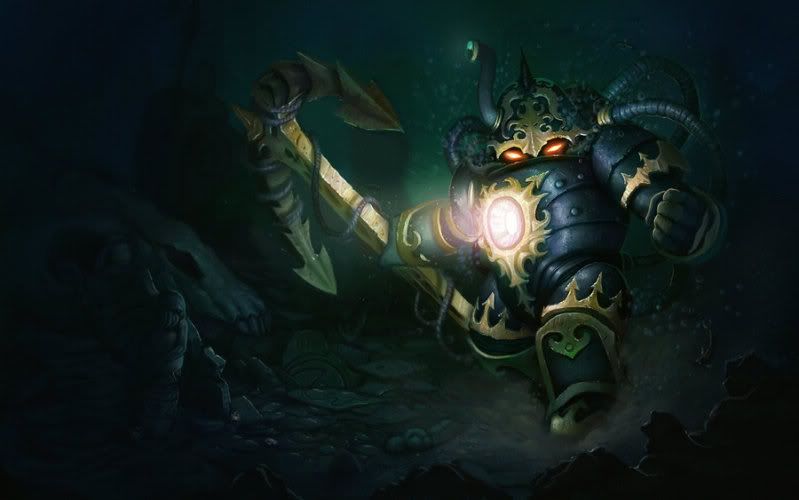 In this blogging space I've talked about writing and gaming in tandem. I've tried to give each a fair amount of time, but I've never really examined the connection between the two. Other than the overactive imagination, I think a big part of my inclination towards these activities is my tendency towards theorycrafting.
I haven't been playing Magic: the Gathering that often in the last couple of weeks, mostly due to the hours I'm spending at the office lately. But I do love deck construction. I like seeing the cards available to a particular set or format and trying to find ways of putting an effective threat together, especially if it's in a way that's been unexplored. They don't always work, of course, but that's part of the appeal of experimentation: taking a chance to see what happens. I try to plan as many contingencies as I can before the game even starts.
The same could be said for the way I approach League of Legends. I spend some time looking over the abilities, statistics and build orders of various champions, toying with different sequences and combinations. When Nautilus was released a few weeks ago, I found his art, story and kit so appealing I picked him up and started toying with builds immediately. In fact, I'm still doing so, in order to find that balance between taking punishment and dishing it out. I may go more in-depth at another time as to why doing so in this game feels more satisfying to me than, say, StarCraft 2, but like my Magic decks, crafting and tweaking a champion's progression long before I fire up the game is rewarding, especially when I manage to help the team win.
Part of this may be due to my experiences as a Dungeon Master. I delve into rulebooks and supplementary material, draw up maps, lay out stats and even stories for the NPCs and so on. I used to lay out elaborate and somewhat linear stories to lead my players down, but I realized quickly players want elbow room and freedom to choose for themselves. While this undermined my desire to tell a specific story somewhat, it also allowed me to plan more of those contingencies I like to ponder. DMs and players share these stories in equal measure, after all, there's no reason for one side of the screen to hog all the fun.
This thread does carry through to my writing. It's been said that writers are either 'plotters' who plan things out before pen hits papers (or fingers hit keyboard), 'pantsers' who fly by the seat of their pants, or a combination of the two. You can read more about the distinction here. For my part, I'm definitely more of a plotter than a pantser, with a great deal of time devoted to outlines, character sketches, expansion on background elements, and research relevant to the story. The problem with all of this theorycrafting, though, is that getting wrapped up in it can take time away from the actual writing that needs to happen. Then again, I know that if I don't take the time to figure out where I'm going in the first place, I will hit a wall and sit looking at it for just as long.
Do you indulge in theorycrafting? Or do you jump right into things?