I'm not sure what it is about tales of the occult and the supernatural that fascinate me so deeply. It could be the notion that the things that go bump in the night are more than just settling houses and gusts of wind; that right in front of us, just out of sight and barely beyond our reach, is a world full of wonders, horrors, secrets, and history both enlightening and terrifying to behold. What's especially interesting are those who choose to, as some would say, "bump back". Characters like Abraham Van Helsing, the Ghostbusters, Sam & Dean Winchester, and a demon child raised by American soldiers and scientists in the 40s who goes by the name Hellboy. Mike Mignoal's creation has been in two feature films after many graphic novel appearances, and he's also been animated. Available on Netflix, Hellboy: Blood and Iron is one of those animated adventures.
Hellboy was summoned by the Nazis to win World War 2. Instead, he was found by Professor Trevor Bruttenholm and raised normally, or as normal as a boy can be when he's red-skinned, bears a tail, and has a right hand that's made of stone. Bruttenholm and others gathered around the boy, and formed the Bureau for Paranormal Research and Defense, or BPRD. Today, the BPRD is a subsidiary of the government, and one of its government friends wants the BPRD to check out a supposedly haunted house. Despite the assignment apparently being a publicity stunt, Professor Bruttenholm convinces Hellboy and his friends Abe Sapien and Liz Sherman to accompany him to the house, saying nothing of his memories of a vampire hunt from his youth.
The style of the characters and their surroundings are most definitely inspired by Mignola's dark graphic novels. Shadows are long, darkness is deep, and moments of horror are surprisingly chilling at times. That said, some of the animation feels a little choppy, even in comparison to some television series. The occasional dip in quality can strain the immersion of the audience, but it's never enough to fully break it. Some of this can be chalked up to stylistic choices, and the overall quality of the presentation doesn't suffer, but it's enough to warrant a mention. Those more interested in the art composition than the story or characters may find it hard to ignore.
Even vampires need a spa day.
However, I think most people interested in Hellboy: Blood & Iron would not be checking it out for its artwork. The appeal of Hellboy tales, regardless of their venue, lies in the characters. Hellboy himself has a down-to-earth attitude and general sense of snarky self-awareness that makes him very endearing and defies his demonic appearance. Abe works as an intellectual foil to "Big Red"'s more straightforward "punch it until it behaves" mentality, Liz Sherman has a good relationship with the big guy, and for all of his strength and devil-may-care attitude, Hellboy pretty much dotes on Professor Broom. The fact that their film cast counterparts appear as voices is a huge help, as well: It's hard to imagine Hellboy at this point being portrayed by anybody but Ron Perlman.
The other major pillar holding up this and many other tales of Hellboy is the storytelling. The tale is well-paced, operates several facets at once, and does not short-change any of its characters. Even minor roles are shaded to provide depth and nuance, the myths have a good feeling of authenticity, and the nature of the threat feels appropriate given the protagonists involved. I do want to avoid spoilers, but suffice it to say that whole the characters are the focus of the story, the story itself is still interesting enough to justify the film's running time.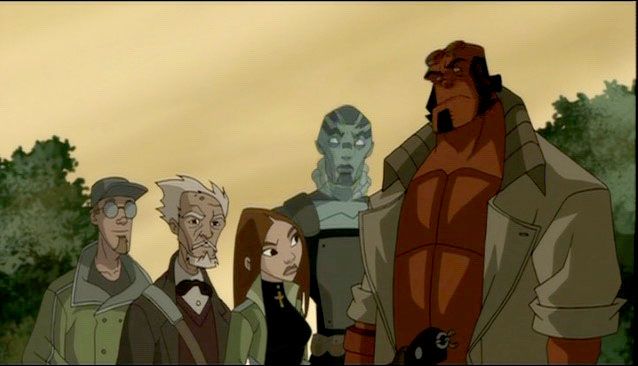 They're here to help. Believe it or else.
Stuff I Liked: I'm a sucker for myths of the old world, incarnations of old gods, and protagonists willing to punch both of them in the face. The diversity of the BPRD crew is appealing in and of itself. The multi-faceted nature of the threat is interesting, as wel.
Stuff I Didn't Like: The artist kept adding what felt like an extra line to the noses of some characters. It was more an odd annoyance than anything else. Some of the animation felt a bit choppy.
Stuff I Loved: A fantastic cast of interesting characters voiced by talented people with good chemistry. That should sell it in and of itself, if you ask me.
Bottom Line: Hellboy: Blood & Iron is a story worthy of its predecessors. Its run time may be short, at just over an hour, but its packed with good character moments, a balanced mix of action and terror, and more than its share of humor. I would definitely recommend it.