How's NaNoWriMo going? Are you frustrated? Angry? Maybe feeling some despair? Read on. This might help.
---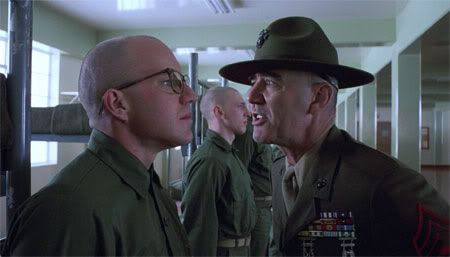 Nobody feels fantastic all the time, at least not without heavy drinking or severe medication. Creative people are, by and large, emotional and thus emotional blindsides getting hit can knock you right off of the rails you'd been riding towards the completion of a project. How do you deal with this sort of thing, other than reaching for the nearest bottle of hard liquor or happy pills?
You use it.
Instead of wallowing in the negative feeling, take it and run with it headlong into your project. If you're unable to focus on the project, write something on the side that uses the feeling. Here are some examples.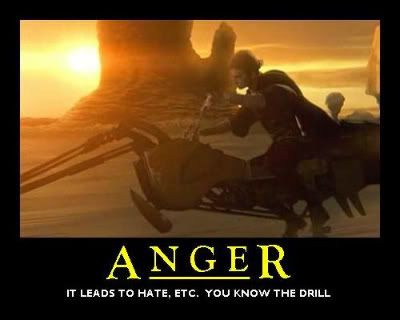 I know I've covered using your anger previously, but invoking a Star Wars reference never gets old. Still, if something is making you furious, with fists and teeth clenched regardless of how other people are telling you how to react (doesn't the words "Oh, you're over-reacting" make you want to punch someone in the face?) you need to expend that energy, and preferably without damage to property or invoking personal injury lawsuits. If you're a writer, what do you do?
Write a fight scene.
Get into the headspace of a person involved in a barroom brawl. Hell, write about someone starting said brawl. Did someone say something to a significant other you didn't like? Is someone chatting up a friend of yours without permission? Not enough booze in your drink? Write about how it makes you feel, how the fury wells up inside you and how the sensation of wheeling around and letting someone have it right in the face touches off the kind of chair-breaking bottle-throwing grand melee unseen since the days of John Wayne.
You'll probably feel a bit better, and nobody will be suing you.
Let's face it. We're all afraid of something. It could be bugs, rejection, alienation of friends, cars, bacteria, being laughed at, loneliness… I could go on. The bottom line is, sooner or later your fear is going to grab hold of you. Grab hold of it right back and go dancing.
Try a ghost story.
Something goes bump in the night. You catch an unfamiliar or unexpected motion in the corner of your eyes. The lights go out, and the shadows seem to grow to fill the empty space. Do you start sweating? Does your hand start to shake? How fast is your heart pounding? What voices do you hear? What do you imagine is lurking there in the darkness? It could just be the cat. It might be your spouse in the next room unaware that you've hit the light switch. Or it could be a phantasmal fiend from beyond the grave. Write it out and see where your fear takes you.
More than likely, it's not a place as frightening as you thought it might be.
Despair, anxiety, paranoia… they're all cut from the same cloth. "Should I have said that?" quickly becomes "I shouldn't have said that," which leads to "I'm an idiot for having said that." Sure, sometimes you make a legitimate mistake and need to clean the egg from your face. Other times, something with good intentions turns out getting tossed under a steamroller paving the road to Hell. Whatever the cause, you're left with this cloying feeling of inner doubt and depression, and you need to do something about it, otherwise it's going to consume you.
Time to write a walk through the rain.
Rain is an evocative weather condition. The sky's the color of gunmetal, the sun or stars hidden from view, the rain cold and relentless on the weary traveler and the wind makes sure that every surface of the body is wet. Yet people walk through it, alone with their thoughts. "What if I'm wrong? What could I have done to keep this from happening? How much have I lost, and can any of it be rescued? And what the hell am I going to do now?" Write through the thought process. Describe the rain drops, the thunder, the looks of people cozy in their warm homes or places of business, the way others are ignorant of your inner conflict. Work with the emotions. Coax them out of the shadows and into your hands where you can change them from a disability to an advantage.
No matter what you decide to do with your negative emotions, be it one of the above or simply focusing on a project at hand, the sooner you do it the better off you'll be. This is experience talking here, folks – if you're unable to shake off the darkness, if you let this sort of thing fester and grow unexpressed in your heart, it'll creep into every aspect of your life. You'll lose the motivation to create, you'll lash out at friends and family and the depths to which your emotions can sink are more frightening than anything ever put on paper by Poe, King or Lovecraft. If nothing else, talk about it. Get things off of your chest.
Negative emotions are a lot like a badly-prepared meal you've just eaten: better out than in. Sure, things might stink for a bit, and you may feel inclined to flush afterwards so nobody else has to deal with your vomit, be it physical or creative. But once it's out, chances are it won't come back. I'll leave you with a bit of Emerson's advice, since he's far more experienced and eloquent than I.
Finish each day and be done with it. You have done what you could. Some blunders and absurdities no doubt crept in; forget them as soon as you can. Tomorrow is a new day; begin it well and serenely and with too high a spirit to be encumbered with your old nonsense.