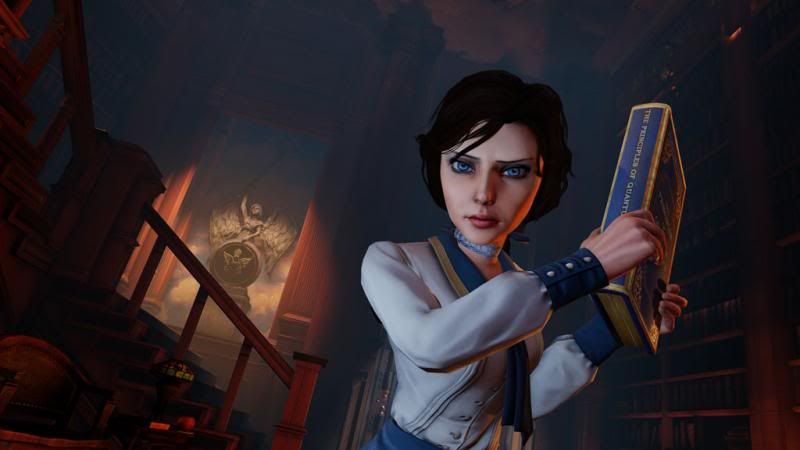 This is the season for Top 5 or Top 10 lists. Games or films or books or toys – people like to rank what was best for the year, and find out how those ranking stack up against others.
You may have noticed that I'm not really doing that. It's hard to pick just one thing from among the various pools of entertainment into which I dip, but things I'm still thinking about, and enjoying thinking about, in this late part of the year are definitely worth discussing, if not mentioning. So, without further ado, here are the best entertainment experiences I had in 2013.
I want to mention Hearthstone at least in passing. Blizzard's computerized CCG is an absolute blast and challenge to play, with a surprising amount of depth and bursting with variety. The monetization system makes a great deal of sense, and it's one I don't mind at all. However, as much as I enjoy playing it, it wasn't the best game I've played that came out in 2013. That honor goes to Bioshock Infinite.
While the combat isn't necessarily ground-breaking, which can be a major blow to a first-person shooter, the story and its presentation are what keep this game in my mind long months after its release. The fact that the story is less about gritty, hard-boiled everyman Booker DeWitt and more about Elizabeth and her plight is, to me, a sign that storytelling in games is moving in the right direction. The 'Burial At Sea' DLC reinforced this, and with the news that we will, in fact, play as Elizabeth soon, I'm quite curious to see how 2014 treats the franchise.
I played a lot of great games from 2012 this year – Journey, Spec Ops: The Line, The Walking Dead – but among the games that came out in 2013 that I actually played, Bioshock Infinite takes the prize.
Best Board Game – Archipelago
2013 was the year I got back into board gaming in a big way. I started building my own collection, I had design ideas and gave feedback to others, and I continue to espouse that there's more to board games than staid, stale standbys like Monopoly, Clue, and Risk. I've played a lot of games with hidden roles (Avalon, Coup, Battlestar Galactica) and several cooperative games (Pandemic, Elder Sign, Escape: The Curse of the Temple), but one game that's stood out in my mind since I started this endeavour is Christophe Boelinger's Archipelago.
The best way I can describe Archipelago is "Settlers of Catan meets Twilight Imperium where everyone sort of works together but not really". I love its expanding scope and constant need for players to cooperate to keep ahead of a loss, but also allows subtle plays through worker placement mechanics and hidden objectives. Its gameplay is much deeper and less random than Settlers, and it doesn't take anywhere near as long to play as Twilight Imperium. As much as I adore a deep and rich space opera universe in which I can take an active role and vie with other players for dominance through diplomacy, trade, and treachery as well as straight-up space combat, I also like to play a game that takes less than an entire day. Archipelago hits all of the right notes in just about perfect harmony, and on top of not being able to recommend it highly enough, it's the best board game I've played in 2013.
Best Book – The Fault In Our Stars
Okay, this is where I cheat again. The Fault In Our Stars was published in 2012. And while I've read quite a few excellent books – and one particularly shitty one – the one that had the most profound effect on me was John Green's New York Times bestseller. In world where a lot of people tend to look towards young adult works with skepticism or even open content, here's an example of dramatic, involving, romantic young adult fiction done absolutely right.
Green paces his story just right, fleshes out realistic and endearing characters, and invokes our sympathy and support without pandering, writing down to his audience, or relying on cheap tricks or narrative slight of hand. It's a fantastic read and extremely well-written. I feel like I'm going to be repeating my review of the book a great deal, so here's a link to that. And here's a link to buy the book on Amazon.
Best Film – The Hobbit: The Desolation of Smaug
Apparently, 2013 was saving the best for last. None of the films I've seen this year were truly awful (again, I avoided certain ones deliberately), there were only a couple of disappointments, a few surprises, but for the most part, I'd say the movies of the year were "good, but not fantastic." I like that I'm seeing more character-focused storytelling, more investment in world-building, and comic relief that doesn't feel too forced. However, the experience in cinemas that excited me the most, involved me the most, and blew me away the most was definitely The Hobbit: The Desolation of Smaug.
There's so much I like about this film. Thorin as a noble, dignified dwarf reminds me of why I like them so much in Middle-Earth, in Dragon Age, and even in World of Warcraft. Bilbo Baggins is shown truly coming into his own and still employing his brain and wits as much as his sword. Gandalf and Radagast working together always makes me smile. The world feels expanded and deepend with stops like Beorn's house and Laketown. And Smaug. Smaug. I really don't have to say anything else, do I? It's my movie of the year and I'm really looking forward to seeing it again.
There you have it! 2013, all wrapped up. I'm interested to see what the year ahead brings, in many ways. I hope you all have had a safe, warm, and rewarding holiday, and are ready to ring in the new year. I know I am.