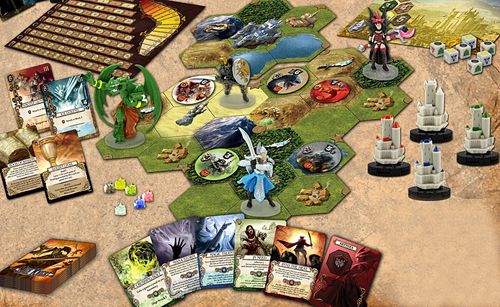 Courtesy Theology of Games
For those of you who don't know, Shut Up & Sit Down is an excellent show about board games. Most of them are reviews, but there are a few Let's Plays and specials sprinkled in. Paul and Quinns are great hosts, breaking down game mechanics and thematic elements in concise and entertaining matters, and games feel truly reviewed, not just discussed. They are also, however, horrible bastards. There are a few games out there I simply have to acquire in the future, and I blame them entirely for making me aware of said games.
I unfortunately have not played NetRunner in some time. As it is a two-player game, it can be difficult in my situation to nail down a convenient time for myself and another person inclined towards asymmetrical living card game play with a dystopian cyberpunk theme to throw down. However, it still very much appeals to me, and more expansions have been added since I last played. I want to experiment with these new cards and find both the most fun and subversive Runner deck and the most obstinate and dastardly Corporate deck I can build. I like deckbuilding, I like Blade Runner and Snow Crash and Deus Ex, so NetRunner remains a winner.
One of SU&SD's most recent reviews was Tales of Arabian Knights. I'm a great fan of storytelling, especially in a collaborative setting, and Tales seems particularly inclined towards creating new tales with fun and interesting twists. The fact that the game is pure cooperation like Arkham Horror but with more chances for your friends to be directly involved in your actions is also an idea I like. I like games where players are encouraged to work together, even if there can only be one ultimate winner. It seems to me that, in Tales, everybody wins if the stories told make everybody laugh or keep everybody interested.
So that's a co-op game. But what is this "semi co-op" distinction I've heard? Archipelago is such a game, according to the boys, and it centers around representing colonialism in a very thematic way without referencing direct historical events. The game begins with exploration on the open sea, and players travel to new undiscovered islands to expand their holdings. The land must be exploited to get ahead, and while there is no true extermination to make Archipelago a true 4X game on a board, it feels so close to the likes of Civilization and Master of Orion that I've nearly bought it a couple times already. You and the other players do need to prevent disaster and uprisings to keep the game going, but in the end, only one of you will acquire enough victory points to be the winner.
Terra Mystica has no co-operative elements whatsoever, but the elements it does have really appeal to me. In the review, it's clear that progression is a balancing act, weighing the potential to win points over the speed of future expansions. In Terra Mystica, your fantasy race must transform the very land itself in order to expand its holdings, sort of like if the races of SmallWorld took up agriculture (…and sorcery and elemental worship and aggressive territorial expansion through real estate). I can see chess-like move-countermove action happening in this game, as well as unexpected twists like casting the right spell at the right time or the sudden rise of a cult. It's one of those games where it seems no two games would be alike, and that is right up my alley.
Last but certainly not least is just about any game designed by Vlaada Chvátil. I've played Galaxy Trucker once, and I'd love to do it again, this time focusing more on my opponents' misfortune than my own. It's that kind of game; there's just as much fun in a little schadenfreude as there is in building spaceships. Mage Knight has strong appeal due to its theme of powerful wizards striding across the world doing battle to win glory and power, and as intimidating as the rules might be, wrapping my mind around them seems like a worthy challenge. Then there's Space Alert. I've heard it is an intense, challenging and ultimately hilarious game, much like Artemis for computers or Spaceteam for mobile devices. We shall have to see!
I've said it before, and I'll say it again: I like board games. I like them a lot. I want to play more of them, and in fact, I've been contemplating some ideas of my own that may or may not get developed in the near future. My challenge is finding people to play with. I appreciate a solitaire experience as much as the next gamer, but sometimes, you want to share the game with at least one other person, and let strategy, interaction, laughter and the occasional verbal deluge of caustic profanity fill your evening.
At least, that's what I want.