This is as relevant today as it was five years ago. Also, I've been running this blog for over five years. Yikes.
---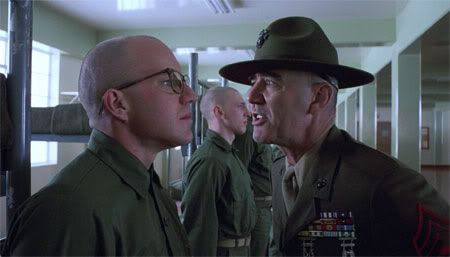 Maybe you got a letter. It could be something you received electronically. One way or another, a submission or entry upon which you've spent time and energy has been rejected. Now, I'm not talking about receiving constructive criticism. That's always a good thing to get. Iron sharpening iron and all that. What I'm on about is the cold shoulder, either in the form of a bland photocopy of a generic letter or a complete and total lack of recognition for your efforts. It's like fancying yourself a comedian, telling a joke and waiting for the laughs which never come. It breaks the heart and erodes the soul.
If you're anything like me… well, you might need a shave. But in terms of this sort of thing, after a few rejection letters or seeing a publication for which you wished to contribute which doesn't include what you sent, you probably went back over your submission with a fine-toothed comb. What did I do wrong? What could I have done differently? The questions inevitably leave to negative emotions. Maybe you'll feel put out by the rejection, thinking your work isn't good enough. There could be some frustration at the difference that ended up existing between what you envision and what you submitted. And maybe getting rejected for whichever time you've just been brushed off just pisses you off.
Good.
Not to re-tread old ground, but I've said over and over that negative emotions do not need to lead to negative outcomes. There a lot of things you can do with your feelings. One thing you should not do, however, is sit on your ass. There's work to be done.
Pop the hood on your work. Strip out parts that rattle or shake. In other words, take a look at your creation and figure out the parts that work. Maybe you have a character or two that really connect with readers, or you've gotten some feedback telling you that a particular passage really hammers home the good things about your writing. Maybe there's that one shot in your portfolio that really jumps off the page.
What about it works? Why does it connect while the rest of the work falls away? Step back and examine the situation, the environment and the construction of the parts that work. Once you recognize what makes those portions successful, strip out everything else and rebuild the work around that core of goodness. This might mean you only need to make a couple small changes, or it might mean you need to all but start from scratch. Don't fret, though: declaring a do-over could very well be a step in the right direction.
One thing you don't want to do is rush. There's no need. Take a deep breath. Make some cocoa. Instead of tearing down what you've done and smashing it around with a wrecking ball, lay it out and take a scalpel to it. In the course of doing so, you'll find things that you're proud of in spite of the rejection and you'll also likely find something that makes you smile and shake your head in that "What the hell was I thinking?" sort of way.
It might also be the case that you can't bear to look at the project that's been so callously rejected. That's understandable. But you still have a bunch of bad feelings that need to get vented. You have the old stand-by responses of games, movies, booze and cocoa but the best thing to do, in my opinion and experience, is to do something in the same creative vein to get you thinking about what your next step will be. It could be back to what caused you to feel this way or it could be in a new direction entirely. You won't know, however, until you take that step.
Whatever you do, no matter how many things you find wrong with your work, no matter how much cocoa you drink, no matter how many rejections you'll have to deal with in the future, don't give up. You're trying to do something new and different. Creative people are inevitably going to face a great deal of opposition because the environment out in the world is one where creativity is seen as a secondary concern to efficiency or profitability, if creativity is acknowledged at all. You want to be fast in your process, efficient in your use of energy, but it can be difficult to bang out work promptly if you're wrestling with bad feelings or unsure of where to go next. Don't worry about that. Worry about getting from bad to good first. Then worry about getting things out quickly.
Don't quit. Especially if your ideas and the need to express them get you out of bed in the morning and motivate you to expend your time and energy of turning them into reality. Screw the rejection and the idea that your creativity doesn't matter because it doesn't help you file TPS reports more efficiently.
"Don't ask yourself what the world needs. Ask yourself what makes you come alive, and then go and do that. Because what the world needs is people who have come alive." – Harold Whitman
Drinking your cocoa from a mug of Shakespearean insults doesn't hurt, either.