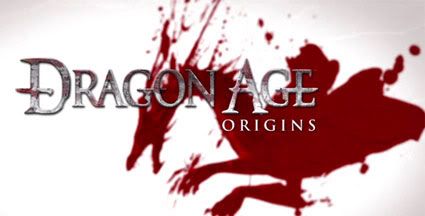 All that blood means this game is totally dark and edgy. Totally.
I've ragged a bit on the length of Dragon Age: Origins as well as the infamous memory leak that completely devoured at least an entire day of my life. But how did I feel about the game overall? How does its writing compare to Mass Effect or even its spiritual ancestor, Baldur's Gate? Read on, and find out.
Dragon Age is a fantasy setting based in the world of Thedas. Origins introduces us to this world through the nation of Ferelden, which is facing the threat of invasion by twisted creatures known as darkspawn. The only force with the knowledge and experience capable of ending this threat, before it becomes a full-blown contagion of violence and destruction called a Blight, is the elite order of the Gray Wardens. It is this order your character will be invited to join after you get to know the race and/or class you select at the opening of the game.
Stuff I Didn't Like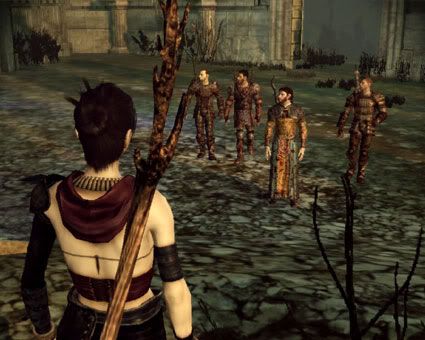 "A little club soda will get those blood spatters out of your dress, sir."
The game's intent of being a 'dark' fantasy is apparently the reason even the briefest of melee encounters will see you and the members of your party spattered in blood. It's as if Jackson Pollock runs from one member to the other armed with a brush dipped in red paint, giggling with childlike glee. Having this happen in the wake of a bloody close-up kill would work a lot better than having these people constantly covered in gore. It actually becomes kind of hilarious if you try to talk one of your party members after a fight. They will casually talk with you and even joke, without bothering to even wipe the blood out of their eyes. I know it's foolish to expect complete realism in a fantasy setting, but this always struck me as a bit off.
There's a lot of loading that happens in this game, at least in the PC version. Especially when playing for longer than an hour or two, due to the aforementioned memory leak. I started seeing the slowly spinning tribal-influenced loading graphic in my sleep.
The Codex of the game is very dry. I've started to get used to sparing glances at posted information or an overheard conversation dumping a ream of text into my journal, but in Mass Effect there was some narration on the major entries that helped convey some interesting and world-building information. Now, while Dragon Age's Codex isn't essential as most of the background and world-building happens in the course of conversation with others, but the fact remains that the full text presented in-game can be difficult to sift through. Browsing a wiki for the information outside of the game is more informative and interesting.
Quests in fantasy games can often feel a little contrived. Stationary NPCs, especially those who are reputed to be powerful or fearsome, often give tasks to the players that they could easily accomplish themselves if not for some plot-imposed restriction. And in the course of your travels, it's easy to begin to lose sight of your motivation as you try to hurdle one obstacle after another in what should be a straightforward affair. The two biggest culprits in this area are the tower of the Circle of Magi, and the Deep Roads extending from the dwarven city of Orzammar. Unlike the optional side quests posted on various boards around Ferelden, these areas contain sequences that require you to move from one map to another in what I assume was an attempt to give the game scope but really just felt like they were trying to make a long game even longer. Now, as I said I've already had a gripe about the game's length, but having finished the game it did feel like a sweeping epic which is something I'll discuss more in a bit. But the Deep Roads in particular just felt overly tedious. When I finally reached Caridin at the end of the Roads, I half expected the big guy to take me through an exchange that'd go something like this:

"YOU WILL GO TO THE WAYOVERTHERE MOUNTAINS, TO THE VERY PEAK OF MOUNT NOOBDEATH, AND BRING ME THE TEN HAMMERS OF AWESOMENESS TO PROPERLY DISPOSE OF THE ANVIL OF THE VOID."
"Is the anvil bolted down?"
"…WHAT DOES THAT HAVE TO DO WITH ANYTHING?"
"Well, if isn't bolted to the stone, why don't we all pick it up and heave the thing into the molten lava flowing below us? Hell, even if it is bolted down, I'm a mage, Oghren's a mighty beer-drinking dwarf, Alistair's pretty badass when he stops whining and snarking, and both you and Shale are immortal super-strong golems. Why don't we eliminate the bolts, THEN hurl it into the lava? That'd do the job nicely, right?"
"…YOUR SOLUTION IS NOT EPIC ENOUGH."
"But it just makes more sense to use what we've got here than to wander all the way out and up into the mountains…"
"EPIC SOLUTIONS DO NOT MEAN LOGICAL SOLUTIONS. GET ON WITH THE QUESTING."
"…"
"THERE'S EPIC GEAR IN IT FOR YOU."
"Fine, whatever."

Speaking of Shale, it boggles my mind that one of the best characters in the game is only available via DLC. Shale is interesting, useful, deep and absolutely hysterical, but if you didn't get the right retail copy or don't have the $15 necessary to download her, you're shit outta luck, friend.
Stuff I Liked
This view is why the PC version works very well for me.
Regarding the game's length, while some of the sequences did feel a bit long in the tooth, the overall arc of the game is like that of Lord of the Rings or Chronicles of Narnia, in that we have a sojourn across a foreign land in the name of an epic quest. Seeing the story through to the end, while a frustrating slog at times, is very satisfying. It was like the first time I finally finished all three Lord of the Rings novels. I didn't really care about Tom Bombadil's hat or how green the grass is in the Shire, but it was pretty damn awesome to see how everything resolved in the end.
There's a lot of replay value here. Beyond the different origin stories, there are a lot of choices to make with a given character both in terms of dialog and specialization. No two playthroughs are guaranteed to be the same. In fact, I've thought of going back to an earlier save of my mage and tweaking his build just a bit, to make him more of a magic knight and less of an armored healer. Hell, I could change his build entirely and just nuke everything in sight.
The politics and religions of Thedas in general and Ferelden in particular feel three-dimensional. The main NPCs you'll encounter in your travels also come across as more than cardboard cut-outs, despite their somewhat stiff uncanny valley appearance.
Stuff I Loved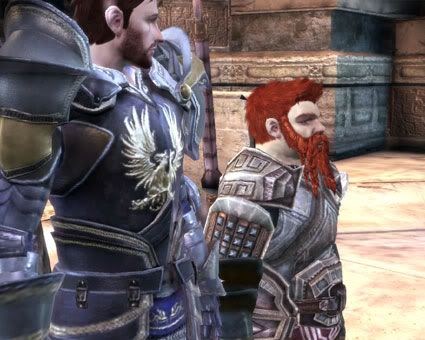 Oghren: "You as sick of runnin' hither an' yon for these lazy sodding rutters as I am?"
The speaking characters in your party, while requiring some of BioWare's trademark micromanagement, are a diverse and well-realized bunch. Shale, as I've mentioned, is a stand-out character, and Oghren the dwarf had me rolling pretty much any time he spoke. I mentioned Alistair's penchant for being whiny and snarky, but for the most part it's more endearing than annoying. I even found myself warming up to Sten, the extremely stoic Qunari warrior. Another reason I want to play through this game again is to further explore some of the stories behind the party members I didn't hang out with as often. Your mileage may vary, of course. However, the only reason I imagine someone might not like the character of the Dog is if they just plain hate dogs. Otherwise, I would be very surprised if you played this game and didn't find yourself wanting a mabari war hound of your own.
It would be easy for this game, billed as a dark fantasy and covered in blood, to focus entirely on combat as a means to resolve all its situations. But there's diplomacy, puzzle-solving and even some politicing involved as well. Allowing the game's storylines to expand beyond the combat engine makes it feel less like a straight hack and slash affair and more like an honest-to-whomever role playing game. Solid writing that compliments the action instead of existing solely for the purpose of shepherding us from one combat encounter to the next makes the game more interesting, immersive and fun. Dragon Age: Origins definitely delivers on that score.
There's a definite feeling that your actions (or inaction in some cases) have long-reaching ramifications in this world. From party members deserting you over a given choice to whole parties of pilgrims getting wiped out in the epilogue because you skipped something, Dragon Age: Origins reminds you that Thedas is much bigger than the microcosm of you and your party. The world is built in this way to such a degree that the Codex feels even more superfluous. Thedas is a rich, deep and rewarding world to explore, and I found myself wanting to spend more time there, darkspawn and ogres notwithstanding.
Bottom Line: If you have any interest in a high fantasy role-playing game that evokes the likes of Baldur's Gate or Neverwinter Nights, Dragon Age: Origins is worth the investment of both time and money. Fans of straight-forward hack'n'slashers might be better off buying Torchlight or saving up for the upcoming Diablo III. I plan on playing this plenty in the weeks and months to come, which means that for me, Dragon Age: Origins is a great success.