I try to be a man of my word. I promised yesterday that after watching Inglorious Basterds last night, I'd have a throw down between it and The Hurt Locker. The challenge for me is to compare and contrast these two films without giving away some of the gems I have saved up for the Basterds IT CAME FROM NETFLIX! feature, which might not get up until next week since I have at least one special request that needs watching (You know who you are, and thank you). Believe me, there's a lot I want to talk about, both in terms of reviewing the movie and discussing both where it belongs as part of Quentin Tarantino's portfolio and among the ranks of this year's Best Picture race. Not that it matters, at this point, but I'm entitled to my opinion, dammit.
The problem with comparing these two is that they're very different animals. However, a comparison is likely to prove interesting – we just might not have any shots with folded chairs or pile-drivers happening. So, apologies in advance for having this be less of a throw-down and more of an argument around a pub table. Insert your own punching sound effects if you like.
Setting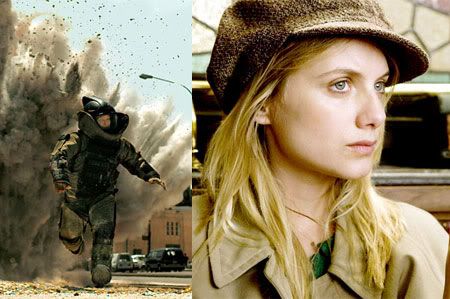 There's a war on in both The Hurt Locker and Inglorious Basterds, and both films take the armed conflicts that serve as their settings seriously. Hurt Locker is focused squarely on the gritty, tense and all-too-real atmosphere of modern warfare. The film's emotion, humor and drive come from that realism. While the World War II backdrop of Basterds is slightly different at tone in times, and even verges on romanticism now and again, there's an undercurrent of realism to it, as well. The fact that it's an undercurrent in Basterds is the biggest difference in terms of setting. Hurt Locker is shoulder-to-shoulder with the soldiers of Bravo Company, while Tarantino keeps the Basterds at cameras-length from us at all times. Sometimes the camera is very intimate, and sometimes it's pointing out how awesome something is.
Characters
Compare our two male leads.
Jeremy Renner's Sergeant James is very much an alpha male. He goes about his business his way. He doesn't like hearing the word "No," and things going wrong upsets him a great deal.
Brad Pitt's Aldo Raine is also very much an alpha male. He does things his own way (the Apache way, it seems), hearing the word "Nein" makes him mad, and plans going wrong are problematic especially when he points out the flaws in those plans.
See where I'm going with this? At first these two seem like pretty much the same character, only each has a different sort of edge, in keeping with the different films' settings. Renner makes no concerted effort to make James heroic beyond the simple nature of his actions and attitudes. There's some cowboy in him, to be sure, but this come across less as macho swaggering and more as simple deflective behavior, putting on a certain amount of airs to avoid dealing with people around him in a way that might get him hurt. He wears his emotions and attitude the same way he wears his bomb suits. Aldo Raine, on the other hand, is meant to be macho, and Pitt plays him that way, from the smirk that comes from his affected drawl to the way he sneers at Nazis. He's having fun, in spite of the seriousness of the situation, and by extension, so are we.
Theme
The Hurt Locker tells us that "War is a drug" and uses that as the central thread around which the narrative is woven. Inglorious Basterds has a few thematic elements, the strongest of which is its focus on films and film-making. MovieBob has already touched on this in his 'Escape to the Movies' feature and I plan on doing the same, though from a slightly different perspective since the Oscars have come and gone.
---
So which is best? From a standpoint of watch-ability – ICFN spoiler alert! – they're both worth your time, for different reasons. As for the rest… well, my thoughts on The Hurt Locker have already been documented, and Inglorious Basterds will get its turn.