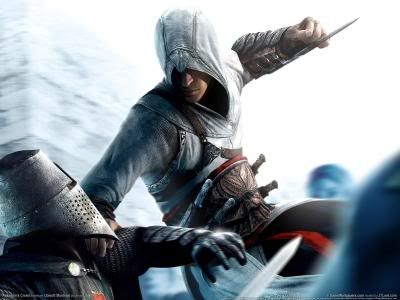 Yahtzee put it best. Released in 2007, Ubisoft's Assassin's Creed is a decent game with an interesting concept and good story let down by a few things that I'm going to dive into right now. This isn't really a review, though I'm filing it as such. It's more of a 'first impressions' overview because I got about three hours into the game, realized how much tedium I'd have to repeat and decided I'd finished wasting my time with it and went back to wasting my time with World of Warcraft.
One of the things that I really enjoyed about the Prince of Persia games on the PS2 was the free running you could do, basically holding down two buttons in such a way that the rather charming and very human prince of thieves jumps, swings, runs and leaps across ancient palaces full of nasty traps and nastier enemies made of sand. However, you were always going from point A to B, so any sense of freedom engendered by this mode of transportation seemed to deflate once you arrived. Then again, it was also buoyed up by knowing exactly where you were going.
In Assassin's Creed, you're free to run, jump, swing and fall on your face anywhere in the 11th century Holy Land you damn well please. That is if the guards aren't trying to turn you into chunky salsa. But let me back up and talk about the story.
From the promotional art and trailers it seemed that the game was an action-adventure-platformer set in the aforementioned Holy Land where you play an assassin dispatching some of those dirty amoral Christians everybody loves hating so much. But Ubisoft lied to us. Assassin's Creed is really about this guy named Desmond, strapped to a table in a lab located twenty minutes into the future where an evil scientist who really isn't Dr. Breen from Half-Life 2 wants to mine the genetic memories of his 11th century ancestor, Altaiir. Now, I have to give Ubisoft props for making an action protagonist who's of Middle Eastern descent and not characterizing him as a crazed fundamental Jihadist. Then again, Altaiir was just a touch more bland and emotionless than Desmond himself, but at least he wasn't pursuing his targets the way Glenn Beck pursues anybody with a functioning frontal lobe or decent sense of morality.
Ah, shit, I promised I'd keep politics & religion out of this blog, didn't I. Dammit.
Anyway, the game. Altaiir is tasked with taking down a series of extremely nasty Crusaders who are making life miserable for pretty much everybody and begins to uncover an ancient battle between his people, the Assassins, and a rather well-organized secret order of amoral knights called Templars. The Templars tend to get the short end of the stick in historical fiction, big examples being Kingdom of Heaven and anything Dan Brown writes, while at other times they're actually shown to be somewhat virtuous, i.e. Indiana Jones and the Last Crusade. Knowing some of the members of their spiritual descendants, the Freemasons, I find it hard to believe that the Templars are as dirty and horrible as some like to characterize them. However, that's the route Assassin's Creed goes, and Altaiir has quite a few pseudo-pious throats to puncture.
However, there's a lot standing between you and your targets. Every time you jump into a new memory, you begin at your home base, which is at the top of a mountain far from any sort of Western civilization. While I can appreciate this from a historical perspective, as Alamut was indeed used by the Hashshashins as a refuge and fortress, walking down from the peak all the way down to the stables every single time was pretty much the definition of tedium. When you do get to the stables, you have to resist the urge to gallop off to your next target, since the Crusaders who patrol the roads of the Holy Land don't want you to hurt yourself by riding too fast, and why don't you have any papers for that horse? You need to get your horse inspected and registered every 12 months, or they'll slap you with a fine. And by 'fine' I mean 'longsword up the ass.'
Anyway, so you've hiked all the way down Alamut and gotten to Jerusalem or whereever at a slightly faster pace than your own brisk walk by having your horse do a brisk walk. Time to get your stabbing on, right? Wrong! You need to 'gather intelligence'. And by 'gather intelligence' I mean 'run around doing chores at the behest of NPCs before someone will tell you where the damn target is.' You deliver messages, beat up bad guys (but without killing them, that'd summon the legions of Crusaders waiting around the corner to slay you for Jesus), sweep chimneys, walk dogs, babysit, run to the store, help little old ladies across the street and generally do everything for everybody in sight like this is an 11th-century MMOG and you're trying to grind your way up to a more impressive hood.
When you finally find out where your target is, Assassin's Creed adds something to the 'good' column under 'breathtaking environments', 'intuitive free-running' and 'original story-framing idea'. You plan your route to where the target's hanging out to make sure you avoid being seen by his cronies, make your way there stealthily either by moving through the crowd or via a tricky Parkour sequence that belies the peacefulness of the scene, leap onto the bad guy and slam your retractable blade into their larynx. Awesome!
But wait – the target has something to say. In fact, these guys have a lot to say. Even after you've sprung your sharp implement of holy death and driven it home, they'll clearly tell you something about the ongoing conspiracy or their apple-cheeked children or something, with nary a gurgle or spattering of blood. Are they telepathic or something? How can you soliloquize when you've got a gaping hole in your voice box?
Following a successful assassination you are rubber-banded back into Desmond, who has a near-future room to hang out in between the near-future experiments on his near-future brain. And once you're strapped back into the Animus, whammo, you're back on top of Alamut again. It was around the third time that this happened that my patience for the game ran out.
"It's like you're enjoying a nice (if somewhat bland) grilled cheese sandwich livened up by intermittent lumps of Branston pickle, when someone snatches it from your mouth and replaces it with a spoonful of watery ejaculate between two peices of wood." – Yahtzee
I do consider that a bit of a shame, because Assassin's Creed had a lot going for it. The story seemed interesting and the free-running and sealth-assassining was fun, but the tedium of going from one place to another, all of the crap I had to take care of before I could stab with impunity got on my nerves and the lepers and beggars who ran up to me begging for cash really tempted me to break the first rule of the Creed, which is 'Never harm an innocent'. I harmed quite a few, only to get desynchronized (read: killed) when the Crusaders nearby jumped on me for giving the beggar a discouraging poke. With my hidden blade. In the face.
This turned into a bit more of a rant than I expected, but I wanted to revisit my thoughts on Assassin's Creed because I'm playing the sequel when I'm not sinking more time into the Mass Effect universe. So how does Assassin's Creed II stack up? I'll let you know when I finish playing it. Yes, I'm going to finish it, which says something for it right there. And here's something else.
You know how Yahtzee described Assassin's Creed as, at first, a nice little grilled cheese & Branston sandwich? Assassin's Creed II is, so far, the same sandwich with a nice thin layer of prosciutto added for extra deliciousness. And nobody's come to snatch it yet, which is a good thing because I love prosciutto to pieces.