The Gospels in most standard Bibles – Matthew, Mark, Luke and John – talk a great deal about the birth, ministry, death and resurrection of Jesus Christ. But there are about thirty years of his life missing from those narratives. A question asked by many (including myself) is: what happened during those thirty years? How did they help shape the Son of God's ministry? Christopher Moore, an author and humorist I'd rank with Douglas Adams and Terry Pratchett, attempts to answer that question with Lamb: The Gospel According to Biff, Christ's Childhood Pal.
Levi bar Adelphus, who is called Biff, is raised from the dead by the archangel Raziel to write a new Gospel. Kept under house arrest – or rather hotel arrest, as they're staying at a Hyatt in St. Louis – until he finishes, Biff sets his mind on the task of recounting his journeys with his best friend, Yeshua bar Jehovah of Nazareth. Josh & Biff both work for Biff's father as boys, and take turns courting the irrepressible Mary of Magdala – Maggie, for short. When an angel appears to Josh and tells him he needs to find his destiny, the two embark on a journey across the continent in search of answers.
In addition to making an attempt at shedding light on one of the most influential men in history, Lamb also takes a fascinating look at some of the other faiths and philosophies in the world, such as the teachings of Confucius, the tenants of Buddhism and some of Hinduism's darker sides. There are a pile of references to everything from the world being round to evolution, and a great deal of it is done with tongue firmly planted in cheek. I don't know if I've ever even heard of an elephant doing yoga before I read this book.

This is a very funny book. If you're reading it in public, especially in a library or a study hall, you are very likely to disturb others. I lost track of the number of times I burst out laughing reading it. As I said, Christopher Moore's work is of a high caliber of satire and humor. This was my first time reading one of his books, and I know I'll be reading more after this. I also know I'll be reading Lamb again because, as a Christian, I'll admit I got a great deal out of it.
I know there are people out there who consider any reference to Christ in literature outside of the Bible to be blasphemous or false or something like that. They might think that portraying Him in any way other than fearful reverence dilutes the power of His message. Christopher Moore proves thoroughly and completely that this is not the case. The notion is that a divine and omnipotent intelligence alien to our own responsible for the creation of the universe incarnated as a normal human child to experience the range and depth of the human experience without the bias of an omniscient point of view. Lamb shows the confusion, determination, delight and humanity of Joshua, treating him with respect throughout the work. His desire for understanding and compassion is balanced very well against Biff, who acts as a sarcastic and realist foil for the Messiah. It could be said that Biff shows us what it's really like to have a "personal relationship" with Christ, in that sometimes Biff gets smacked a bit hard, and sometimes Biff yells at Josh for one reason or another. It's a friendship, a very deep and human bond, and I think this review is going a bit more serious than I intended so here's a picture of a bunny.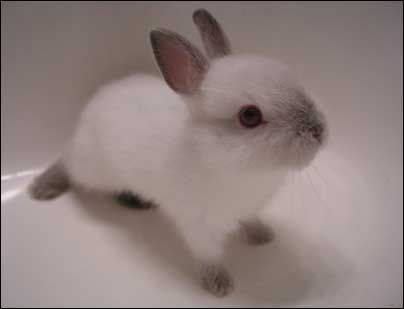 Apparently Josh liked bunnies. Anyway, Lamb is a great book, on many levels. It's funny, interesting, powerful and tender. It never disrespects its source material, has a lot of good research behind it and just tries to answer a few questions that might nag anybody who looks on the life of Christ with their brain engaged. Questions like "What was Jesus like as a young man?" and "What if Jesus knew kung fu?"