Let me tell you a tale, friends. Stay a while, and listen…
I tell the tale of a software company that once could do no wrong. They took some time rousing themselves to craft their stories, but when they did, they were epic. I tell the tale of Blizzard.
Blizzard, before the dark times
Warcraft. Starcraft. Diablo. Even the nearly-forgotten The Lost Vikings spun a story that is remembered and loved by those who played it. The worlds that Blizzard forged in the fires of fantastical imagination and occasional touches of dark humor were all memorable, but arguably the most impressive was the expansive world of Azeroth. Blizzard then rocketed into legend by inviting players to become a part of that world, instead of simply an aloof sky-dwelling controller of its armies, with World of Warcraft.
There was no question that the game broke new ground in the MMORPG market, immersed players in a world they'd only seen from afar previously, and rocked people's faces clean off. Clean. Off. But the good times were bound to not last. With a successful expansion was released and expecting another, top-level executives decided that Blizzard could no longer rule alone. Foisted upon these tellers of stories was the guitar-peddling duty-calling peddlers of software snake oil, Activision.
Activision, long after the Atari days had passed
Activision wasn't always the way it was when it began to rule alongside Blizzard. Once upon a time, games like Pitfall!, Starmaster and Kaboom! were the order of the day in the heady bygone age of the Atari 2600. The first few acquisitions Activision made after that, like Infocom and the Mechwarrior license, did not seem to be bad decisions. But Activision could not stop. More and more studios fell under its control, until very little of the original game-creators remained, smothered under big-name franchises and weak sequels.
It was not long after this decision that things began to change in Azeroth, as well. More of the game's content seeped out of the in-game realms and into places like the Armory. At first, this was not a bad thing, as players could interface with their beloved characters more often and more freely. However, soon Blizzard began to offer more services and even in-game items with the exchange of even more of the hard-earned cash players were using to maintain their connection to Azeroth. And then, the announcement came that the newly-implemented RealID would be used not only to allow players separated by realms to communicate with one another, but to remove the anonymity of players posting on Blizzard's forums by displaying their true first and last name. It seemed that Blizzard had forgotten who we were.
Blizzard today
What caused this change? How did something that started out so heroic, epic and simple become so mired in these changes, these services, this utter nonsense? A full day of rage consumed the Internet, but slowly the truth began to come to light. Playing in an MMO is something of a social activity, and the most titanic money-spinning scheme on the Internet, even bigger than anything Blizzard could ever concoct, was the presence of social media. To produce even more revenue from the already embarassingly profitable world of Azeroth, Activision Blizzard was moving that franchise in the direction of the sort of constant bombardment of advertisements, updates and links that typify the social media quagmire.
A little research makes things all too clear. Very quietly, at least to the ears of some (like me), it had been announced that Battle.net, the online service allowing players of Blizzard's games to interact with one another before World of Warcraft ever came along, would be integrated with Facebook. Now we see the truth: Facebook is unsatisfied with its Farmville and Mafia Wars players. It has seen the amount of attention, money and time given to Azeroth and looks upon those figures with envious eyes. It must increase its base of power, and do to so it is slipping into World of Warcraft by any means necessary, bringing those who play it further into its clutches.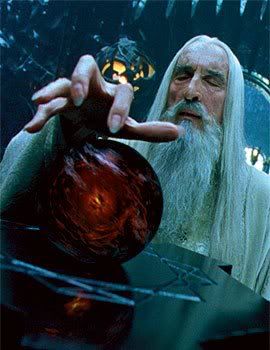 Facebook, contemplating its future power
How do we stop this, one is left to wonder? Is it possible for Blizzard to shake loose the presence of these vultures, make some sort of return to what made them great and earned them so many fans? Or is all hope lost, the descent of World of Warcraft into a very pretty & Facebook-integrated version of Evony inevitable? The end which I foresee for this tale is too woeful for me to put into words. I wish to hears yours, however. How do you think this tale will end? Are there still good days ahead for Blizzard? Or is now the time to fully embrace the cleansing power of Steam?
(And which Lord of the Rings character should represent Valve in all of this?)
EDIT: It appears that the crisis has passed. The voice of the people has been heard by Blizzard. The aftermath of this announcement is discussed, in brief, here.