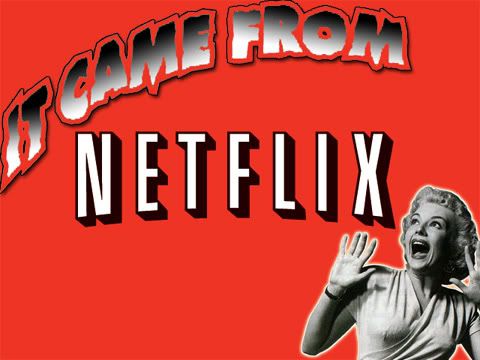 [audio:http://www.blueinkalchemy.com/uploads/titanae.mp3]
"Science fiction" is a broader term than you might think. It covers a wide variety of stories, from the space exploration and future cultures of Star Trek to the time-travelling shenanigans of Doctor Who. In the best cases when it comes to science fiction films, these stories use their outlandish or otherworldly settings to tell us something about ourselves here on the mundane, present-day Earth. In the worst, they dump the latest special effects technology on the screen to make a bit of money and distract the audience from the lack of plot or multi-dimensional characters. Of course, special effects tech can be expensive, but Titan A.E. proves that sometimes the oldest tricks work the best. A bottle of ink and a little paint, after all, has got to be less expensive than a room full of top-flight computers and all of the Red Bull necessary to keep their operators going.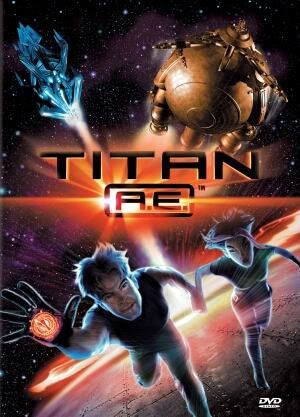 The A.E. in the title stands for After Earth. This animated film begins with a malevolent alien species, the Drej, scouring our long-suffering mother world of all life. One of the survivors is Cale, whose father leaves him on the eve of Earth's annihilation to undertake a mysterious project. The only memento Cale has of his father is a ring. Adrift and alone as one of the few remaining humans, Cale takes odd jobs as a mechanic and salvager until a rugged ship captain named Korso tracks him down. No sooner does Korso tell Cale that his father is out there waiting for him, and that his ring is the key to the project "Titan" that can rekindle the human race, the Drej show up and start blasting things. Not one to stand around and get disintegrated, Cale joins Korso and his crew in a quest to find his father, the Titan and possibly hope for his entire species.
Don Bluth is no stranger to the otherworldly and fantastical. He is, after all, the animator who gave us The Secret of NIMH, the Dragon's Lair and Space Ace video games, An American Tail and The Land Before Time (but not its bazillion sequels). While much of his style is clear in Titan, the sheer oddness of some of the aliens and the behaviors they engage in feel much more in line with Ralph Bakshi. There's a bit of an edginess to it, which isn't uncommon for works from the turn of the millenium but may surprise those of you who know Bluth only due to talking cuddly dinosaurs.
Akima: All this and brains, too.
Further pushing Titan away from the realm of children's movies is the sheer amount of violence present. Sure, it's mostly bloodless and taking place in the same sort of universe where you might find Luke Skywalker or his even whinier dad, but there were a couple times where I found myself gobsmacked in an "I can't believe that just happened!" sort of way. Don't get me wrong, it's not as savagely violent as anime entires like Ninja Scroll, but it's a far cry from the wide-eyed optimism of Fivel the immagrant mouse.
While we're on the subject though, Titan A.E. immediately reminded me of one of the first anime features I ever saw, Lensman. Given that the anime is an adaptation of the sci-fi novels of one E.E. "Doc" Smith, I consider this a good comparison. Titan aims to be an old-school two-fisted space western, harkening back to the days when Star Wars was unsullied by major merchandising. It's mostly plays like Flash Gordon without the camp, but at the same time has the good sense not to take itself too seriously. A more cynical way of putting it is that they keep the story and action sequences moving so you don't think too hard about the science.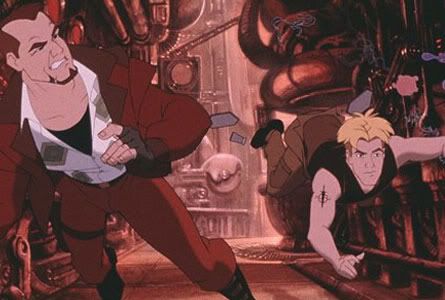 Somebody turned off the gravity? Korso's shirt is unimpressed.
Since we're in the sort of story where space is the open range and asteroids might as well be tumbleweeds, you shouldn't expect to get a whole lot of hard science out of Titan A.E. – it's no 2001, in more ways than one. I mean, this has plot beginning to end, instead of bookending a 20-minute character-driven tragedy with two hours of model spacecraft dancing to classical music. Anyway, while some of the things that happen do have basis in science – weightlessness, exposure to vaccuum, etc – one might be forgiven for wondering how Cale is able to safely eat extra-terrestrial food, for example. Or how the "wake angels" emit dolphin-like song in that one superfluous scene they have. It's really not the sort of thing that detracts from this kind of story. Titan A.E. is definitely on the softer side of science fiction, as most of the technology exists primarily as a backdrop and mechanism to drive the plot. And on that level, it works. Even if we have no idea how they broke the faster-than-light barrier.
If Titan A.E. has a potentially crippling flaw, it's the Drej. Given that this is a 2000 film, the decision to mix hand-drawn animation with CGI was innovative for its time and half the time it's not too much of a disadvantage. The Drej, however, are so decidedly different from every other character involved in the story that they might as well not be from this story. Then again, maybe that's the point? Anyway, the big problem with the Drej isn't really their animation, but their motivation. They fear the potential power of humanity. Why? I mean, antagonists lose some of their mystique when their motivations are laid out for us in plain English, but at the same time little hints would be nice. Especially given the way the movie ends, it seems that the Drej were just as responsible for their inevitable defeat as Cale and the surviving humans. If they had a prophecy that drove them to scorch the Earth, shouldn't it have included something along the lines of "Let the human race die out in peace" or "Keep destroying planets when they settle but don't go after them when they're transient, desperate and heroic"? There's certainly nothing wrong with the actions of a malevolent alien race driving the plot of a story like this, but the Drej run after humanity so fast with the intent to end the race that they run themselves smack into a brick wall and brain themselves. They certainly can't hold a candle to the Cylons. Hell, I think the Romulans could probably give them a bruising. At least Nero had a bit of charisma.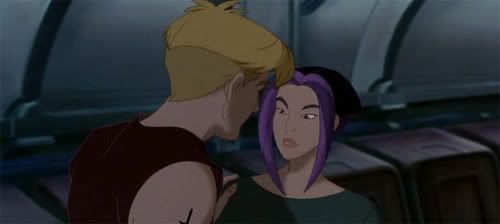 "So, Akima… you, me, some simulated candlelight…"
"Cale? You remember I have access to large weaponry, right?"
"…We'll talk later."
The hero cast, on the other hand, is pretty well done. None of the characters really fall into the realm of stereotype. Co-screenwriter Joss Whedon's trademark snarky banter shines through in some of the scenes, and there's never a moment of over-the-top emotional dramatics from the ensemble. In fact, the heroes strike that precious balance of being both well-developed enough for us to care about their well-being and wish them success in a general sense while not trying to turn a rock-em sock-em space romp into a Greek drama. It's a lot like the hero cast in Independence Day. And hey, that's Bill Pullman as Korso! Coincidence? I think not!
When all is said and done, Titan A.E. can be best summed up in the word "solid." Solid concept, solid story, solid screen-writing, solid animation and solid execution. It lurches a bit here and there, and the Drej could have used a bit more work to become truly effective, but those are mostly nitpicks. If you like the sort of action-packed space adventure where a young hero has to learn something about himself while dodging blaster fire and trading quips with an attractive and capable young lady who's clearly no slouch when it comes to shooting back at the bad guys, you could definitely do worse than Titan A.E. and it's worth adding to your Netflix queue for an evening's light entertainment. It's old-fashioned space-based fun. And I for one have to respect a movie that doesn't screw around and blows our planet out from under us in the opening scenes. Apparently they lost track of their books in the future, though, because I didn't see a single human being fleeing the Earth who had the good sense to take a towel with them.
Josh Loomis can't always make it to the local megaplex, and thus must turn to alternative forms of cinematic entertainment. There might not be overpriced soda pop & over-buttered popcorn, and it's unclear if this week's film came in the mail or was delivered via the dark & mysterious tubes of the Internet. Only one thing is certain… IT CAME FROM NETFLIX.