Seeing Red was admittedly not a choice I'd have made on my own. But my mother recommended it to me. Mom doesn't see too many action flicks, you see. She has an aversion to rampant bloodshed and casual cluster F-bombs. So going into Red, knowing its premise, seeing MovieBob's review and able to name pretty much the entire speaking-role cast off the top of my head, I figured I knew what I was in for. And I was right: Red was a good time, albeit something of a tame one.
Not that this is a bad thing, per se. Not every movie needs to be full of gore, profanity and gratuitous full-frontal nudity.
…What? It doesn't. Stop looking at me like that.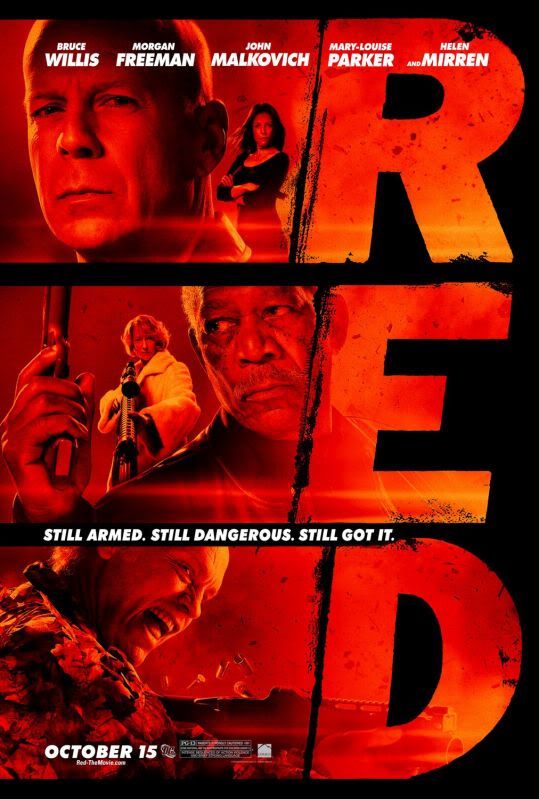 Based somewhat loosely on a graphic novel penned by Warren Ellis, the man who gave us Transmetropolitan, Red centers on Bruce Willis as Frank Moses, an aging covert operative put out to pasture by his superiors. He isn't finding retired life agreeable, and it's quickly apparent that part of him will never stop being a spy. His only real joy comes from conversations with a young woman at the pension office whom he calls just to hear the sound of her voice. Then some guys show up and try to kill him. They fail, mostly because Frank's still a badass, and he leaves his quiet life behind to discover that someone has flagged him and some former associates as "Retired, Extremely Dangerous."
Thus the premise is established for a cast of Oscar-winners, venerable screen actors and some very bright rising stars to come together to have fun shooting guns, driving cars faster than the speed limit and blowing things up. On the surface, it seems pretty flimsy. The action bounces from location to location somewhat abruptly and without any sense of time actually passing. But it's hard to consider that a major problem in the film when the cast is clearly having a great time.
God save us from the Queen.
Indeed, the venerable leading ensemble is Red's greatest strength. Without this cast working this will together and this naturally, this film would fall apart. Everybody is here doing what they do best. Bruce Willis is quietly and thoroughly badass. Morgan Freeman is charming, grandfatherly and… well, Morgan Freeman. John Malkovich is crazy. No, I mean batshit crazy. Even President God chimes in with "There's something wrong with that boy."
They cast Dame Helen Mirren as a wetworks asset, but honestly, she's a damn thief. She steals the movie any time she's on screen. Richard Dreyfuss pulls a respectable Dick Cheney impression as the film's heavyweight, and while we're on the subject of heavies, isn't it nice to see Brian Cox in a role where he's not the bad guy? He gets to smile, dance with the beautiful British woman and do the same sort of casually awesome things as the other big names. It's a joy to behold.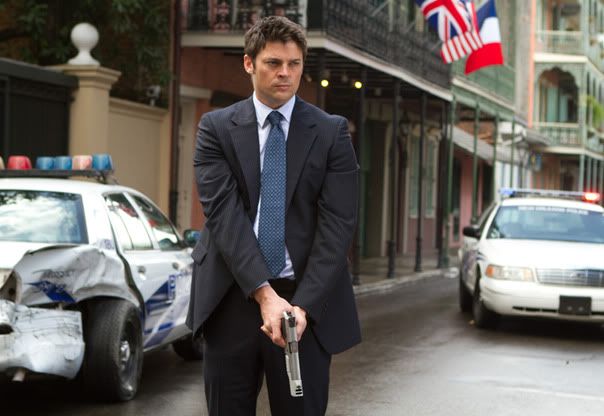 "I can think of worse punishments for being in Doom than getting beat up by Bruce Willis."
The newcomers in the cast aren't bad, either. I've always liked Karl Urban, and he's got underutilized range for a guy who keeps getting roped into action flicks. Then again, most of his pedigree was pretty impressive before this. He's Eomer, the new Dr. McCoy, and I hear he's going to be Judge frakin' Dredd. As long as they keep Sly away from that one, I'd say the Mega-Cities are in good hands. Anyway, he's good in this. He holds his own with the big names and that's no small feat, even in a movie like this.
Mary-Louise Parker, whom some may know from Weeds is the girl who isn't the Dame. She's the voice with whom Frank has fallen in love. She's decent as well, never coming across as a shrinking violet damsel in distress. It's nice to see two women with dimension in an action comedy like this, but unfortunately Red fails the Bechdel test. The two chat about men while they're hunkered down in Victoria's sniper perch. The other problem I had with her character was that there was no real growth. She's just as eager for travel and adventure at the end as she is in the beginning. It's a minor quibble. But this movie's got more than a few minor quibbles to it.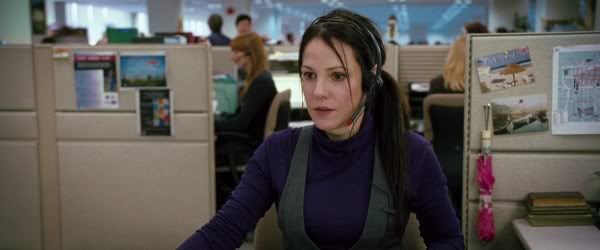 "Okay, sir, I'm going to have to transfer you to the Minor Quibbles department, please hold…"
Along with a flimsy premise, the plot's also pretty standard. There's no plot twist a movie-goer who's seen at least a few action or espionage flicks won't see coming. Sure, Red plays with an expectation or two, but for the most part there aren't any big surprises to be had in here. Most of the best action & special-effects shots have been given away by the trailers. The one-liners are decent but I can't remember a single one from the movie that'll have me saying "That's from Red" a year from now. Mostly because it was probably written elsewhere first. There's also just a few too many stereotypes at work in here. Spoiler alert: The black guy dies. And the Russian guy's name? Ivan.
At least he's not the bad guy. Seeing him as an ally had me marking this above Salt right from the off. For its numerous plot problems — not holes, mind you, just problems with predictability — Red is actually decently written. None of the characters, stock though they may be, feel one-dimensional or caricatured. Except the Dick Cheney expy. But, seriously, screw that guy, he's a dick. All in all, I can think of worse ways to spend an evening at the movies, especially when it's on a parental dime.
"Son? Your mother sent us to have a word with you about your spending habits."
Stuff I Liked: Karl Urban is back to kicking ass and he's given something good to do with his skills. The action's cleanly shot. The writing's decent, especially for a Hollywood action comedy. It's always cool to see Rebecca Pidgeon. And Ernest Borgnine looks pretty good for his many well-respected years.
Stuff I Didn't Like: The plot's terribly predictable. Mary-Louise Parker's character doesn't really go anywhere. I didn't feel like I was seeing anything new; I couldn't tell which bits were homages, which were parodies and which were meant to be both. Or neither.
Stuff I Loved: Damn, this cast. Great chemistry, well-paced banter, big-name movie people having a good time. There's great little moments where a shot or a line can't help but evoke a smile, from Frank's gun of choice being the old Colt .45 automatic to just about anything Helen Mirren does. And Karl Urban's precision F-strike is perfect.
Bottom Line: A cool little action comedy. Sure, it looks good on the big screen and you might have a decent time seeing it on the big screen, but I can't help but think that the mediocrity might be smoothed over by some friends and booze.