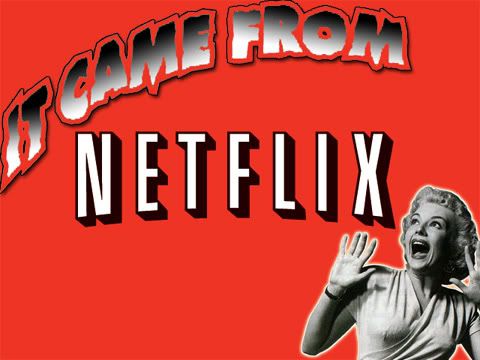 [audio:http://www.blueinkalchemy.com/uploads/halo.mp3]
So a few years ago this new sci-fi franchise got started. It had some interesting ideas based on established literature and the first entry did a lot better than anybody could have expected. It spawned a couple of sequels that really didn't measure up to the original but people really ate it up anyway and there were a couple of spin-off projects, too. Then, somebody got the bright idea to get Japan involved, and some of the best material ever associated with the franchise, as well as some mediocre disappointments, became collected into a series of shorts called… the Animatrix. No, wait, sorry, I meant HALO Legends.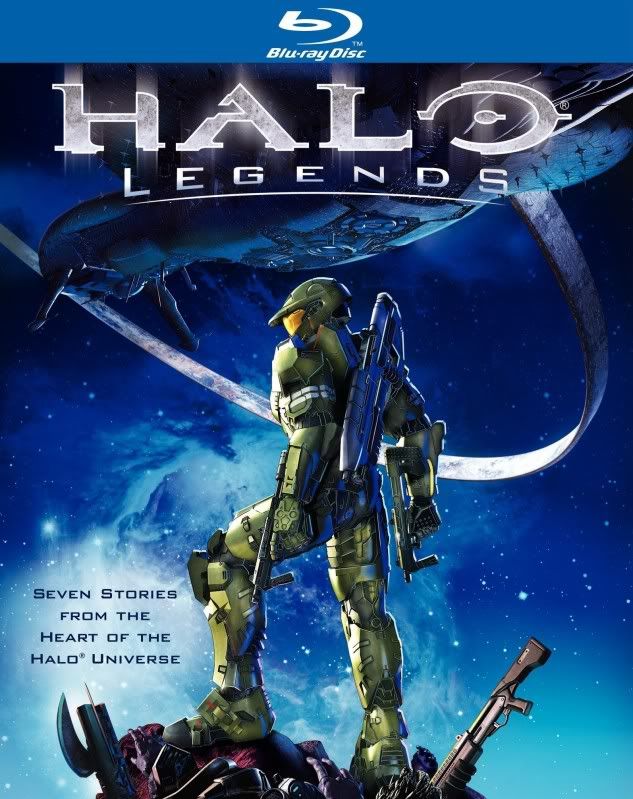 Okay, that might be a little unfair, there are actually big differences between HALO and the Matrix. One's a movie franchise, the other's an X-box franchise. One's based on shoddy poorly-written post-modern philosophy while the other cribs notes from Larry Niven and Robert Heinlein. One's got a rabid fanbase of diehard fans who won't brook any dissention against their beloved universe, and the other's got a rabid fanbase of diehard fans who won't brook any dissention against their beloved universe AND will teabag you if you don't play the game as much as they do while calling you queer and saying how good your mom was last night. And when the collection of anime shorts was announced, one fanbase considered it a worthy addition to and refreshing change from the established material, while the other fanbase… well, let's just say the words "RUINED FOREVER" were screamed more than once across the Interwebs. But how is the end product of HALO Legends? I'm going to go blow by blow and it might take a while, so grab a drink or other refreshment if you'd like.
Origins begins the project with a two-part history of the HALO universe narrated by Cortana, ranging from the Forerunners' attempts to sterilize the Flood to mankind's expansion into the stars. In another interesting parallel with the Animatrix, this is a rich, comprehensive narrative that is unapologetic in its characterization of mankind and his many follies. However, it belies the lack of this sort of substance within the game itself. It forms the spine of the games' stories, but most people just want the meatier parts. I've seen at least one review of this bit saying it "needs more explosions." Anyway, the challenge for the rest of the shorts is to take these concepts, these characters, and move in new & interesting directions.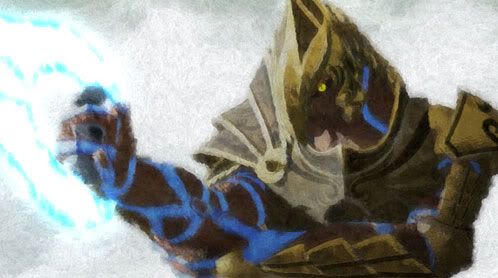 This art really needs to be seen to be believed.
The Duel is not only interesting, it's visually stunning; I've never seen anything quite like it. I'm not entirely sure how the visual effect of this short were achieved. I think the animation was CG but I can't be sure, as the different patterns and shifting colors seem to have a life of their own. It's like a muse blowing onto an oil painting, and the brushstrokes moving of their own accord in response. Underneath this artistic achivement is a story both lush and lurid told from the other side of the great war than engulfs the HALO universe. The Covenant always seemed more interesting than the games might have allowed them to be, but this casts them in not only a deep, nuanced light, but a very human one. It's not easy to establish empathy for a character in so short a timespan, but The Duel does it very well, and the fact that the protagonist is a hostile alien makes the work all the more impressive.
When Homecoming began, I couldn't help but smile not only when the SPARTAN not only doffed her helmet, but also at the sight of the tiny stuffed bear hanging from her armor. When you're sauntering down one of HALO's many metal corridors gunning down aliens, you never stop to think of the cost necessary to put a soldier like a SPARTAN there. Like The Duel, it humanizes an element that lacked that nature in the games; but in this case and by way of extension, it's the player's character that gets depth and emotion. While leaving the main character of a shooter an empty vessel for the player to pour themselves into makes sense, I can't shake the feeling that just a glimmer of this sort of storytelling would elevate the games to a much higher level than the one they currently occupy. The story of HALO, Origins' expounding notwithstanding, is a touch on the forgettable side; Homecoming is anything but.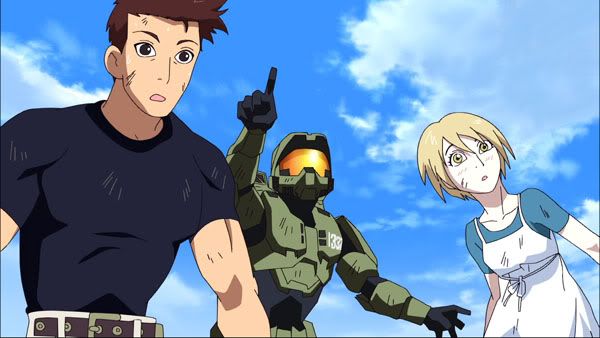 Putting the "1337" in elite.
While those entries add some serious depth to the stories, Odd One Out takes the HALO universe in an entirely different direction. It's just here to have some FUN with things. In this case, SPARTAN 1337, who may well be the Deadpool of this franchise, gets a powerful monster thrown at him by the Prophet of Truth, seen here as King Zarkon's cantankerous little brother more than a diabolical yet eloquent if cryptic space-pope. (Crap, I think it's rubbing off…) Even 1337's astounding and manly heroism can't beat this threat into submission alone, but thankfully he crash-landed on a planet that might be populated with characters from Dragonball. HALO's done a lot of things, but this might be the first time the universe has made me laugh out loud in genuine humorous glee. I think it was 1337's impressive introduction to the little kids that had me rolling; that, or the sight of his legs sticking out of the maw of a tamed T-Rex.
Prototype has some techno-geek fun with the idea of the UNSC developing a Macross or Gundam-style combat suit and unleashing it against the Covenant. The man inside the suit could have been a bit more interesting, but it's still delivering more story and characterization than the games usually do. While it's no Homecoming, it's also not bad in the slightest, though it did signal a steadily declining trend in story quality as HALO Legends wore on.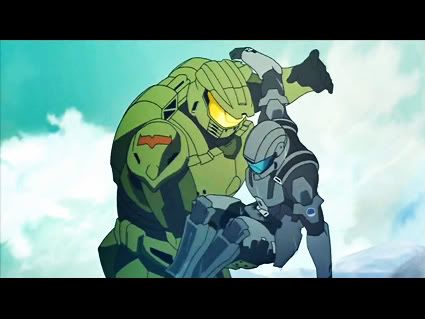 As ambivelant as I felt about The Babysitter, this is still a poignant image.
The Babysitter is more typical HALO fare. It's trying to tap that Starship Troopers/Band of Brothers vein and stabbing the wrong part of the arm a couple times before getting it right. While it's nice to see an ODST story, if it were a touch more original it might make the Helljumpers seem like more than just a sci-fi send-up of Easy Company. Like Prototype, it isn't necessarily bad, just nothing terribly outstanding especially when compared the earlier entries. And if you don't see the big plot twist towards the end coming a mile away, you should read & watch more stories.
Don't think HALO fanboys go completely unloved in Legends. Appleseed director Shinji Aramaki puts SPARTAN 117 through his paces in The Package. Once again, this bit can't objectively be called bad, as there are no technical issues to speak of and it looks somewhat impressive in its execution. I was reminded of the CGI used by Skywalker Studios, particularly in the opening of Episode III of Star Wars. However, let's leave that comparison behind before I start drawing more parallels between franchise characters and get angry emails from HALO fans saying that their beloved Master Chief would never slaughter children. Well, not human children anyway. He can kill as many Covenant kids as he wants, after all they're different from us, right?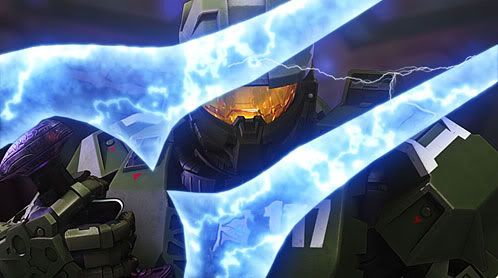 Think about it. Master Chief could be Darth Vader without the asthma.
All in all I feel relatively the same way towards HALO Legends as I do towards the Animatrix. It's done some of the best storytelling in the franchise and lets some of Japan's premiere visionaries take a Western narrative concept in new directions. Unlike the Animatrix, this is front-loaded with quality entries and the original stories and fun factor slowly peter out towards the end. Which is not to say that the latter bits are unwatchable by any stretch, they just don't do as much with this universe or its characters. By all means, if you're interested in this franchise, some recent successful science fiction or the work of the attached anime studios, queue this up on Netflix. I have to say the two hours watching this was probably more fun for me than playing HALO for two hours. As unoriginal as some of the entries feel, at least none of them ever tried to teabag me.
Josh Loomis can't always make it to the local megaplex, and thus must turn to alternative forms of cinematic entertainment. There might not be overpriced soda pop & over-buttered popcorn, and it's unclear if this week's film came in the mail or was delivered via the dark & mysterious tubes of the Internet. Only one thing is certain… IT CAME FROM NETFLIX.