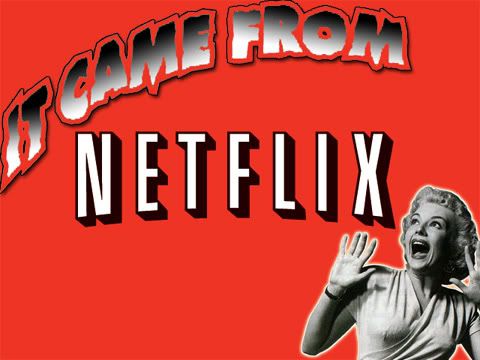 [audio:http://www.blueinkalchemy.com/uploads/bigtrouble.mp3]
It may appear at first glance that Big Trouble in Little China is one of those clever, funny deconstructions that film students are always raving about. There are even some moments where someone over-analytical may mistake it for a parody. But John Carpenter's tongue-in-cheek but straightforward action-adventure is not interested in tearing down the conventions of the genre nor in necessarily poking fun at it. It's point seems to be simply having a great time telling a unique story with some inventive action. The hero just happens to be the guy who isn't the big-name Hollywood tough guy. The hero isn't even white. And that? Is fantastic.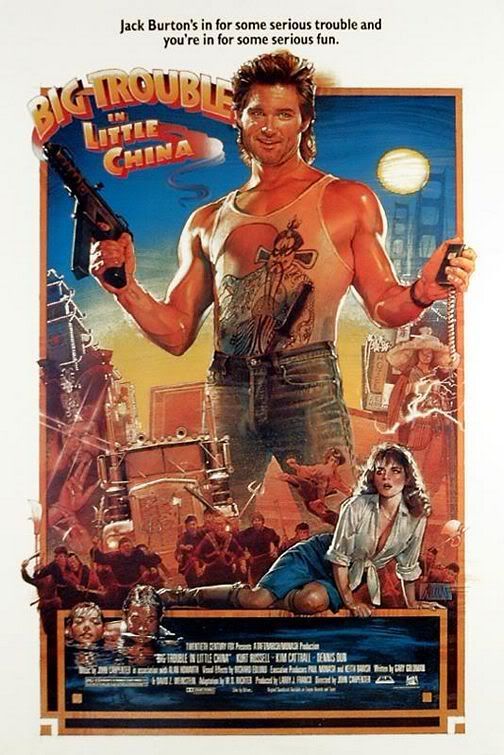 We're first introduced to Jack Burton, a wise-cracking long-haul trucker with all of the swagger and bravado of any 80s action hero you'd care to mention. He's friends with Wang Chi, the young owner of a restaurant in Chinatown. The pair head out to pick up Wang's fiance from the airport, only to witness her being abducted by members of a Chinese street gang. Following her into Chinatown they stumble into not only a brawl between the kidnappers and their rival gangs, but three supernatural warriors called the Storms and their ghostly lord, Lo Pan. Lo Pan wants the girl for himself, and it falls to Jack and Wang to rescue her.
This might seem like a run-of-the-mill setup for an 80s action romp, but Big Trouble in Little China isn't all that interested in re-treading old ground. Carpenter and Kurt Russell, the man playing Jack Burton, are clearly looking to do something different. Rather than making sure the tough-talking strong and manly white man conquers the bad guys and scores the girls, the two have set out to give us the story of a man who thinks he's the action hero, when really he's the comic relief character. This must have been a fun subversion for Russell, as his roles in Escape from New York and The Thing thrust him firmly into the action genre. It's the mark of a smart man who looks to avoid being pigeonholed as soon as possible.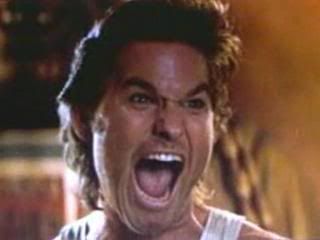 If nothing else, Jack's got a great war face.
I mentioned before that Big Trouble isn't a parody. It isn't looking to lambast the action genre the way Hot Shots! would. Instead, it cleverly presents Jack as both sidekick and audience surrogate for the narrative. Since this is a movie shot & released in North America that deals at least tangentially with Chinese mythology, there's going to be a marked cultural difference in terms of aesthetic, foundation and execution. By putting us in Jack's boots while the powers of the Three Storms are revealed and the depths of Lo Pan's fortress are explored, we see this unfamiliar world through his eyes and he voices many of the same reactions we might. And for the most part, they're hilarious. For example, a monster menaces the party as they make their way to rescue the girls who've been kidnapped. The sorcerer Egg Shen, accompanying our heroes, simply says "It will come out no more." Jack's response? "WHAT? WHAT WILL COME OUT NO MORE?" Not exactly the hysterics you'd expect from a big, tough action hero, right?
As much fun as the movie has with the conventions of other action flicks, it also takes us on a rather uncontrived adventure that has more than a few surprises in it. It introduces us to aspects of a culture to which we might have been ignorant in a way that's appealing and not terribly difficult for an unenlightened American movie audience to understand. I can't say all of the portrayals of Chinese myth are entirely accurate, of course, and how exactly does one become an 'evil bodhisattva'? Being a product of the 80s, some of the effects may seem a bit dated to a few viewers, but there's plenty of action and fun to make up for that. Even the studio couldn't stop the movie from having a good time. They had Carpenter throw in a superfluous prologue scene for fear of the audience not understanding the fact that Jack's a supporting protagonist, but from the reaction of the guy in the suit interviewing Egg Shen, not only does our writer & director show he has confidence in his audience, he understands the sort of folks who just don't get it.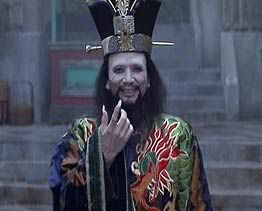 Fashion and hair design by Ming the Merciless' majordomo.
Originally planned as a Western, with Jack as a drifter whose horse is stolen, setting the film in Chinatown with Jack just wanting his truck back while Wang & Egg Shen take up a divine struggle against a deathless sorcerer allows Big Trouble in Little China to tease and tip over so many aspects of action movies it becomes scarily close to a deconstruction. Deconstructions, however, tend to take stabs at their origin material with varying degrees of bitterness. John Carpenter, however, clearly has affection for action movies and isn't interested in tearing down the walls of the genre, just coming at them from a different angle. In doing so he created one of his best works. It's narrative, while at times oblique or even silly, is tightly written, and the characters behave in human ways, especially Jack. It's a fun time at the movies, a unique adventure and a great example of the so-called main character needing to take a back seat when he enters a world he (and we) are not familiar with. The only thing I can really say against Big Trouble in Little China is that it isn't available on Netflix Instant – you have to wait for the disc in the mail. But trust me when I say, the wait will be well worth it.
Josh Loomis can't always make it to the local megaplex, and thus must turn to alternative forms of cinematic entertainment. There might not be overpriced soda pop & over-buttered popcorn, and it's unclear if this week's film came in the mail or was delivered via the dark & mysterious tubes of the Internet. Only one thing is certain… IT CAME FROM NETFLIX.