Serials can be difficult things. You want to keep the fans you've acquired happy, regardless of whether you have five or five thousand or more, and you also want to keep your work from going stale as each old iteration gives rise to a new one. Many movies and games have fallen into the trap of doing 'more of the same' or removing the elements of the first title from the second in an effort to broaden the series' appeal. I hope that the makers of movies and games are paying attention, because George RR Martin is a creative mind who gets serial iteration right, as evidenced in his latest entry in the Song of Ice and Fire series, A Dance With Dragons.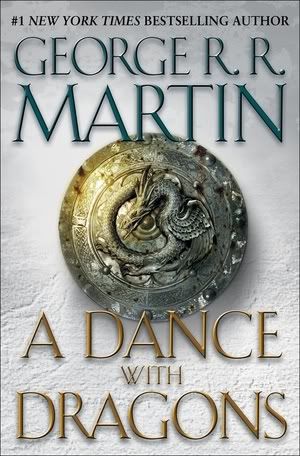 The novel takes readers back to the fictional land of Westeros, where summers last years and winter can last decades. Winter not only promises cold winds, dead crops and snowfalls several feet deep, but horrible creatures beyond count and the dead rising from their graves. Such things seem beyond the concerns of some of the people in Westeros, however, as noble Houses feud to seize control of the Iron Throne. Banners snap in the breeze and swords shine in sunlight as forces clash across the land. The War of Five Kings is all but over, yet conflict continues to rule in Westeros. Meanwhile, across the Narrow Sea, rumors of dragons and the liberation of slaves in the shadow of the ruined freehold of Valyria draws many to the Essos city of Meereen, as well as suitors for the hand of a queen quickly growing in legend as she struggles to maintain control over the change she's wrought. And in the North of Westeros, on the titanic Wall that sheilds the land from the places where winter never ends, an untested leader remembers the words of the House where he was raised: Winter Is Coming…
There was some concern amongst fans before the release of A Dance With Dragons. It had been six years since the release of the previous book, A Feast For Crows. There's also the fact that in A Feast For Crows, many of the point of view characters fans had come to love were conspicuously absent. Considering the cliffhanger way in which Martin had ended the third volume, A Storm Of Swords, it's no wonder that many fans wondered what exactly Martin was up to. As it turns out, A Feast For Crows was merely the first half of a rather bold experiment in long-form storytelling.
One of the titular dragons.
Originally, Martin had intended to relate much of the story in A Feast For Crows and the first half of A Dance With Dragons as flashbacks during "meatier" bits of his saga. However, when he realized how daunting a task that would be to relate so much story without things becoming dull, he opted to tell the stories that needed to be told more or less in real time from the perspective of the involved characters. There was apparently a lot of story to tell, as this transitionary portion of the story as told by more established characters dominates the first half of A Dance With Dragons.
However, this move means that the events that have come before, first published six years ago, now have more depth and resonance. Narrative threads that may have felt as 'left hanging' are tied into greater portions of the overall story. In other words, Martin didn't just publish a new book. He produced a novel that some how makes his previous novel a better one and, rather than letting it remain attached like a vestigial growth, folds it neatly into his ongoing, sprawling epic. This is, in my humble opinion, nothing short of literary genius.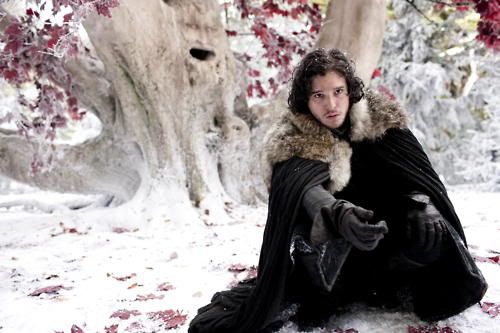 Guess who still knows nothing.
Typically, this is about where I'd go over what I liked and didn't like about this book itself. However, I'd rather not betray any spoilers. I will, instead, say simply this. Martin continues to demonstrate that he is a superlative storyteller, creating characters that feel very human and deep in the midst of a fantasy world at once familiar and rather strange. His story turns are bold and his plans will keep you guessing.
I have to say that fans new to the series or who got their introduction through the HBO series Game of Thrones should pick up at least a couple of the previous books. However, if you're already part of those that follow the saga of Westeros and anticipate the coming of winter, there is no reason not to purchase A Dance with Dragons. It's not only a worthy addition to this sprawling series of books, it's one of the best.