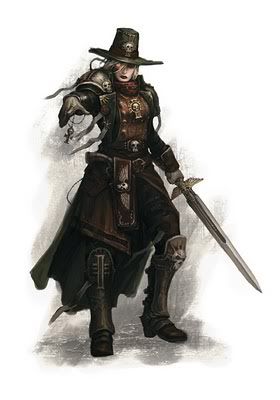 Practical armour and sweet hats are in this season throughout the Imperium.
I've gone through a few periods in my life where I've had more disposable income than I've known what to do with. Actually, I take that back, I knew EXACTLY what to do with it: buy more games! I used to play Warhammer 40,000 on actual tabletops and I was into Magic: the Gathering way back in high school. Since then I've lost most of my old cards and miniatures, the former because I was a blinking idiot who just gave away tons of valuable cards and the latter because minis can sell well. Nowadays my primary interest in Magic is the Commander casual variant, mostly because I no longer have those piles of cash, and as for 40k, I've discovered that I've enjoyed the lore and setting more than the painting and dice-rolling.
Being a storyteller, I'm more interested in the motivations and personalities of the figures that march across tabletops around the world than I am in their ballistic skill and toughness. It's not just because character sheets, pencils and a bag of Doritos for a game of Dark Heresy is cheaper than a 1,000 point army. There are other reasons, grounded more in the setting itself.
The Far Future is Baroque
So many things about the galaxy 40,000 years in the future is so ostentatious I can't help but smile. Just look at the cover art for any of the Space Marine army books. There's ornate armor with ridiculous shoulder pads, guns the size of compact cars and gilded skulls everywhere. It's the sort of baroque sense of style that would make the architects of the Vatican blush.
For some reason, the design mentality of the fashions and buildings of the 41st century is rooted deeply in the 17th or so. These structures, constructs and trappings have the feeling of a people desperately trying to impose some order and permanence to a galaxy in constant turmoil. "If we weigh these things down with heavy gold accents, seals of the Imperium and grim iconography, they won't just get swallowed up by the Warp or a tide of Orks or some other xenos invasion!" Whatever the motivation behind these design choices, it makes the worlds of the Imperium stand out, at least in my mind.
Corruption Done Right
There's a joke going around that every Blizzard plot is centered around corruption. Dragon X becomes corrupted and it's down to Spastic Group of Players Y or Knaak Author Avatar Z to sort it out. Swap "dragon" with "Queen of Blades" and you have StarCraft. Swap "Queen of Blades" with "everybody ever" and presto, a Diablo plot. Like more than a few things, Blizzard has been cribbing notes from Games Workshop on this, except that Games Workshop does it right.
Instead of just "whoa, big bad voodoo whatsis over there is corrupt, let's go destroy/try to redeem it!", any 40k story worth its bolter ammunition steeps itself in paranoia and doubt. It's not just that someone or something has become corrupted by Chaos or psyker-induced madness or a heretical idea like unity of races or freedom of thought or the Eldar being pretty. You, yes you, may become corrupted in the course of the narrative, especially if you're in a tabletop game. Like proper Lovecraftian/psychological horror, the truly terrifying things aren't just what you can smack with a chainsword, they're what coil around inside of you, the fear and the doubt and the ambition and the rage. Things like this form the basis of good drama, character development and tension, and while a lot of Blizzard's stories gloss over this sort of thing, fiction and tabletoping in 40k thrusts you right into it.
Yes, The Grimdark
You've probably heard the Warhammer 40k tagline: "In the grim darkness of the far future, there is only war." In addition to baroque trappings and ever-present dangers of becoming something twisted and despicable, you have obscenely high death counts any time armed engagements happen, horrifyingly devastating weapons, a massive empire that suspects everybody and everything of treason or heresy or both, and cybernetic augmentations that are the exact opposite of Deus Ex's "awesome and visually appealing" ones. In the new game, that is; everybody looks pretty bad in the original Deus Ex.
All of this adds up to an undeniably oppressive atmosphere, the sort of dour doom and gloom present in many post-apocalyptic works. However, in the case of 40k, the galaxy-sweeping catastrophe either hasn't happened yet or is in fact in the process of happening. It gives the characters in the story something to struggle against other than the villain of the week or a pile of antagonist-shaped statistics. And 40k never goes the World of Darkness route by giving the inevitable end a face and a name. It could come out of the Eye of Terror or in the form of a titanic wave of Tyranids, sure; but it could also happen due to the actions of our protagonists, people with sympathize and root for. Some might decry the apparent absurdity of the ever-present 'grimdark' of the universe in question, but to me there's a great amount of depth and nuance to be had if you're willing to work for it.
I may never paint another miniature or buy another army book for Warhammer 40,000 again. But I still find its setting and themes oddly compelling. Also, I'm more than willing to start a Dark Heresy campaign in and around Philadelphia if I can find players.