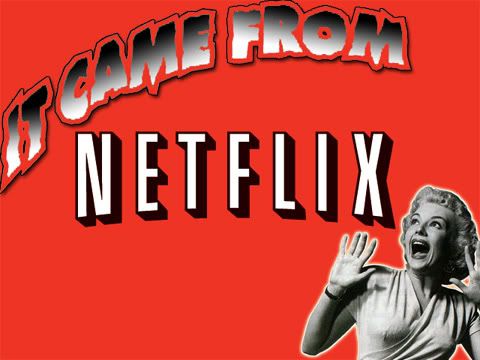 [audio:http://www.blueinkalchemy.com/uploads/red_dragon.mp3]
When we last left our dear Doctor Hannibal Lecter, he was completing his tenure at a Parisian medical school while enacting bloody vengeance upon the Nazi war criminals that devoured his sister and his innocence. While he did have run-ins with the law, he did not truly meet an equal or memorable rival the way he did in his first actual outing, which we'll be covering next week. When, in his timeline, we next meet up with Hannibal, this will thankfully be different. Storytelling in this sort of genre is at its best when the battle of wits feels more compelling than anything involving physical weapons. Since Sir Anthony Hopkins made the character the most prominent, and I haven't bothered to watch Manhunter yet, we'll be reviewing Red Dragon. Fans of Brian Cox's "Doctor Lecktor" are invited to leave their protests in the comments below.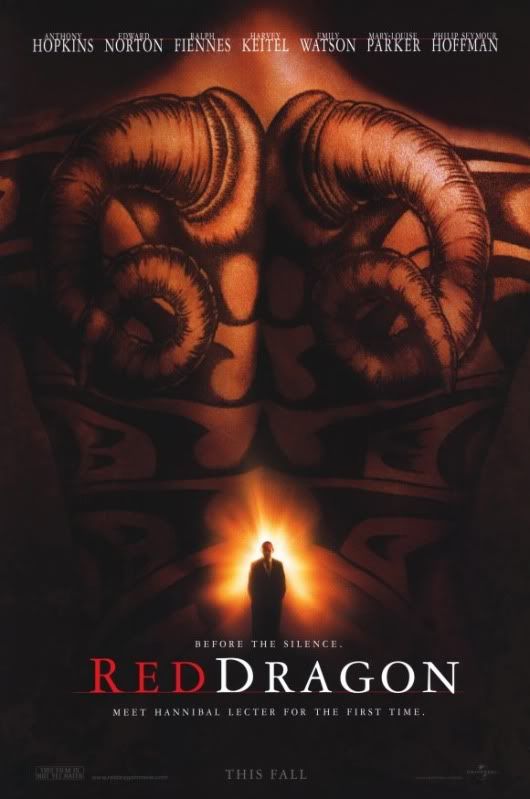 When we catch up with Doctor Lecter in Baltimore, he's seen as a man of wealth and taste, inviting his friends from the philharmonic to dinner even as they mourn the loss of their second clarinet – although they admit, his disappearance is an improvement. The dinner is followed by a visit from Special Agent Will Graham of the FBI, who's been consulting with Lecter on the profile for a serial killer. Circumstances fall into place that Graham discovers Lecter was his prey all along, and the two have an altercation that ends with Lecter imprisoned under the smarmy care of Dr. Frederick Chilton while Graham retires early. Years later, a serial killer the media dubs "The Tooth Fairy" is baffling authorities, and Graham is the only man with the wherewithal to bring him in. To do so, however, he must resume his relationship with Doctor Lecter. To keep more people from dying, he must face the man who tried to kill him.
What is most puzzling about this film is not that it's a retread of Thomas Harris material previously covered. That can be explained by the popularity of Lecter as portrayed by Sir Anthony. And after his previous outings, pairing him with dramatic powerhouses in their own rights – Edward Norton, Emily Watson, Harvey Keitel and Ralph Finnes to name just a few – is a brilliant move. No, the perplexing portion of the affair is that it's under the direction of one Brett Ratner.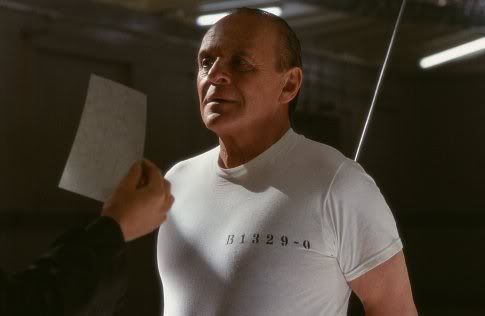 Hannibal's had a hankering for Ratner since The Last Stand.
Do you recognize the name? You should. This is the man who nearly drove the X-Men film franchise into an early grave and took the high-energy batshit-bonkers action star Jackie Chan and made him into a somewhat mediocre straight man to Chris Tucker in not one, not two, but three different films. But odd as this may seem, I think I have an explanation. You see, when you have excellent writing, and it's given to talented actors who have chemistry and a grasp for their characters that transcends words on a page, not even someone like Brett Ratner can fuck things up.
The linchpin, of course, is Sir Anthony. While I'll go into more detail next week as to why his Doctor Lecter became such a sensation and a template from which other horror film villains would crib notes, his mere presence seems to elevate the rest of the cast. Edward Norton gives us a particularly interesting character in Graham. He seems shy at first, almost entirely introverted around other people, but encounters with Doctor Lecter draw him out of his shell and allow him to realize his full potential. As much as he may loathe the man, its undeniable that Hannibal's influence is a big part of his success. The scenes between these two are electric, and while the relationship Hannibal develops with the next Special Agent that comes to see him is a bit more nuanced, this sort of talent playing off of one another is a big key to Red Dragon's success.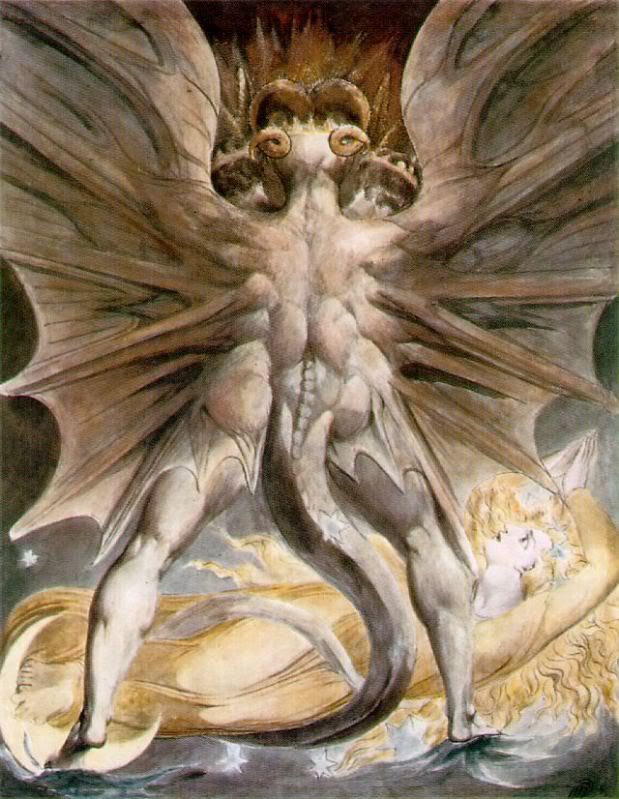 A work of art (the painting) within a work of art (the film). Insert joke/meme here.
Meanwhile, we have Ralph Finnes and Emily Watson. It may surprise fans of Lord Voldemort to see this seemingly unrepentant killer of men suddenly become tortured by his nature and darker desires when faced with Watson's character. On top of being lovely and a talented actress, Watson is called upon to play a blind woman employed in a photo processing dark room, and the ways in which she moves, behaves and relates to her environment are actually quite compelling. Nothing she does feels forced or artificial, which is a testament to her skill. Much like Hopkins and Norton, Finnes and Watson are good to watch together on-screen, and the two pairs trade off back and forth through most of the second act.
I felt that a couple of the other characters, while serving purposes for the narrative, were a bit tacked-on or one-dimensional, and some of the would-be twists at the end were easy for me to spot coming. But taken as a whole, Red Dragon is a surprising and delightful success, outdone only by the next story in Doctor Lecter's career that was actually the first time film audiences really got to know him. And instead of being paired with a fellow experienced actor, Sir Anthony Hopkins' counterpart would be someone who, like many child stars, had previously struggled to transition into adult movie success.
We shall return to where it all began, my friends; and it all began with a man desperate for change, an erudite animal behind a pane of glass, and a little girl who for years carried a tiny and frightened little lamb.
Josh Loomis can't always make it to the local megaplex, and thus must turn to alternative forms of cinematic entertainment. There might not be overpriced soda pop & over-buttered popcorn, and it's unclear if this week's film came in the mail or was delivered via the dark & mysterious tubes of the Internet. Only one thing is certain… IT CAME FROM NETFLIX.