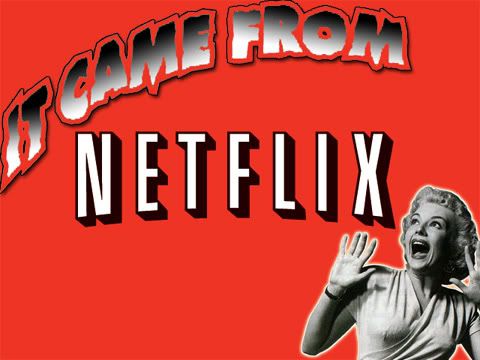 [audio:http://www.blueinkalchemy.com/uploads/silence_of_the_lambs.mp3]
At the conclusion of the career of the serial killer known as the Tooth Fairy, Doctor Hannibal Lecter was languishing in Baltimore State Hospital for the Criminally Insane. It looked for all the world that he was destined to return to his quiet incarceration, sketching and reading while infurating his smarmy overseeing psychiatrist, Dr. Chilton. But then another dark soul emerges to claim innocent lives, and the unique insight of the good doctor is once again required. This time, the FBI has sent a trainee. They've sent one of their best and brightest, untarnished by the greater evils of the world. They've sent a young woman named Clarice Starling.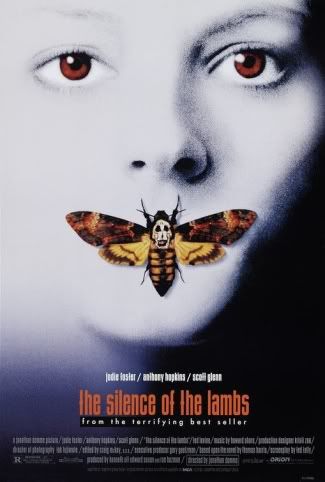 Starling's quarry is dubbed "Buffalo Bill," from his peculiar calling card of skinning his victims. They're all young women but seem to have nothing else in common. After playing a game or two with Starling, Lecter offers to profile the killer in exchange for being allowed to leave Chilton's care. The deal is considered skeptically until Buffalo Bill abducts the daughter of a US Senator. But when Lecter if offered a deal, he opts instead to work with Clarice directly, exchanging information on the killer for secrets of Starling's past. Quid pro quo – after all, how can Lecter trust Clarice to keep her word if he doesn't know the deepest corners of her soul?
Silence of the Lambs was shot in 1991 and has some of the vestigial trappings of the 80s that are also present in TV shows of the time such as The X-Files. I can think of at least one scene where Jodie Foster is nearly swallowed by the shoulder pads of her jacket. But there's only so much criticism I can level at this film, considering that the writing is extremely solid, the acting is superb and the directing is taut and intimate.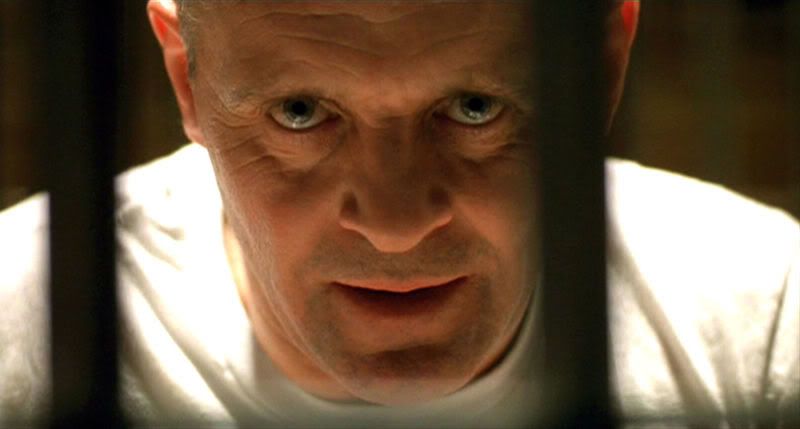 Always so polite.
The book, written by Thomas Harris, was the third he wrote featuring Doctor Lecter. As I mentioned previously, his second book was adapated to film in 1986 under the title Manhunter, and while the debate as to which between it and Red Dragon is the superior film contiues to this day, the first film was successful enough to warrant a sequel. This one was adapted by Ted Tally, a relatively unknown screenwriter who only had a TV movie and a romantic comedy to his name. And yet, when it came to Silence of the Lambs, he walked away with the Academy Award for Best Adapted Screenplay.
Jodie Foster really came out of nowhere for this. I mean, child stars transitioning into adult works have never had an easy time of it. Add to the fact that Jodie was the sole obsession of John Hinkley – the guy who shot President of the United States Ronald Reagan in 1981 – and she had quite a bit of notoriety to shake off. However, she'd proven her acting chops in The Accused, and she was paired up with Sir Anthony Hopkins, who took over the role (and the original spelling) of Hannibal Lecter from Brian Cox. Oddly enough, both of them began acting in 1968. Both of them stepped in after other actors had left the roles. And both would, like the writers, walk away with Academy Awards.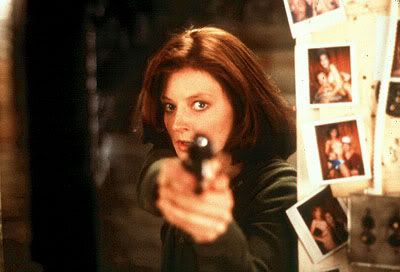 THIS is girl power, you ignorant douchebuckets.
The film was directed by Jonathan Demme. He'd been struggling to break through into the mainstream after finding critical acclaim with his earlier films, trouble with some big studio projects and a few documentaries and comedies. Silence of the Lambs was a bold turn for him, and he directed it much like Lecter directed the development of Starling. We as the audience, like Starling, are not only shown evil; we are sat in its presence and made to stare. It blended procedural crimesolving with chill-inducing horror so perfectly that it's been the template upon which many subsequent films in the genre have been based. Not only did Demme win the Best Director Academy Award for his work, the entire film was honored with the coveted Oscar for Best Picture.
That's five, if you're keeping track. Five Oscars, all in major categories, and Silence of the Lambs is one of only three films to boast that accomplishment. What more can I say about it? How much longer would I need to sit here trying to convince you to see it, if you haven't already? It's quality cinematic entertainment, packed from start to finish with fine performances and keen artisic sense. It will enthrall you and immerse you as well as making you think, and the novels and movies that can truly do that are growing more few and far between every passing day. To neglect The Silence of the Lambs would be, in my humble opinion, extremely rude.
And we all know how Doctor Lecter feels about rudeness.
Josh Loomis can't always make it to the local megaplex, and thus must turn to alternative forms of cinematic entertainment. There might not be overpriced soda pop & over-buttered popcorn, and it's unclear if this week's film came in the mail or was delivered via the dark & mysterious tubes of the Internet. Only one thing is certain… IT CAME FROM NETFLIX.