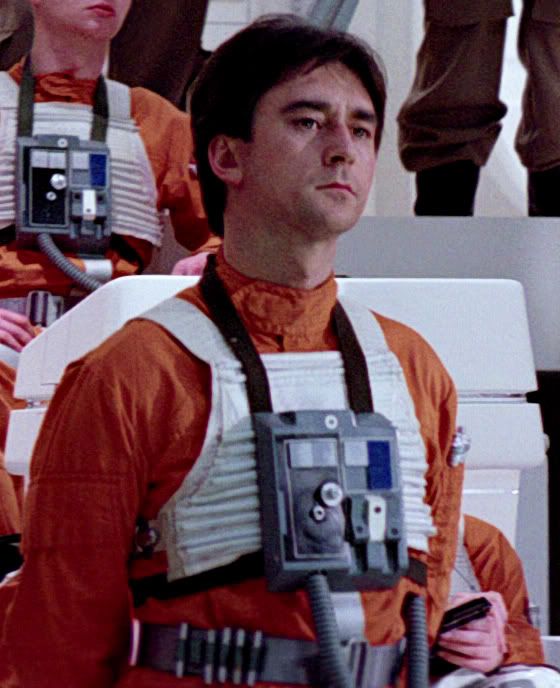 Let's face an honest truth. The universe George Lucas created back in 1977 is a better place than he originally imagined. With the exception of Empire Strikes Back, which was written & directed by guys that weren't Lucas, the original trilogy established his galaxy far, far away and populated it with strange aliens, turbulent politics and an ancient battle between good and evil held in balance by a mysterious omnipresent energy field dubbed the Force. Have you noticed I haven't said anything about the characters? That's because they're pretty standard adventure fare.
Think about it. Luke's arc is so Campbellian in A New Hope one might think a copy of Hero With A Thousand Faces was stashed in Lucas' trailer. The other characters are iconic, sure, but only because they've been in stories we've been telling for centuries. There's nothing wrong with this, mind you, and I'd be the first to say that old stories are still worth telling as long as they're told well.
That last bit's the catch, isn't it? We can look at the six feature films of Star Wars (and no I am NOT counting that CGI stuff) and see with clarity that while Lucas can dream up really neat settings, the population of those settings can get a bit dodgy at times. Hence fan fascination with the likes of Wedge Antilles.
Oh, you know Wedge. He was in all three movies. Blew up both Death Stars? Escaped Hoth? First Luke's wingman and then Lando's? That's gotta ring a few bells.
It was after the first three movies were finished back in the 80s that people started looking to fill in some of the missing pieces of the Star Wars universe themselves, and Wedge was one of the characters that stood out. He was reliable, loyal, an ace pilot and cool under fire. So people started writing about him. To this day, the novels and comics featuring Wedge and Rogue Squadron are some of the highly regarded works of the so-called Expanded Universe.
What made Wedge worth writing about was the fact that he was a blank slate. Any writer could have filled that slate with him as a traditional adventurous hero, but he was depicted as a more rounded, seasoned warrior, a man who'd seen the far side of the galaxy and came back knowing he was fighting for the right cause. In a universe where characters with realistic emotions and concrete motivations could be few and far between, where some technology and concepts can best be described as 'magic in space', Wedge thrived.
The Expanded Universe came to include calculating and ruthless military foes like Grand Admiral Thrawn, questionably motivated fringe operators like Mara Jade and the Black Sun criminal empire, Rebel-affiliated black ops commandos like Kyle Katarn… they even fished Boba Fett out of the guts of a desert monster (explosives are apparently a good expectorate). But it was still all within the confines of Lucas' original vision. The good guys won, the bad guys lost. The only shades of grey could exist between and after the films. And even then, you only had a handful of the iconic warrior-wizards with glowing laser swords to set Star Wars apart from a plethora of other sci-fi settings.
Enter the Old Republic.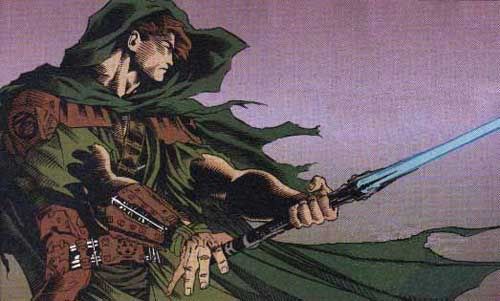 This is Ulic Qel-Droma. He's one of the first characters introduced in the graphic novels that set the scene 4,000 years before the Battle of Yavin. Instead of following a Campbellian arc, however, Ulic is shown to be a headstrong and powerful warrior who's heart tends to be in the right place but also leaps before he looks more often than not. His tale of pursuing justice only to fall to the Dark Side makes him, in essence, the Darth Vader of his time, and in my humble opinion is everything the six feature films should have been in terms of the development of such a character.
It's pretty telling that when it comes to Star Wars gaming, the Old Republic time period has yielded some of the best storytelling thanks to a pair of RPGs produced by BioWare and Obsidian. Knights of the Old Republic and its sequel have become standards by which the likes of Mass Effect and Dragon Age are measured. People have been waiting to get their hands on a third game in the series, and instead BioWare has produced an MMO, which I've experienced a bit of first-hand.
While I still consider its gameplay safe and not terribly innovative, I keep thinking about the story. How do they keep things interesting? How does it change when more people are in the mix? And what role, exactly, are we playing in the unfolding events in the galaxy? Are we destined to be a teeming mass of Luke Skywalkers and Ulic Qel-Dromas all claiming to have stopped the same galactic threat? Or will players be more like Wedge Antilles, settling at a cantina and simply saying "Yes, I was there. I saw it happen" in the manner of a grizzled, battle-worn veteran?
I'd like to think it'll be the latter. With so many MMOs giving no thought to the ramifications of millions of people killing the same NPC repeatedly, The Old Republic seems to be taking extreme care to make an individual player's story a personal experience, rather than the same one everybody else is having. It gives context and meaning for the typically asinine goings-on in such a game in a way that belies the "been there, done that" feel of its mechanics. It gets away from some of the weaknesses of previous MMOs while polishing some of its mainstay aspects to a shine, just as the Old Republic setting does away with a lot of Lucas' bullshit while maintaining the feel of his galaxy's atmosphere, mood and themes, much as Wedge's novels or earlier games did.
I can see why The Old Republic may not be for everybody. But the more I think about it, the more I may need to give it another shot.