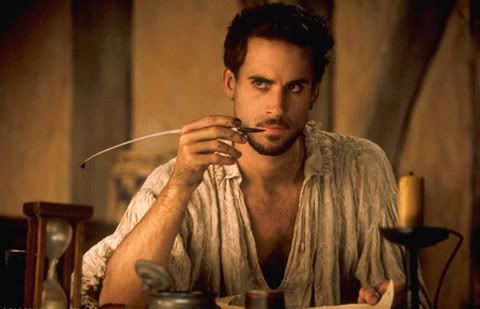 Thought I'd change it up from the usual anonymous pen.
I've mentioned that I, like many writers, have difficulty focusing at times. I know that, in spite of the time occupied by the dayjob, writing must happen. I've been ramping up because of several projects I want to complete in the very near future and while I still don't have a set schedule completely nailed down, I'm certainly closer than I was, say, in December.
I'm really glad I was able to submit a story for the upcoming Amaranthology. Just the possibility of sharing the same storytelling space with the likes of Chuck Wendig and J.R. Blackwell makes me incredibly pleased and more than a little scared of not measuring up. I'm going to make it a point to read more of my fellow anthologist's works as well. Either way, it's an honor and I can't wait to see it in print.
I'm still looking for ways to weaponize make more of an impact with my opinions/reviews. I have an article or two to draft up and pitch to folks. The thing that trips me up, though, is all of the unfinished fiction sitting in my Dropbox. Can I really be both a geek journalist and a fabulist? Would it be better for me to focus on one and relegate the other to blogging? I'm not sure. It's another one of those insecure uncertainties that bothers me.
Timeless Tales and Cold Iron are some of that aforementioned unfinished fiction. I mean, they're both finished, but I'm not putting them out into the wild as they are. They need edits. Hell, they need editors. The shorts are being worked over somewhere in the dark corners of the 'Net and eventually I'll work up the guts to give someone the novella a solid thrashing. After that? Definitely some sort of electronic release. Maybe Kickstarters. They seem to be working out for people.
The big thing, though, is the Citizen in the Wilds rewrite. It's daunting. I've already written the damn thing at least three times, trying to get it right. It's like the Darth Vader of my writerly existence: I know there's good in it. And after this run it may be worth something, at the very least submitting to publishers again. The thing is, fantasy fiction in general and young adult fantasy fiction in particular already has a bunch of Tolkien wannabes. Elves and dwarves abound. When was the last time something actually new was released into the wild? I hope I'm not alone when I think people want to see a new world, fully realized and filled with mystery, one that figuratively (or perhaps literally) lives and breathes. Re-conceptualizing the world, its inhabitants and the places and destinies of the characters I've thrown into it are why I'm rewriting it yet again, hopefully for the last time.
Send encouragement, Internet. I think I'm gonna need it.
Leave encouragement below, Internet. I think I'm gonna need it.