It would be hard for even the detractors of comic book geekdom to look at The Avengers and not consider it a success story. Years of planning and careful construction of disparate narratives culimated in a single cinematic experience that, to this day, nerds like me have yet to tire of watching. The whole shebang kicked off with Iron Man, which remains the only Marvel movie franchise to have sequels attached to it. The first was the ambitious but somewhat ambling Iron Man 2, and the second opens this year's blockbuster season, and it's called Iron Man 3.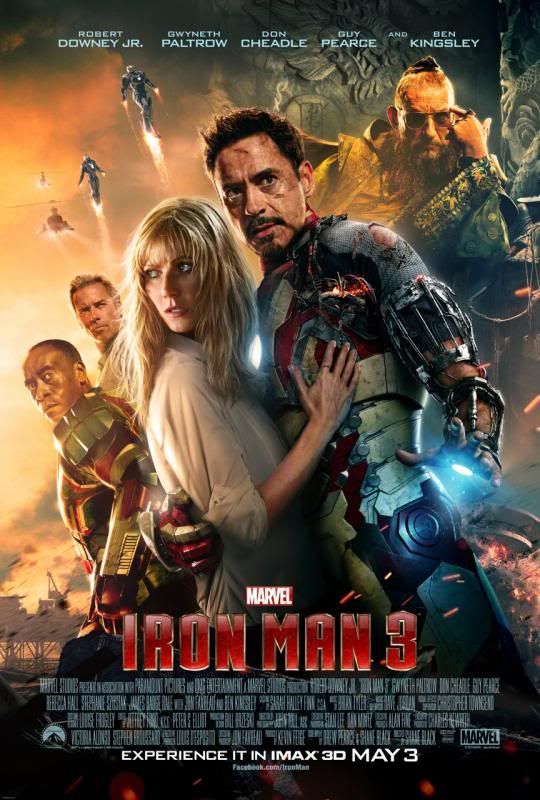 Right from the start, it's clear that the events of The Avengers have had a lasting impact on Tony Stark, our favorite genius billionaire playboy philanthropist. Not only did he survive fighting alongside gods and super-soldiers, he carried a nuclear missile through a wormhole to annihilate an entire army, if not a civilization. Lacking sleep and suffering anxiety attacks, Tony throws himself into his work, building suit after suit, alienating his friends and even distancing himself from Pepper, who just moved in with him. But before he can be confronted with these issues, a bombing takes place that involves no known bombing techniques and puts his friend, Happy Hogan, in a coma. Tony immediately vows revenge and calls out the man responsible, the international terrorist known only as the Mandarin. Stark even tells the man his home address, because smart as he is, sometimes his ego gets in his way.
The first two Iron Man films were directed by Jon Favreau, the second with a great deal of input (or, more accurately, interference) from Marvel Studios. This time around, the reigns were handed to Shane Black, director of what was arguably Robert Downey Jr.'s best movie before Iron Man, a little noir favorite of mine called Kiss Kiss Bang Bang. The difference shows, in that this film strikes a very different tone from the first two. It simultaneously works on darker themes and moods than the others, and has more humorous and human moments. It's the noir-flavored atmosphere and focus on character that make Iron Man 3 worth a watch from the very start.
The Mk. 43 Classy Armor includes a champagne dispenser and built-in jazz soundtrack.
Either by coincidence or design, Iron Man 3 feels somewhat like The Dark Knight Rises, in Tony spends less time in his Iron Man armor than in previous tales, much like Bruce Wayne was Batman less often in his third Nolan film. We get a great deal of time with Tony Stark without his toys, taking him back to a state of working with a box of scraps to get out of his jams. Seeing him with little to rely on but his intellect felt like a return to the fundamentals of his character. At the same time, the floodgates opened by The Avengers means that more outrageous aspects born of the comic books can enter the arena. Tony's opponents are more super-powered than ever, but thankfully, they're more than just a guy wearing a suit or controlling drones similar to Stark's designs. All of the suits are on Stark's side this time; and I do mean all of them.
The film isn't without its flaws. First and foremost, the ladies could have been given more to do. Rebecca Hall's character especially could have easily been fleshed out beyond establishing or developing plot points. I like what they did with Pepper Potts overall, but towards the end of the movie I felt like she could have rescued herself more. A few Shane Black quirks may play on the nerves of some audience members, from the Christmas setting to the juxtaposition of its more noir-ish elements with the comic book stuff. And then there's the stuff that will REALLY piss people off – which I will discuss in tomorrow's post.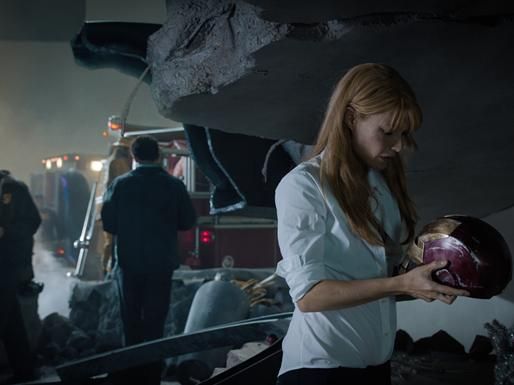 Well-shot, earnest, and powerful scenes. A well-constructed film all around.
Stuff I Liked: Who doesn't like all of the armor shenanigans? Happy's bits are worth a laugh. I like the callbacks to previous films throughout the story – it makes everything feel more connected and coherent. JARVIS continues to be great, and the kid didn't annoy me.
Stuff I Didn't Like: I'm glad the film ended the way it did – Tony having all of that armor at his disposal would make future encounters way too easy.
Stuff I Loved: Tony's character has grown, and it really shows in places. I love that he and Pepper still have their chemistry. The improvised fighting Tony has to do in the second act really pleased me, I'm glad Pepper got in on the action, I enjoyed every scene with Rhodey, and Ben Kingsley just killed it. Guy Pearce felt completely transformative, which was quite appropriate.
Bottom Line: Between its earnest character building and the variable nature of the threat and villainy, I'm going to say I liked Iron Man 3 more than its predecessor. It's not quite as good as the first film featuring Tony Stark, but it comes close at times. I have the feeling I'm going to like it more on repeated viewings, and I definitely intend to buy this one for that purpose. It has snappy dialog, well-shot action, inventive storytelling turns, and it's full of actors I like – Iron Man 3 is a winner.