I kidnapped my father to see Man of Steel in celebration of both Father's Day and his birthday, which fall on the same date this year. I will admit I went into the movie theater carrying some fears. It was my hope that Zack Snyder's visual panache, Hans Zimmer's music, and the performances of these actors could put those fears into the Phantom Zone and I could truly fall in love with Superman on the big screen. It's difficult to put yourself in front of a big summer blockbuster and eject all preconcieved notions from your had, but I did my best when the lights went down and this film began.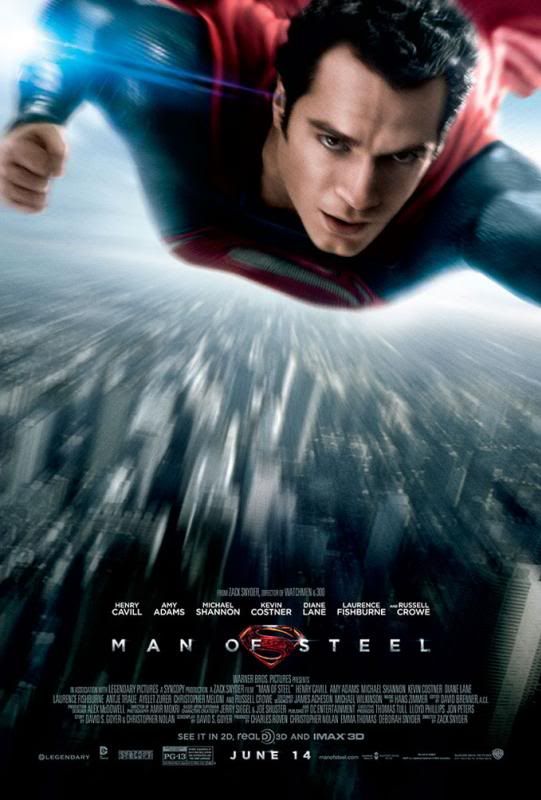 Krypton was a world destroyed by its own hubris. Having exhausted its resources and bent its population to a strict genetic template, it was on the cusp of disaster when its most brilliant scientist, Jor-El, chooses to have a natural born child with his wife, Lara Lor-Van. At the same time, General Zod and his officers stage a violent coup. When Zod comes for the Codex, a Kryptonian device containing the aforementioned template, Jor-El fights him off while Lara launches the rocket containing their son, Kal. Kal-El lands safely on Earth while the last act of his doomed homeland is to banish Zod and his followers to the Phantom Zone. Thirty years later, Kal (known as Clark Kent thanks to his adoptive parents) is on the cusp of unlocking the secrets of his past, while a mysterious spacecraft makes contact with Earth.
That's about as concise as I can make the synopsis of the plot of Man of Steel. It's a little convoluted and some things are explained at great length, but then again, this is David S Goyer and Christopher Nolan we're talking about. Now, I like these guys. They gave us three very good Batman movies in the Dark Knight trilogy. But something DC Comics writers discovered years ago is you can't write a Superman story the way you write a Batman story. Batman is all about a lonely man waging a neverending and possibly self-destructive war on crime with his wits and funds. Superman is about a truly alien immigrant making a place for himself amongst puny creatures that, for all of their flaws and failings, he really admires and finds himself fond of. He's supportive of us, as a whole. He wants to challenge us to aspire to greater things. He's whimsical about us.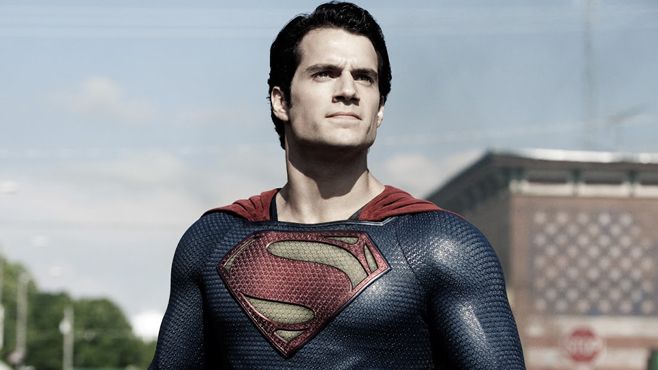 And damn if he ain't a fine-lookin' specimen.
My big hangup with Man of Steel, the thing that keeps me from outright loving it as a whole, is that there's no whimsy. There's no levity. There's barely even any humor at all. Much like the Dark Knight trilogy, the film is solidly grounded, quite cerebral, and intent on explaining everything to us in detail. I very nearly shouted "SHOW, DON'T TELL!" at the screen at least once. As much as I admire the time spent with the Kryptonian world-building (more on that in a bit), so much of it was laid out in plain English rather than relying on visual storytelling that it fails to engage on any emotional level whatsoever. A story like this needs pathos to overcome its more fantastical elements, not an in-depth schematic on how those elements work. Time spent outlining the particulars of those schematics is time that could have been spent making characters people instead of ciphers.
Thankfully, one of the things Man of Steel has is an extremely talented and very well directed cast. Zack Snyder, on top of his legendary visual chops, has a habit of getting good performances out of his actors even when the material involves superhumans rearranging atoms or half-naked warriors spouting fatalistic platitudes. And Henry Cavill, our new Kal-El, has an easy and natural charm about him, an aspect that's clearly evident whenever the script lightens up enough to let him crack a smile (which isn't often enough). Amy Adams is a clever and pro-active Lois Lane, but again, the script undercuts her and requires her to put forth more effort to connect both with her co-star and with us. I loved Russel Crowe's Jor-El for a variety of reasons, even if the script seemed to be pushing some messianic overtones extremely hard. And while Zod may be bound by his genetic template to be a conqueror, Micheal Shannon not only makes this role his own but gives us depth and nuance to what would otherwise be an extremely one-dimensional villain.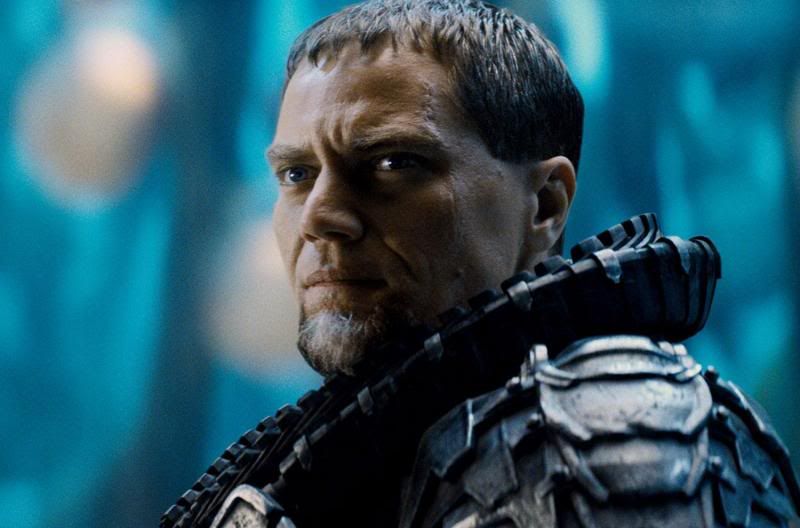 Zod could have been cartoonish; instead he has pathos, drive, and surprising humanity.
The more I think about it, the more the problems I have with Man of Steel seem to be squarely in the writing department. Zack Snyder has yet to direct a film that does not jump off the screen at you, even without the ridiculous 3D markup. While Sucker Punch is still on my to-watch list, his work with 300 and Watchmen remains firmly in my mind. This is a man who grasps iconic imagery, well-paced action with clear camera work, proper scene construction, even facial tics and body language to make an actor state something without saying a word. He brought his "A" game to Man of Steel, and a good thing too, as he hammers great moments, from the most destructive of fist-fights to the most touching of family scenes, out of a script that must have been terrible to read through multiple times in perparation for performance.
And here's a review that's becoming overly long and verbose in response! I'd hate to give the impression that I did not enjoy Man of Steel, because I did. The scope of the movie is grand and bombastic, worthy of the big screen. The action sequences are spectacular to behold (if a bit long towards the end). The world-building done for Krypton in the first 15 minutes is concise and fascinating, well worth the price of admission (even if it gets a re-tread 45 minutes later). Hans Zimmer's score is absolutely gorgeous, the overall look and feel of the film is amazing, and everything I said about Snyder's direction and the work of these actors makes me want to love Man of Steel without reservation.
I can't. But I want to.
Stuff I Liked: They did one of my favorite in-flight/in-space camera moves: wide shot, zoom in, track the object while focusing. It worked in Battlestar Galactica and Firefly, and it works here. The action is clean and sharp; no shakey cam or overt trickery here. CGI looks great. The palate feels fresh and real and grounded even if it's a bit washed-out in places; I liked the feeling of weight everything had.
Stuff I Didn't Like: The script feels drab, dour, and almost clinical in places. The action gets a bit long towards the end. They easily could have used either the opening sequence on Krypton or the history lesson Jor-El gives his son; they didn't necessarily need both. They spent a lot of time explaining things in detail when they could have been fleshing out characters, or letting Superman rescue a cat from a tree or something. Come on, Chris, come on, David, lighten up, would ya??
Stuff I Loved: This cast, you guys. This. Cast. They are not just enjoying this opportunity to be these characters, they are working like crazy to give life to lifeless lines. Even the bit players amongst the military felt pretty fleshed out, and had actual presence alongside superhumans – great work by Christopher Meloni in particular. Zack Snyder's direction brings out the best in the actors as well as driving home all of the action folks found lacking in Superman Returns; even the film's most drawn out passages are quite watchable thanks to his touch. I'm still humming the score. I want a sequel, because I think this universe and these characters have so much potential to break out of the shackles of this dreary origin story. And I love the fact that I believe I will like it more if I see it again.
Bottom Line: Man of Steel is a great summer blockbuster and a decent Superman movie. Do not go in expecting the levity or whimsy of Richard Donner's Superman films, or even the relfective humanity of Superman Returns, and you should be fine. Ignore what you can of the over-wrought, over-complicated script, and focus on the characters, the action, and the potential this has to become something even greater than it is. That, after all, is what Superman – and the human experience – is all about.