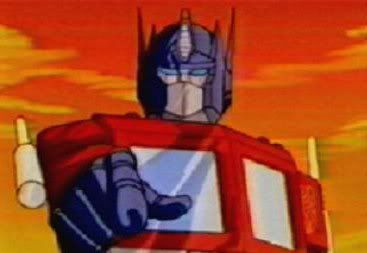 I'm making plans to go see Transformers: Age of Extinction later this week. Possibly on that most American of holidays, Independence Day. What better way to celebrate the birth of a nation and honor the sacrifices made by those fighting for its autonomy than a big-budget action movie filled with Americana iconography and military/weapon fetishism? I'm someone who tries to see media in general, and movies and games in particular, from a more critical standpoint, adding my voice to those attempting to discern good qualities from bad and directing the spending of those willing to listen.
Admittedly, however, there is a part of me that will always love the Transformers, no matter what Michael Bay does to them.
And that's okay.
I'm honestly getting more and more disillusioned with the notion of the 'guilty pleasure'. There's an idea in our culture that there are certain things that we are not allowed to enjoy, or at least not allowed to admit we enjoy. We should hate ourselves for eating food we know is bad for us. Entertainment that goes for cheap thrills or laughs should be put down. And if you admit to enjoying sex, slut-shaming will fall on you by the bucketfuls. I mean, it should fall on everyone in this culture, but I think we all know women get it a lot more than men do because the patriarchy is, in fact, an extant and present danger to progress and free thought.
Let me wrestle this thing back onto my point. My point is that, as long as one is being safe and smart in their choices, no pleasure should be labeled as guilty. Sure, if you eat nothing but fast food all the time you're going to have health problems, but that isn't to say you should never eat any fast food ever. There are those who make that choice, and they're healthy people I admire. I may even join them someday. But on occasion, I will get a hankering that can only be satisfied with a late night Taco Bell indulgence.
Basically, if no actual harm is occurring, and things are being taken in moderation (including moderation, as St. Augustine would say), it's difficult for me to really describe any pleasure we take from life as "guilty". After all, life is long and difficult, and moments of true pleasure, joy, and release can be hard to come by in our daily struggle to keep ourselves and our dreams alive. Why make things even more complex and potentially hurtful for ourselves or others by leveling judgement on what we enjoy?
Sure, some things can be objectively bad or wrong with what we like. We can acknowledge that red meat is bad for us. It's easy to see the flaws in a movie that's not up to standards. Hell, I love Flash Gordon even though I know some of its effects are cheap even by the standards of the day and a good few story points make zero sense. But I love it in spite of those flaws. I enjoy the hell out of the time I spend laughing at the antics or belting out Queen lyrics. It's just fun. It's a pleasure. And I don't feel guilty about it.
I don't think you should feel guilty about your pleasures, either.