IT CAME FROM NETFLIX!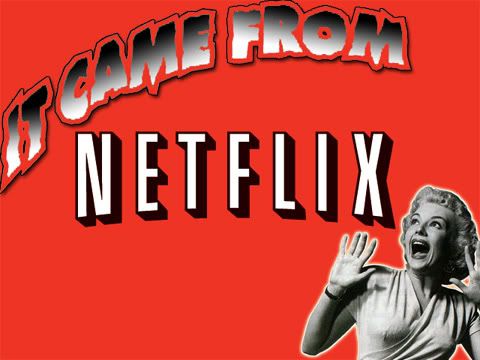 Every Friday at Blue Ink Alchemy.
(Indefinite hiatus)
Background – Upcoming – Supporting – Previous
Background
Lots of people do reviews. But movie tickets can be expensive in this day and age. For the price of a single admission to the cinema, you can enjoy movies in the comfort of your home, as often as you can watch them and stick the disc back in the envelope. So I asked myself, "why isn't anybody reviewing stuff available on Netflix?" And so a new feature was born – IT CAME FROM NETFLIX!
I began recording audio for my reviews a few months ago and it's enhanced the overall result, if the feedback from readers & listeners is to be believed. The feature has grown to the point that it's high time for me to compile what's gone before, what is to come and how you can contribute to help keep this aspect of the site alive. Thanks for reading, listening and generally being awesome. I do this for you guys, not just because it's fun. …Okay, it is fun, but if I was just having fun by myself I doubt I'd record it. Though I'm sure there's an industry for that, too…
Upcoming IT CAME FROM NETFLIX! Features
Every Friday after posting the latest feature I will add a new poll, naming some of the things lurking in my Netflix queues. You can chose one of the films for me to review, and whichever gets the most votes will be what I'll watch and review. In the case of a tie I'll use a highly scientific method to choose the next victim subject, such as rolling a die, flipping a coin or asking my wife.
Gee willikers, Mr. Alchemist, I don't see [insert movie name here] on your list. I sure wish you'd review it. How can I get you to do that?
I'm glad you asked.
Supporting IT CAME FROM NETFLIX!
(and Blue Ink Alchemy too)
I'm opening myself up to suggestions and ideas of movies or tv series to watch and review. If you'd like to submit such a suggestion, you should see a shiny PayPal button above the aforementioned Lifestream. Click it, send in an appropriate donation and I'll add your suggestion to my queue.
Any donation you wish to make is deeply appreciated. However, it's an unfortunate truth that nobody can work for free. If you have the resources to make a donation of $25 or more and would like me to review a particular film, let me know when you donate what film you have in mind. I'll review it for better or for worse (no gurantees I won't rip your beloved movie to shreds) and give you a special thank you in both text and the recording, unless you'd rather I didn't. I'd be willing to do overviews of TV series as well, but considering the length of most American series, I'll have to ask for a donation of $50 or more to review a season of a TV series.
Oh, and it should go without saying that the requested work needs to be available on Netflix either through the mail or the instant queue. We're working with a theme here, after all. And if you'd like me to go back and record audio for a previous post that doesn't have it yet, let me know.
And now some obligatory legal stuff:
This is only a donation, not a work-for-hire agreement or a contractual one. My reviews posted here and elsewhere are created for free with the intention of education and/or parody. The terms for donations are not terms of sale, and exist for the sole purpose of expressing gratitude for any generosity shown to the degree stated. Any queries for the actual purchase of my services as an author or reviewer can be directed here.
Previous IT CAME FROM NETFLIX! Features
The Wolfman NEW!
Original Post
Escapist Forums
Bunraku
Original Post
Escapist Forums
Dirty Harry
Original Post
Escapist Forums
Fear & Loathing in Las Vegas
Original Post
Escapist Forums
The Avengers (1998)
Original Post
Escapist Forums
Scarface
Original Post
Escapist Forums
In The Mouth of Madness
Original Post
Escapist Forums
The Last Samurai
Original Post
Escapist Forums
La Femme Nikita
Original Post
Escapist Forums
Gangster No. 1
Original Post
Escapist Forums
Oldboy
Original Post
Escapist Forums
Hannibal
Original Post
Escapist Forums
The Silence of the Lambs
Original Post
Escapist Forums
Red Dragon
Original Post
Escapist Forums
Hannibal Rising
Original Post
Escapist Forums
Centurion
Original Post
Escapist Forums
The Adventures of Buckaroo Banzai Across the 8th Dimension
Original Post
Escapist Forums
The Expendables
Original Post
Escapist Forums
Percy Jackson & The Olympians: The Lightning Thief
Original Post
Escapist Forums
Non-Social Media Video
Ringu
Original Post
Escapist Forums
Non-Social Media Video
Robin Hood
Original Post
Escapist Forums
Non-Social Media Video
Red Planet
Original Post
Escapist Forums
The Last Airbender
Original Post
Escapist Forums
Silent Hill
Original Post
Escapist Forums
Black Death
Original Post
Escapist Forums
Bugs
Original Post
Escapist Forums
Lucky Number Slevin
Original Post
Escapist Forums
Taken
Original Post
Escapist Forums
Big Trouble in Little China
Original Post
Escapist Forums
Killers
Original Post
Escapist Forums
The Green Hornet
Original Post
Escapist Forums
Krull
Original Post
Escapist Forums
Last Action Hero
Original Post
Escapist Forums
True Lies
Original Post
Escapist Forums
Repo! The Genetic Opera
Original Post
Escapist Forums
The Hunt For Red October
Original Post
Escapist Forums
Judge Dredd
Original Post
Escapist Forums
Blazing Saddles
Original Post
Escapist Forums
Shutter Island
Original Post
Escapist Forums
Bad Lieutenant: Port of Call – New Orleans
Original Post
Escapist Forums
Druids
Original Post
Escapist Forums
Airplane!
Original Post
Escapist Forums
The Naked Gun
Original Post
Escapist Forums

RoboCop
Original Post
Escapist Forums
Law Abiding Citizen
Original Post
Escapist Forums
Predators
Original Post
Escapist Forums
Machete
Original Post
Escapist Forums
The A-Team
Original Post
Escapist Forums
HALO Legends
Original Post
Escapist Forums
Splice
Original Post
Escapist Forums
Lady Death
Original Post
Escapist Forums
Prince of Persia
Original Post
Escapist Forums
VIDEO: The Emperor's New Groove
Original Post
Escapist Forums
YouTube
Kingdom of Heaven: Director's Cut
Original Post
Escapist Forums
Ladyhawke
Original Post
Escapist Forums
Casino
Original Post
Escapist Forums
Gamer
Original Post
Escapist Forums
Trapped in Paradise
Original Post
Escapist Forums
Angels & Demons
Original Post
Escapist Forums
Falling Down
Original Post
Escapist Forums
Masters of the Universe
Original Post
Escapist Forums
Demolition Man
Original Post
Escapist Forums
Black Book
Original Post
Escapist Forums
Pandorum
Original Post
Escapist Forums
Amélie
Original Post
Escapist Forms
The Girl With The Dragon Tattoo
Original Post
Escapist Forums
Moon
Original Post
Escapist Forums
Titan A.E.
Original Post
Escapist Forums
G.I. Joe: The Rise of Cobra
Original Post
Escapist Forums
Daredevil
Original Post
Escapist Forums
The Emperor's New Groove
Original Post
Escapist Forums
From Paris With Love
Original Post
Escapist Forums
Yu-Gi-Oh! The Movie
Original Post
Escapist Forums
Kick-Ass
Original Post
Escapist Forums
Batman
Original Post
Escapist Forums
Sherlock Holmes
Original Post
Escapist Forums
The Hangover
Original Post
Escapist Forums
Total Recall
Original Post
Escapist Forums
The Adventures of Robin Hood
Original Post
Escapist Forums
The Departed
Original Post
Escapist Forums
Grandma's Boy
Original Post
Escapist Forums
Brokeback Mountain
Original Post
Escapist Forums
Dark City
Original Post
Escapist Forums
Ghost in the Shell
Original Post
Escapist Forums
Avatar
Original Post
Escapist Forums
The Octagon
Original Post
Escapist Forums
Adaptation.
Original Post
Escapist Forums
Predator
Original Post
Escapist Forums
The Fifth Element
Original Post
Escapist Forums
Crash
Original Post
Escapist Forums
Pulp Fiction
Original Post
Escapist Forums
Reservoir Dogs
Original Post
Escapist Forums
Pokémon 3
Original Post
Escapist Forums
Inglorious Basterds
Original Post
Escapist Forums
Jumper
Original Post
Escapist Forums
The Gamers: Dorkness Rising
Original Post
Escapist Forums
Wanted
Original Post
Escapist Forums
Sneakers
Original Post
Escapist Forums
Starship Troopers
Original Post
Escapist Forums
Flash Gordon
Original Post
Escapist Forums
The Hurt Locker
Original Post
Escapist Forums
Gattaca
Original Post
Escapist Forums
The Terminator (series retrospective)
Original Post
Escapist Forums
Battlestar Galactica (tv series)
Original Post
Escapist Forums
The Mutant Chronicles
Original Post
Escapist Forums
The House Bunny
Original Post
Escapist Forums
Snatch.
Original Post
Escapist Forums
In The Name Of The King: A Dungeon Seige Tale
Original Post
Escapist Forums
Valkyrie
Original Post
Escapist Forums
Up
Original Post
Escapist Forums
Push
Original Post
Escapist Forums
Rise: Blood Hunter
Original Post
Quarantine
Original Post
Changeling
Original Post
(entries prior to this do not have audio components)
Zero Effect
Original Post
Crank 2: High Voltage
Original Post
Righteous Kill
Original Post
Batman: Mask of the Phantasm
Original Post
Revolver
Original Post
Stardust
Original Post
Ronin
Original Post
Doubt
Original Post