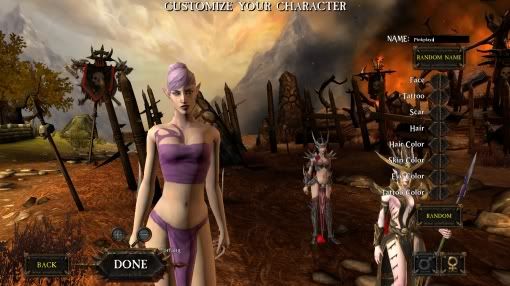 Sometimes, I miss Warhammer Online.
This morning I read a rather brief guide on Writing Believable Characters from the Young Adult Fantasy Guide. It's a great overview of what to do right and what to avoid when putting your characters together. I highly recommend you go give it a read if you're thinking of starting up a new creative project any time soon.
When you think about it, creating characters for a story isn't really all that different from going through the character creation process in a current generation video game, provided you got the game from BioWare or an MMO studio and they allow such things. Good luck trying to customize Nathan Drake from Uncharted or Issac Clarke from Dead Space. You're stuck with them as they are, for good or for ill.
Instead of tweaking the character's race, class and talent build, however, you're going to be tweaking their background, outlook and personality. Granted, you can do this is MMOs as well, provided such things are supported in the game either with mechanics or community & developer support. Some studios can't or won't support such things directly, but that's a subject for a different discussion.
Background
Your characters came from somewhere. And I don't just mean the deep recesses of your brain. Unless they're vat-grown genetically-engineered super-soldiers, they had a family. Parents. Maybe some siblings. Perhaps a childhood bully. How about a high school sweetheart? Who did they admire growing up? Who did they despise? What was their first kiss like? Their first heartbreak?
These are things you can talk to any person on the planet and get a different result. What would the answers be if you asked your characters? Think about it. They got to where they are at the start of your story by coming from the places that'll come to light when you answer these questions.
Oh, and if they are a vat-grown genetically-engineered super-soldier, how do they feel about it? Are they jealous of people with families? Do they feel they live in a world of cardboard due to their super-strength or whatnot? Do they understand things like emotions, prejudice, philanthropy and zealotry? How are they programmed? Do they want to break that programming? And if they weren't grown in a lab, do they remember their family? If not, will they remember them later? What happens when they find out about the past they used to have, if they don't remember it at the beginning of the story?
I should mention that you should be doing this as soon as possible in the creative process. If you go back and fill in a character's background later, it might make something of a mess.
Outlook
Tied into background is how a character sees the world around them. Like the questions asked of our SPARTAN super-soldier, it's the sort of thing you can discern from people around you. Who's in favor of the current state of things in the world? Who wants to see change? Who's in it for the money? What motivates people, and by extension, your character?
Altruism can surprise people when it emerges. And some people get shocked when they look back on an event and realize how selfish they were. It's natural for people to veer one way or another from their baseline behavior, but first they need to have a baseline. And the reason it's called a baseline is that it's consistent. It will change over time, since static characters are boring, but this is a gradual change, and sudden shifts away from it should not only shock the reader, it should also shock either the character or the people around them. If not both.
Personality
Note that outlook and personality are two different things. The way one sees the world is not necessarily how one interacts with it. People who are just in it for the money have to at least put on a facade of tolerance and goodwill from time to time in order to further their goals. The difference between one's outlook and their personality can be a matter of inches or of miles. It depends on the character.
Sometimes these can move closer together, as the hard-bitten out-for-themselves mercenary starts to care about the people she's thrown in with, or the kindly priest becomes gradually disillusioned with the church and, by extension, the people he's been nice to for years. These are exciting, interesting changes that can and should be chronicled. It can make a story with very little action, suspense, gore or sex jump off the page and make room for itself in the reader's imagination. Which is what writing fiction's all about, right?
How do you distinguish your characters? How will you do so in the future?