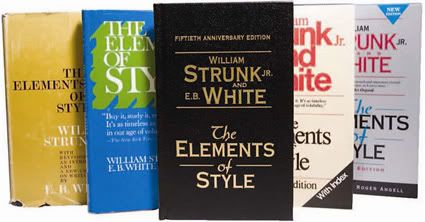 I only own one copy of The Elements of Style. Some own quite a few. My copy is about as old as I am, the Third Edition published in 1979. I took it with me this morning instead of my manuscript, just to brush up on writing well as opposed to just writing a good yarn. I was reminded why I should make it a point to read this book as often as possible.
The Elements of Style for writers is what Musashi's Book of Five Rings is for martial artists, what Sun-Tzu's Art of War is for strategists. It is taut, direct writing on the subject of writing. It doesn't over-complicate and remains on point, and it's conciseness means the book is small enough to carry just about anywhere.
This also means there's a bit of self-reflection at work. The book, which discusses good writing in terms of brevity, grammatical correctness and active voice, is written so that the work is brief, grammatically correct, and active. You don't just read the book to learn about good writing, you read it because it is good writing.
That's been my experience with The Elements of Style, at least. What are some of yours? How many copies do you own? Is this the first you've heard of it?