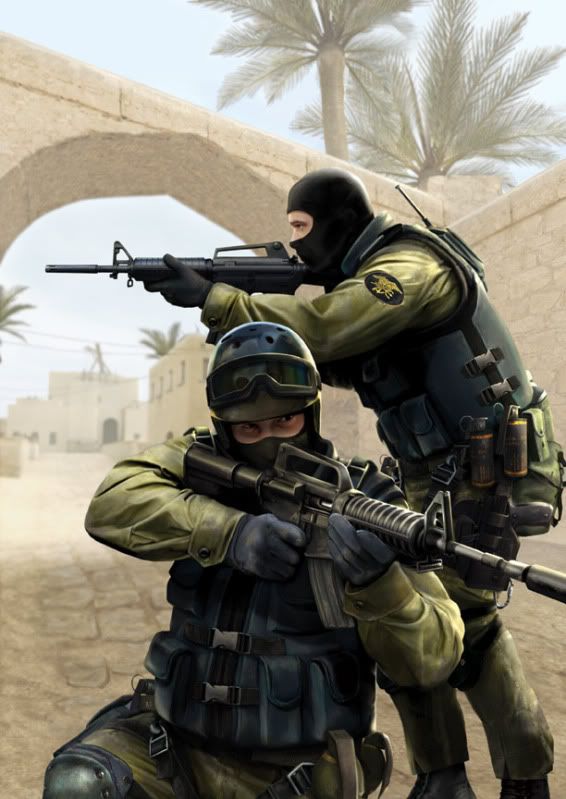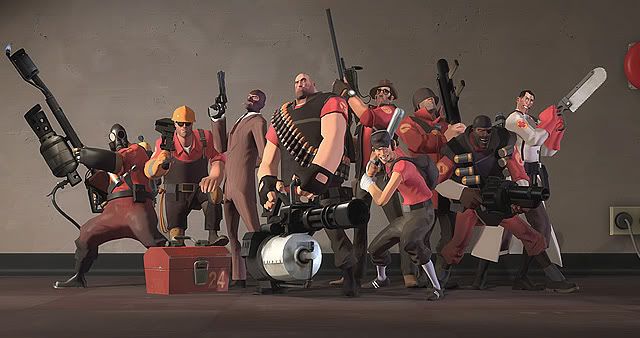 I was given a guest pass for Counter-Strike: Source during the Steam sale. I was curious to check it out. I haven't played Counter-Strike since my college days, and since then I've discovered the likes of Team Fortress 2 and the Left 4 Dead games to get my co-operative shooting action on. With TF2 being the closest cousin to CS:S in terms of gameplay, the comparison seems inevitable, so let's toss these two in my blood-soaked cage and see what happens.
Premise
Counter-Strike:Source sells itself as a quite sober affair. Terrorists plant bombs in locations, and the Counter-Terrorists (CTs) work to prevent said bombs from going off. That's pretty much it. It allows the game to become something of a shooty sandbox, filled with actual sand (on some maps). This simplicity isn't necessarily a bad thing, but it does make things feel a tad big generic.
Team Fortress 2 is the ongoing struggle between two rival companies over a few scraps of land. Instead of the rather serious tone CS:S strives for, however, TF2 is much more interested in the fun factor. While a rather interesting and somewhat elaborate back-story continues to emerge for both the overall premise and each member of the team, none of it seems involved so much with taking itself seriously as it is with being awesome.
CS:S 0, TF2 1
Cast of Characters
CS:S's characters are a bit like its premise. You have Terrorists and CTs. Other than some aesthetic differences between, say, the SEAL team and SAS, the characters are completely interchangeable. The only way to really differentiate yourself is to constantly buy a particular set of weapons & equipment that suit your style of play. There really isn't much more to say about it.
TF2 has a cast of characters that each have a unique look, voice and style of play. While there's no appreciable difference between playing a Terrorist or a CT in that other game, you cannot play the Heavy and then switch to the Scout or Spy expecting to play the exact same way. You don't have to know anything about guns to find a class that works for you. Again, there's very little getting between you and just having fun with the game.
CS:S 0, TF2 2
Look & Feel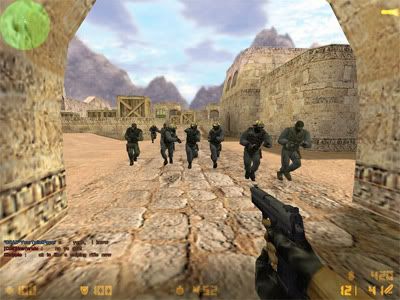 Counter-Strike: Source looks good. The different gun models are pretty accurate, the maps feel realistic and the frenetic pace of the game puts one in the mindset of a tense situation with a clear objective, be it planting the bomb or preventing the explosion. It also, unfortunately, veers towards the same realism as Call of Duty or Battlefield meaning that as accurate as the maps might be in simulating a desert town or an old Aztec ruin, for the most part things are not going to be looking very bright or fresh, but rather somewhat dirty and used.
As I mentioned previously, the look & feel of Team Fortress 2 is somewhere between The Incredibles and Sam Peckinpah. Brightly colored animated characters who gleefully blow each other to bloody smithereens. The maps are still a bit drab, at least the default ones from Valve appear that way, but that's because most of the land being fought over is located in a desert. Still, I hope I'm not alone that the generic CS:S calls of "All right, let's move out." or "The bomb has been planted" are not quite as entertaining as "CRY SOME MORE!", "You got blood on my suit", "Stand on the freakin' point, dumbass!","Wave g'bye t' yer head, wanker!" or "SPY SAPPIN' MAH SENTRY!"
CS:S 0, TF2 3
Customization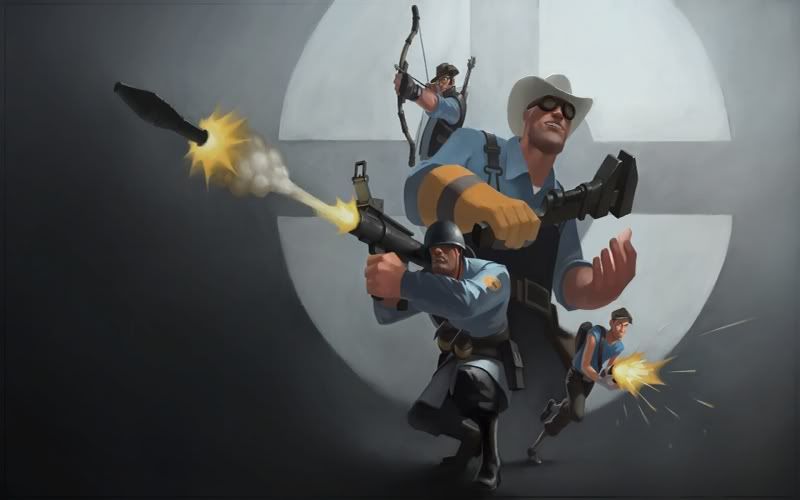 There's a surprising amount that one can do with Counter-Strike: Source, given that it's somewhat bare-bones. One of the servers I played on used a mod to give players races, powers and items inspired by Warcraft. Yes, people can be Night Elves, Forsaken and even named characters like Thrall and Archimonde when playing this mod. It's interesting and I have to appreciate it from a programming standpoint, but I couldn't shake the feeling it was an effort to make CS:S more interesting.
TF2 lets you make custom maps, and I've seen some interesting modifications to class items, some of which have made it into the live version of the game – the Pain Train melee weapon, for example. However, you're not as likely to see these mods as you are those created by people playing CS:S, so while the CTs get the point, it feels to me like it wouldn't be necessary for such extensive changes to be made to CS:S by the community if the game had more to it.
CS:S 1, TF2 3
Community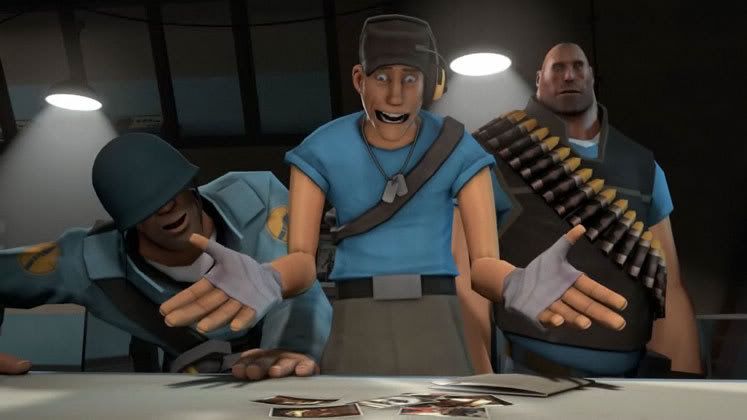 Counter-Strike:Source players are aggressive. I don't just mean in play styles, either. They're so focused on blasting the opposing team with either their simulated firearms or another homophobic epithet that they won't answer simple questions, like where one could find information on key binds. It's tough being a new player, too, because the first clean kill you make is sure to be met with curses and accusations of hacking the game. At least, that was my experience.
In comparison, Team Fortress 2 players seem more interested in helping one another in having a good time. Now, maybe it's because I play on the Escapist servers more than most others, but most of the epithets that come my way are in the form of a backhanded compliment. A frustrated vocalization is far more likely to be met with a sadistic, good-hearted giggle than the accusation that you like it rough from men with hairy bums. And when you get your revenge, you'll probably be complimented on it. You'll have the occasional immature mike-spammer, but on PC servers at least, they won't last long.
CS:S 1, TF2 4
So that's how it plays out in this cage, folks. The CTs get their butts handed to them by the gleeful mercenaries of RED and BLU. To me, Team Fortress 2 is a lot more fun, challenging and rewarding than Counter-Strike ever was, and when my guest pass for CS:S expires I will not be all that interested in playing just about any other co-operative shooter than…
…Wait, what's this Killing Floor game my Escapist chums keep talking about?
Looks like we'll need to spray down the cage sooner than I thought…