March Mayhem over at the Escapist is in its final round. For most of the competition I've been rooting for BioWare. However, last round Valve was up against Zynga, and after a tense period of back and forth, Valve emerged the victor. Now, it's up against BioWare. It's a very close competition, and since I've talked at length about BioWare in the past, let's discuss the guy in the other corner.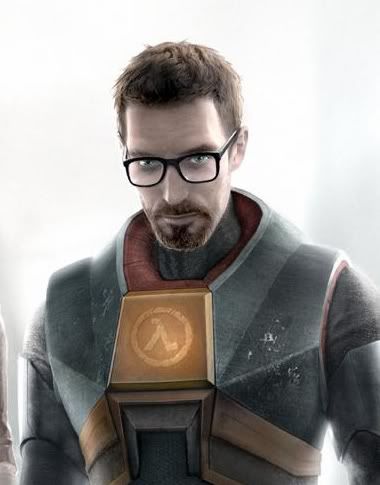 Back in the late '90s, Half-Life showed us that the protagonist of a first-person shooter didn't have to be a hyper-masculine roided-out Space Marine. Instead, Valve slipped players into the hazardous environment suit of Dr. Gordon Freeman, theoretical physicist. The hero of this story is pretty much a bookworm, and only becomes legendary due to circumstance and the fact that his HEV suit can absorb bullets just as well as it does radiation. Perhaps the most distinctive thing about Gordon, though, is that he's a mute protagonist through and through, and Valve doesn't do any pre-rendered cut scene cinematics. Everything happens within the game engine and, for the most part, we are in control of Gordon the entire time things are happening. This allows the player to experience the action, terror and humor of Half-Life and its sequels without any sort of forced dialog or moral choices.
Just as notable, however, is the way Valve provides for the modding community. Both the engine of the original Half-Life and the Source engine used in its sequels are geared in such a way that anybody with the time, passion and knack for coding or rendering to approach a game based in them can bring their dreams to life. For example, there was a mod for Quake called Team Fortress that some enthusiasts ported over into Half-Life's engine, a project that became known as Team Fortress Classic. Emphasizing specialists working together instead of one lone gun-toting badass rushing in to claim all the glory, Team Fortress was one of the most played mods of the original Half-Life. So, when Half-Life 2 was re-released in a bundle called The Orange Box, fans were delighted to see the bundle included Team Fortress 2.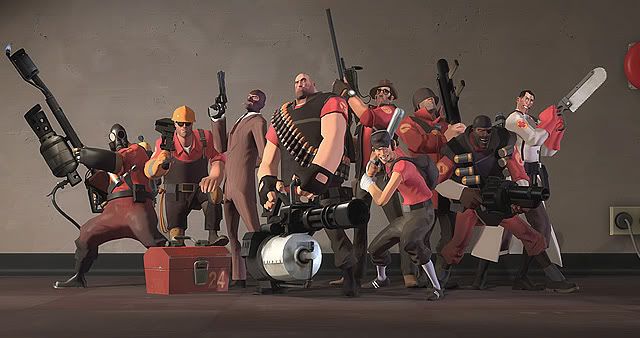 I could talk about the balanced gameplay, the fun aesthetic touches or the fact that the visual style reminds me a great deal of The Incredibles, but the important thing about TF2 is that there's something for everybody. Still looking to be the rocket-shooting glory-hog? Play a Soldier. Interested in playing a healing class? Look no further than the Medic. Love setting things on fire? The Pyro's for you. While the similar mechanics of all nine classes mean that anybody with even periphery knowledge of how to play an FPS can pick them up, truly mastering the nuances of a class can really enhance the experience for both the player and their team.
And then there's Portal.
If Half-Life broke the mold when it came to first-person shooters, Portal pretty much disintegrated it when it comes to first-person gameplay, period. With a series of testing chambers and the omnipresent passive-aggressive presence of GLaDOS, Valve demonstrated that it wasn't just violence that drives their games. Even more so than the physics or jumping puzzles in either Half-Life game, Portal is driven more by cleverness and outside-the-box thinking than straightforward shoot-em-up gameplay.
I'm not going to go into the politics or long delays or differences between console & PC versions at the moment, but rather I want to stay focused on Valve as game developers. They've really changed things over the years, and I look forward to what's coming next.
Thank you for your attention, cake will be served immediately.