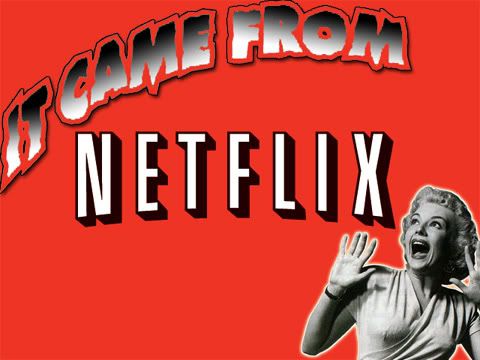 Batman: Arkham Asylum was released for major consoles last week, and the reviews have been overwhelmingly positive. Even Yahtzee had quite a few things to say in favor of the game's merit. I played the demo on my X-Box and enjoyed it thoroughly, and I'm sure the full game would be just as good if not better. However, these are times in which new entertainment must be balanced with things like square meals and reliable transportation, and so rather than telling my wife & cat that it's going to be Ramen Week, I'll keep us all happily fed and review a Batman film from Netflix's Instant selections. It stars the voice talents of Kevin Conroy, Dana Delany, Abe Vigoda and Mark Hamill.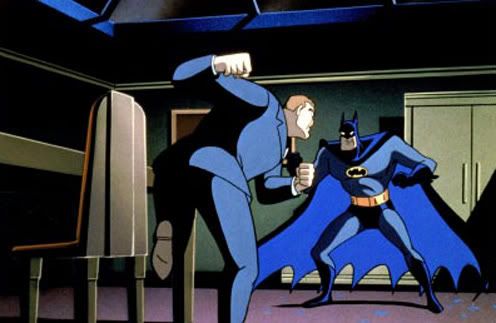 I'm a fan of the recent reboot to the Batman movie franchise. Batman Begins and The Dark Knight are equally brilliant and compelling films, especially in the usually hit-or-miss arena that is comic-book superhero adaptations. One of the best things about them is doing away with the camp of the 60's TV series and the messes Joel Schumacher put on the screen. In some respects, I feel it's a cue they took from the animated series that first premiered in 1992. It followed on with Tim Burton's notion of an art-deco film-noir inspired Gotham City with long shadows, square-jawed gents, leggy dames and stories that were not only mature but well written.
Mask of the Phantasm is the first "theatrical" release the series produced and it showcases all of these aspects pretty well. A lot of it plays like an animated Batman Begins and while that's not a bad thing in terms of content, storytelling or acting, it does have a bit of the "we've seen this before" vibe. That aside, the story about a Batman-like figure bumping off mob bosses while the Caped Crusader evades the police and a rather sleazy city councilman is decently paced and delivered with poise by the animators and voice cast. The highlight of it, for me, is when the Joker hits the scene.
Heath Ledger delivered a powerhouse performance as the deliberate, reasoned and completely psychotic Joker in the Dark Knight. He was unforgettable in his espousing of chaos and occasional dark creepiness. The Joker, as played by Mark Hamill (yes, that's right, Luke Skywalker is the Joker) in Phantasm , doesn't quite get that edgy but instead conceals his madness with a distinctive, almost constant laugh and a mercurial mood that is echoed beautifully by the animation. He's no less dangerous than Ledger's Joker, but he has more propensity for odd contraptions and lethal puns.
Kevin Conroy might be one of the best actors to play Batman to date, if not the best ever. The real Bruce Wayne, the public Bruce Wayne, and Batman himself have three different voices, and they're not so dissimilar as to be jarring. Christian Bale should be taking notes. Batman's voice is brooding and gritty without being distorted or ridiculous, Bruce's public voice is light and carefree, and the real Bruce is somewhere in between. Conroy makes it sound easy, and he keeps us immersed in the experience of the story. He and Mark Hamill also lend their voices to the Arkham Asylum video game, which only increases the interest to a Batophile like myself.
At 76 minutes long and free of commercial interruption, Batman: Mask of the Phantasm gets us right into the action and doesn't overstay its welcome. It suffers a bit from the comic book story tendency of leaving plot threads hanging at the end, but that happens so often in cinema these days it shouldn't be a surprise. Since it's available instantly from Netflix, you can bring it up through your web browser if you find yourself in need of lunch break entertainment and everybody else has gone out. However you watch it, if you're a Batman fan, it'll be time well spent.
Josh Loomis can't always make it to the local megaplex, and thus must turn to alternative forms of cinematic entertainment. There might not be overpriced soda pop & over-buttered popcorn, and it's unclear if this week's film came in the mail or was delivered via the dark & mysterious tubes of the Internet. Only one thing is certain… IT CAME FROM NETFLIX.