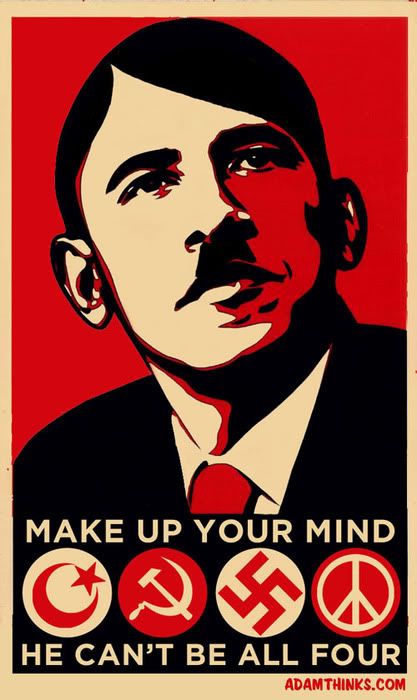 fas·cism (\'fa-,shi-zəm) n.
1 often capitalized : a political philosophy, movement, or regime (as that of the Fascisti) that exalts nation and often race above the individual and that stands for a centralized autocratic government headed by a dictatorial leader, severe economic and social regimentation, and forcible suppression of opposition
2 : a tendency toward or actual exercise of strong autocratic or dictatorial control
This is the Merriam-Webster dictionary definition of fascism. The combination of autocracy, regimentation of commerce and strong-arm tactics should make this form of dictatorial government easy to spot. And yet we have people, some of whom would claim to be well-educated, bandying the term "fascist" around when it comes to President Obama's administration.
Obama is seeking a bipartisan solution to the problems faced by America. He is struggling to foster this bipartisanship through open dialog and keeping the public informed. A fascist would shut the people out of the decision-making process and further their own agenda without thought of what's actually best for their citizens. Obama's speeches address the concerns regarding his policies, and he does his best to convey that his decisions are not being made arbitrarily or in a vacuum. Just because the majority of the people agree with you does not make you a facist. It just makes you popular.
And popular people are going to make enemies. Think back to high school. The smartest, best-looking and most charismatic kids found themselves in positions of leadership and popularity. Most other kids accepted that they wouldn't be included in the popular kid's circle and moved on. Some tried very hard to be included in that circle. And some tried to carve out a niche of their own by pushing around kids smaller than they are.
When people feel marginalized, when it seems that someone has taken power away from them in an unfair manner, they get angry. In a classist society such as ours, the people working day in and day out under back-breaking conditions with this sort of attitude look up to those living in luxury and feel a seething sort of hatred. Since this is a democracy, all the people need to do is wait for the next election to sue for a change of leadership. But some people are not so patient. Some feel they must take action now. Some rally support from the working class, push forward speeches that are laced with vitriol and hatred, and shout down anybody who dares speak up against them. This is a situation the world has seen before.
In Germany, back in the early 20th century, a sentiment prevailed among the working class that the first World War had been brought to an end by internal political sabotage. They believed that the people in power, in this case German Jews, had steered their country on a course that would take it far from the intents of its founding. They festered, complained and plotted, and in 1934, the Nazi Party rose to power with Adolf Hitler as its Führer. The Nazi party, from its beginnings, was charartarized by a singular autocratic agenda, social regimentation (i.e. putting the Jews under the heel of the 'superior' Aryan race) and control through force and fear. Their rise to power came from those in the working class supporting men who cried out for justice against those who seemed to be taking their country in the wrong direction.
Today, in America, several men and women are crying out for justice against those who seem to be taking our country in the "wrong" direction. They appear on Fox news, at tea parties and town hall meetings. They are characterized by a singular autocratic (perhaps even theocratic given the central place God is given among them) agenda, social regimentation (ensuring the Liberals do not push forward their plans to destroy all America stands for) and control through force and fear. If I can pick out the parallels that exist between the American Neo-Conservative movement and the National Socialist party of 1930's Germany, you can bet others around the world have as well, and it probably makes them very nervous.
This country was founded on the notion that every citizen is entitled to their opinion, no matter how wrong you might think they are. I know there are people who are opposed to health care reform or economic stimulus or pursuing peace instead of war. They're allowed to think that, even if I believe they're wrong. Should we meet, I'd want to try to get them to understand the other points of view that exist, not necessarily verbally strong-arm them into agreeing with me. You don't have to yell to get your point across. As I have mentioned before, this is not ancient Sparta, and you won't win by being louder than the other guy. If your only goal in talking to someone with a different political opinion is to shout them down and call them stupid or crazy instead of actually listening to what they have to say, you're not being a good American. You're just being a bully. And if you're doing this in the course of furthering your own political agenda, you move up from bully to jerkass.
All I'm really trying to say, here, is that before you scream to the rafters about the fascistic mote in someone else's eye, you should really do something about the fascistic beam in yours.