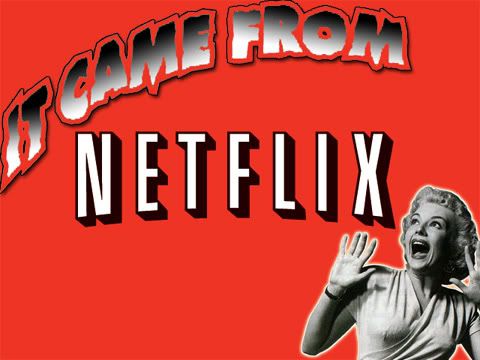 [audio:http://www.blueinkalchemy.com/uploads/fallingdown.mp3]
I'm going to go out on a limb and make an assumption about you, the person about to experience this review. If you're above the age of university graduation, you're working a job you don't particularly like. Chances are, instead of being in a place where you do something that not only pays your bills but fuels your passion, you're in a position where one need is getting fulfilled while another is getting neglected. I know it's not going to be true for everybody, but for the majority of people interested in seeing Falling Down, the miasma of soul-crushing modern urban life coupled with negative daily experiences like a commute and estranged family are elements that are familiar, painful and a means to forge immediate empathy with a man who, despite his politeness and intelligence, isn't necessarily a very good person.
And yet, he's our protagonist.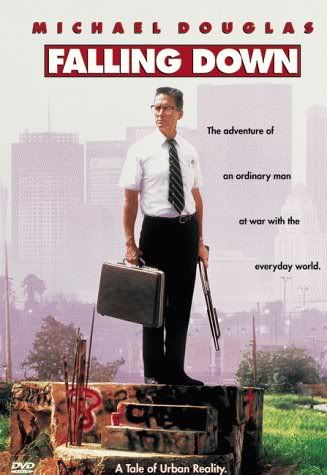 His name is William Foster, but most people will come to know him as "D-FENS", the vanity plate on his 1979 Chevelle. Said car has a busted air conditioner and we find Foster sitting in the car, stuck in Los Angeles traffic on the hottest day of the year. For reasons not immediately explained but revealed bit by bit throughout the story, D-FENS abandons his car and declares he's going home. He walks from one part of the city to another, encountering little annoyances that most people deal with or accept with at least some measure of restraint. It's quickly clear, however, that D-FENS is unrestrained. Something has snapped deep within this man, and he is lashing out at whomever gets in his way. Store owners, gang members, by-standers, anybody. He begins his walk unarmed and seemingly harmless. As time goes on, the stakes get higher, his arsenal grows and a legacy of battered individuals and urban legends spring up in his wake. He doesn't care. He just wants to go home.
Every step Foster takes not only takes him closer to home, but further down a very dark and disturbing path and brings us closer to a full understand of what made him the way he is. Thanks to a tour-de-force performance by Michael Douglas, we see Foster not as any sort of hero and, by the end, he barely qualifies as a decent human being. What's chilling about him is his single-mindedness, his ironclad determination to complete his journey and his deep resentment for anyone who tries to belittle or downplay his rights or his ambitions. This could literally be any one of a million people who work a job for most of their adult lives only to be told their position is no longer economically viable, are rejected by the people they love and get confronted by personal irritants at every turn. It may feel at times like D-FENS is being set up by some mischievous god, but the fact is that none of the people he encounters, with one exception, are better or worse by a large degree than he is. They're all selfish, self-involved and angry about something.
He just has more guns than they do.
This film was marketed, for the most part, as a revenge flick in the vein of Charles Bronson's many stabs at the action genre. But many stories in that style, from the ongoing urban reclamation of The Punisher to the faith-fueled rampages of the Boondock Saints, have an atmosphere of fantasy about them, the sort of juvenile wish-fulfillment that still exists deep in the heart of movie-goers like myself who remember and, in some cases, cling to the frustrations of growing up in a hostile environment and longing for ways to fight back. Falling Down does show us what could happen when an ordinary man indulges in that wish-fulfillment, but it plays the results 100% straight and never, ever lets us forget that what D-FENS is doing is wrong. The police get involved right away, and it's in this that the blurbs and posters fail, as the movie only gains its true depth and examination with the addition of Sergeant Prendergrast, played excellently by Robert Duvall.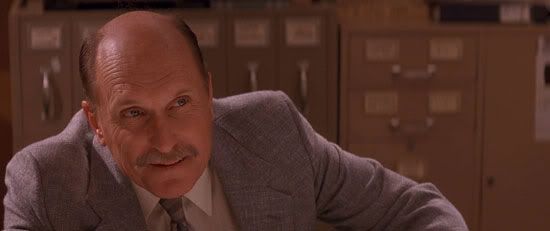 The differences between Foster and Prendergrast may at first seem jarring. Foster is a cold, driven, frighteningly intelligent and very bitter man, while Prendergrast is kind, considerate, quietly looking forward to retirement and seems a bit like everybody's dad. However, these two men are separated only by the thinnest of lines. Both deal with frustrating situations and inconsiderate people, but while Foster is acting out at all times against all comers, Prendergrast takes what he can on the chin. He doesn't lash out unless it's necessary. When it is necessary, he doesn't hold back. But his restraint, in stark contrast with Foster's lack of it, underscores the utter depravity of D-FENS' actions.
At one point, Prendergrast points out that everybody makes choices. In dealing with a spouse, in pursuing a goal, in facing a situation that drives us up the wall with anger, we make choices. Some choose to deal with the situation as best they can, rolling with the punch and looking for an opening to push through to something better. Some fold completely under pressure and harbor resentment for later. And some pull out a gun at the fast food counter when they ask for breakfast at 11:34 AM when restaurant policy says breakfast stops getting served at 11:30. Most reasonable people would take a deep breath and order from the lunch menu instead.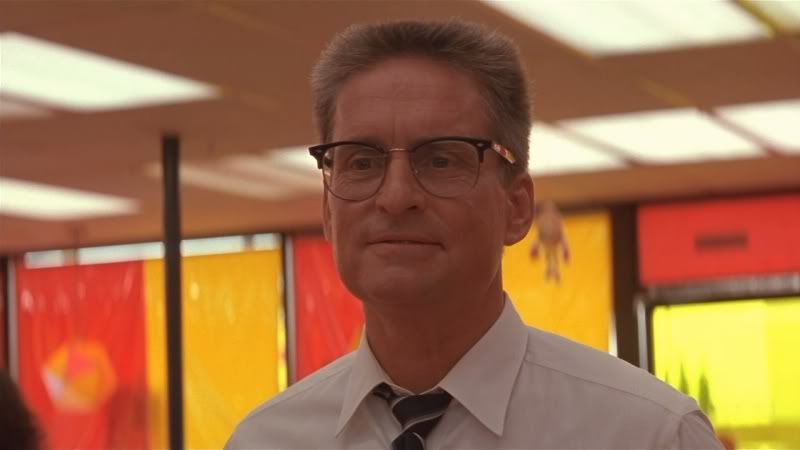 "I don't want lunch. I want breakfast."
And yet, as unhinged and wrong as Foster's actions are, we cheer for him. We delight in the revenge he takes on the cold, unfeeling world around him. We might even picture ourselves doing the same thing in the same situation. We would likely even consider ourselves in the right, as Foster does. Yet as the weight of his actions hurtles towards him, and Prendergast tracks him down, he comes to a chilling realization that's been clear to us as outside observers practically from the start. "I'm the bad guy," D-FENS says. "How did that happen?"
From writing to direction, from acting to shot composition, this is an excellent film. The downward spiral of Foster and the mounting aggravation of Prendergast mirror one another perfectly, the motivations of Foster are revealed at a great pace and the action never feels unrealistic or contrived, with one or two exceptions. It's fun to watch and deeply engrossing at the same time. While we chuckle at D-FENS struggling with a rocket launcher, we also may see ourselves in his sullen, grim and bitter demeanor. Falling Down holds a mirror up to our lives and asks us how much we see in the reflection. It's less a revenge flick or action thriller than it is one of the most badass exercises in self-examination I've seen in quite some time. It definitely belongs on your Netflix queue if you haven't seen it before.
Here we have evidence that Joel Schumacher can, in fact, make a damn fine thriller. I still want to take a bat to his knees for Batman & Robin though. And then I'm going after the idiots who don't give subtitle options on certain Netflix Instant selections. Now I have to wait a week or two to review Oldboy. Would a hammer be more appropriate than a bat? Or maybe a chainsaw. Wait, is that a sword hanging over…?
Josh Loomis can't always make it to the local megaplex, and thus must turn to alternative forms of cinematic entertainment. There might not be overpriced soda pop & over-buttered popcorn, and it's unclear if this week's film came in the mail or was delivered via the dark & mysterious tubes of the Internet. Only one thing is certain… IT CAME FROM NETFLIX.