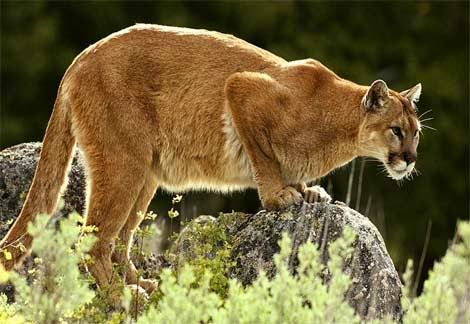 I really couldn't think of an appropriate image for this little literary trip down memory lane, so here's a picture of a mountain lion. It's semi-appropriate, I suppose, since the first iteration of the first novel I ever wrote was entitled "Project: Lion," and if that doesn't betray the fact I wrote the thing in junior high, wait until I get into the particulars of what I'd at this point laughingly call the plot.
The premise of "Project: Lion" was that I basically wanted to create an American James Bond. This involved a personable and professional spy by the name of Morgan Radcliffe flying all over the world, shooting up bad guys and chatting up women. The charming, exotic female he encounters turns out to be a double agent, his school chum is killed and the friend's hot sister leans on Morgan for support. Morgan shoots up dudes, drives really fast, shoots up more dudes, gets yelled at by a superior and manages to save the day anyway with nary a scratch or reprimand for being so flagrantly awesome.
Given the state of American reading audiences it might have been able to find a market and possibly even make some money, but neither of those notions detract from the fact that it was rubbish. Morgan was a Gary Stu of the highest order, and while he was capable of emotions other than smug self-assuredness, I realized after finishing the work that I was way too close to the character and projected too much of my own unattainable dreams onto him. I knew there were things about the character I liked, and others would as well, but the character needed to develop differently which meant I had to rethink the character from the ground up.
So I gave Morgan a sex change.
College did wonders for my social skills as well as my writing ability. I realized that having Morgan be female instead of male added an element of separation between us, allowing for more interesting plot points and deeper characterization. How different would it be for a woman instead of a man to stand out in the male-dominated genre of espionage fiction? Rather than having her be just a pretty face, or a cookie-cutter badass action grrrl, I added elements such as her expertise in cryptography, a relationship with her father who preceded her in the intelligence community, and an element of mystery concerning the evil mastermind against whom I pitted her. It made for a more interesting and involving narrative that got some very good feedback from people, and due to the fact I broke it up into a series of days rather than chapters, I renamed the endeavor Fortnight.
Unfortunately, of the two to three dozen queries I sent regarding the work, not a single one even requested sample chapters. Even talking to an agent in person at last year's Philadelphia Writer's Conference yielded only silence after what I felt was a positive experience in speaking with her. It could be that I came across as overly eager, but I'll never know for sure. So Fortnight lingered, and given the decline of the genre in recent years, I began to feel that it was time for me to move on. I started working in earnest on my fantasy novel, and while that is still a positive experience, I'm struggling through some of the newer chapters.
When I established this blog, I knew I'd need consistent and interesting content to keep up interest. I turned to Fortnight and examined both the plot and the state of fiction at large. With the surge of supernatural fiction such as Twilight, the Anita Blake novels and the Southern Vampire Mysteries from which True Blood was born, two things occurred to me: There's a thriving market for supernatural stories featuring female protagonists, and I have a female protagonist and a solid idea of how I'd want supernatural beings to be depicted.
This lead me to Shattered Code, but even after posting the first day of it I knew there were problems. The story starts to slowly, and I hadn't developed the premise enough. With help from my fiancée, and more research as to what's out there (a good excuse to watch the first season of True Blood if nothing else), I built a stronger foundation and began writing the story from scratch once again.
Day 1 of Lighthouse should be up tomorrow, provided I can polish things off tonight. I look forward to feedback from those of you still reading this stuff.