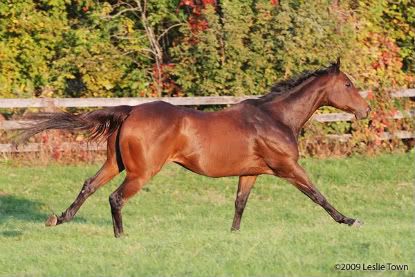 The phrase "get back on the horse" usually refers to someone getting "thrown" from said horse. A tragedy occurs, a heart is broken, a house burns down or a car is totaled – it's something that throws the individual in question completely out of whack. Equilibrium is shot. The status quo's out the window. The only way to get back on track is to get back on the horse, even if it just threw you.
However, it's not just the earth-shattering events that cause us to leave the back of our steeds. Sometimes, things just stop for a bit. The horse needs water or caught a rock in their hoof. We swing down from the saddle, tend to the horse, and take some time for ourselves as well, to grab a bite or take in the scenery. I'm speaking metaphorically, of course, but the bottom line is we stop our progress in our journey.
One of my favorite Westerns of recent years is Hidalgo, and not just because Viggo Mortensen's in it. Towards the end, Frank (Viggo's character) goes through a somewhat trippy sequence. He and Hidalgo have fought tooth and nail to persevere in the punishing race across the desert, and the horse is so exhausted that Frank considers putting his companion down. However, he experiences admonitions from his Lakota ancestors to finish the journey and that he and his horse need each other. Emerging from the dream, Frank turns to see Hidalgo on his feet and waiting for the rather thick human to get back on so they can win the damn race. (If you haven't seen this film, it's a lot of fun and a classic adventure steeped in Western trappings, so check it out. Also, horses!)
Our desires and dreams are a bit like that horse. We might think that they're daunting or even impossible to complete. We may exhaust ourselves trying to pursue them at the same time we struggle to make ends meet and address practical matters of living in the modern age. Bills need to be paid, clients need to be appeased, debts need to be settled and obligations need to be met. A lot of needs shove and yank us hither and yon, leaving little energy for ourselves. Sometimes we don't want to put that energy into something that seems like it'll go nowhere, considering there are tons of others out there already doing what we wish we could. Better to bear those ills we have, etc.
Besides, a lot of creative people including myself are a bit like magpies. We may want to get from A to B but between those two points are shiny things. New movies, favorite games, comfortable stories and old favorites. We flit to and fro in our free time, especially if we've spent ourselves on a creative effort that is either seems too daunting or returns little gratification. The keyboard, the controller, the popcorn bucket, the remote for the TV – they're security blankets, things to cling to when the phone calls from collectors begin and we want to just forget about deadlines for a while.
But we get a nudge. Like an impatient horse standing behind us whose gotten their water and taken some time to rest their hooves, our desires don't leave us alone. We can't stay in idyllic wilderness settings forever. We're on a journey, here. And while the journey itself is often just as interesting as the destination, if not moreso, we won't reach our goals if we stand in the middle of the field staring at them. We have to move there. We have to make the effort. We have to get back on the horse.
It could be argued that a lot of this "writer's block" stuff comes from us blocking ourselves. It's an excuse to stop expending effort, burn a little less lean tissue, invite less stress into our lives. I stopped work on Acradea to finish the Blizzard contest entry, and then… played more Warcraft. Got some fresh air. Saw Scott Pilgrim. Cheered for the Union. And it was fun, refreshing and relaxing.
But my manuscript's still here. It's waiting for me. If it were a horse, it'd be looking at me somewhat impatiently. It wants to move forward, continue the journey, get to a place where it can be hand-fed some damn oats by a pretty farmer's daughter. It's not going to get there while I stand around wool-gathering.
For my part, it's past time to get back on the horse. Have you had moments like that? Has a project, a work in progress, given you a mental nudge to remind you it's still there? Have you ever taken a break for longer than you expected, only to find you need to pull yourself back into working on it?