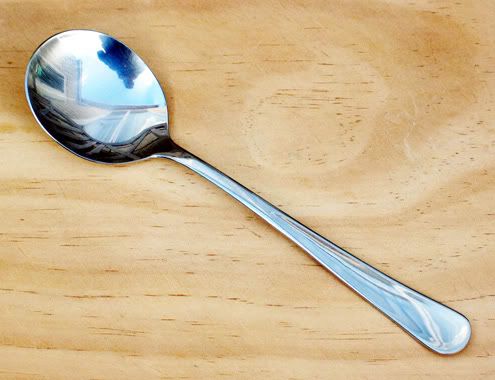 Some of the brightest and most memorable women I've known have dealt with long-term, incurable and nearly debilitating illnesses. Two in particular have introduced me to a particular way of dealing with these obstacles known as "the spoon theory." Christine Miserandino explains the theory in detail here, but let me provide you with the Cliff's notes.
Every task and undertaking over the course of a day, no matter how mundane it might seem, incurs a cost. In this case, each task costs you a spoon. Some of us have a silverware drawer full of spoons of various sizes. Go through that drawer, and every time you do something during the day – get out of bed, take a shower, clean up the home, go to work, do a task at work, cook something – toss a spoon over your shoulder. You'd end up with a big pile of spoons on the floor and, in my case, at least one very confused-looking housecat.
Now imagine you only have seven spoons.
Or five.
Or three.
Kind of drives home the importance of spending one's time wisely, if you ask me.
At times I need to remind myself that I can't write everything I want to. I'd love to finish my manuscript's edits, start a new one, write a screenplay, send more pitches to the Escapist. But I only have so much time over the course of the day. To extend the aforementioned metaphor, I have only a few pens with which to write every day. When they're out of ink, they're gone.
Some days, I have more pens than others. It could be a weekend, a holiday, a sick day. Ah, but will I use those pens wisely, or write something that has no lasting value, like a character drabble for a game or a navel-gazing blog post? And the more time I spend on other tasks or pursuits – unpacking long-packed boxes, playing a game, you name it – the fewer pens I have.
Now, I'm not saying that all writers suffer from an illness. I mean, it's entirely possible that we do, but the writing itself isn't an affliction. Unless you ask Heinlein. Then again, maybe he was on to something. It'd explain why I only get food poked in my direction at the end of a long stick through a slot in the door.
All I'm saying is, creative folk should look to spend their creative time wisely. We only have so many hours in a day and we can't do all we'd like in those hours. It's important to have goals, set expectations, mark milestones. The more we get into the habit in managing the use and expenditure of our limited pens, the better our work will be and the more we'll get accomplished over all.
Those are my thoughts, at least. What are yours?